Review: Steal by Rachel van Dyken
I received this book for free in exchange for an honest review. This does not affect my opinion of the book or the content of my review.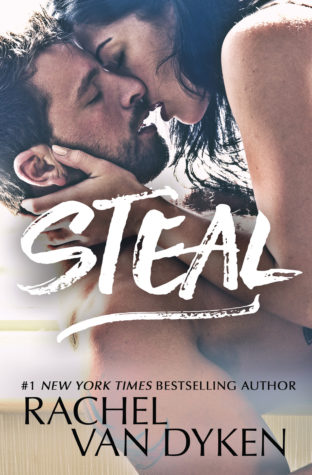 Steal
by
Rachel Van Dyken
Series:
Seaside Pictures #3
Published by
Rachel Van Dyken
on July 3rd 2017
Genres:
Contemporary
,
Contemporary Romance
,
Romance
Pages:
283
Format:
eARC
Source:
the Author
Buy on Amazon US
, 
Buy on Amazon UK
, 
Buy on Kobo
, 
Buy on itunes
, 
Buy on B&N

Steal, the follow-up standalone rockstar romance to the #1 New York Times Bestseller Keep…
It's easy to lose yourself in someone you love.
Easier to lose yourself in someone you hate…
I didn't think it could get any worse than having to babysit a bunch of spoiled musicians on set ― keeping them out of trouble is a cakewalk compared to seeing my ex every day.
Seaside, Oregon isn't big enough for the both of us.
She hates me.
I loathe her.
The plan was simple ― stay the hell away and make sure she gets to set on time.
What I didn't expect was to be faced with our past in front of an audience ― and be forced to face it again.
It's torture.
The way she looks at me.
The way I try to look through her.
Words left unsaid.
The lingering aftermath still as powerful as ever.
I feed the chasm between us, for fear that she'll make me feel again ― and steal the last shred of heart I have left.
We have everything but each other.
It's not enough.
Not when you've lost love.
And replaced it with the only thing left ― hate.
Rating~ 4 – 4.5 stars
This book had such a hollywood movie vibe to it that I adored!!
At the end of the last book in the series we find out that Will has taken Angelica as his client and with that these two individuals who have so much history and were once in love and now hate each other are together in one place. I hadn't read the other books from the series so I didn't that what role Angelica had played but from what I found out made me cautious that I wouldn't end up liking her but I'm a sucker for hate to love and I really enjoyed Zane's book (Keep) so I had to give this one a try.
Will Sutherland is an agent, working with superstars and keeping them in line is something he can do his sleep. However dealing with his new client is taking all of his attention, not to mention his willpower.
Angelica Greene has made a lot of mistakes. Now after her rehab, she's back in Seaside for filming, this is her come back and really her last shot of showing to the world that she's more than a washed out former drug addict actress.
Will and Angelica have a history, a history filled with love, betrayal,  heartbreak and so much pain. They had known each other since they were casted to be a movie together when they were teenagers and fell in love and that's when everything went wrong. Now years later, Will hates Angelica even though he craves her while Angelica never really got over Will and his presence and his behaviour reminds her everyday of her mistakes  and what she doesn't have.
As I said earlier I hadn't read the other books so I didn't want what exactly Angelica did but seemed like she messed up a lot but had finally gotten her act together now. I really liked her, she was damaged and had serious issues but she was trying. Will had been completely in love with Angelica in the past but he too made mistakes that made everything go down the rails.
I loved hate to love story thrown in with their past and angst ( this however not my favourite thing) made this is a great read. I did love them together and really loved how Rachel Van Dyken incorporated the elements of movie, the band and the flashbacks to give us the whole story of Will and Angelica. I loved those moments when they were just talking, getting to know each other again and seeing the past from the other person's point of view. And as always with Rachel Van Dyken, Will and Angelica had great sparking chemistry.
Quibbles: I wish we had gotten more of how her mother's behaviour effected Angelica, it's touched own but not enough for me because it seemed like it had a huge impact on who Angelica was today but it was never got explored and then there was the fact that we didn't see interacting much with her brother. I mean she interacted with Alec and Dimitri, had more meaningful conversations with them than her brother who again grew up with the same mother should have been able to understand her better?? I would have liked him to pay a bit more attention towards his sister and showed some affection for her. Random but I would have liked a more few years later down the line epilogue for Will and Angelica.
I felt completely immersed in the story and Will and Angelica's feelings and I think that's one of the best things about a book is when you get completely lost in the words. Getting to see Angelica break down and then in the end become stronger and Will seeing realising his mistakes and shedding the agent persona he had taken on was great. Overall, I really enjoyed this one and I loved the couple, this book has such great moments and scenes!
Related Posts