Excerpt: Scotsman of My Dreams by Karen Ranney and Giveaway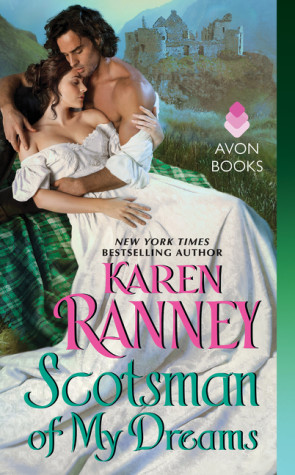 Scotsman of My Dreams
by
Karen Ranney
Published by
Avon
on August 25th 2015
Genres:
Historical
,
Regency
,
Romance
,
Romantic Comedy
,
Scottish
Pages:
384
Buy on Amazon US
, 
Buy on Kobo
, 
Buy on itunes
, 
Buy on B&N
In New York Times bestselling author Karen Ranney's second novel in her breathtaking series, an unconventional woman and a former scoundrel embark on a daring mission of desire
Once the ton's most notorious rake, Dalton MacIain has returned from his expedition to America during the Civil War— wounded and a changed man. Instead of returning to his old haunts, he now spends his time at home. But Dalton's peace is disturbed when Minerva Todd barges into his London townhouse, insisting he help search for her missing brother Neville. Though Dalton would love to spend more time with the bewitching beauty, he has no interest in finding Neville, whom he blames for his injury.
Minerva has never met a more infuriating man than the Earl of Rathsmere, yet she is intrigued by the torrid rumors she has heard about him . . . and the fierce attraction pulling her toward him.
Dalton does not count on Minerva's persistence, or the desire she awakens in him, compelling him to discover her brother's fate. But when danger surrounds them, Dalton fears he will lose the tantalizing, thoroughly unpredictable woman he has come to love.

"Are you afraid?" he asked.
"Of course not. I just don't want to kiss you."
"Not at all?"
"Not one little bit. Not an iota."
"No curiosity about what it might be like to kiss the man Queen Victoria said was most certainly the worst rake in all of London?"
"No."
"You're fibbing, Minerva."
"I'm not."
He lowered his head, brushed his lips over her heated cheek. To his surprise, she didn't move away. Slowly, he traced a path to her lips, breathing against them before placing his mouth on hers.
A kiss should be an appetizer. A kiss was a prelude, strings being tuned in an orchestra pit, dawn on an important day.
A kiss was not a feast. A kiss was not an explosion of the senses. But this one was.
He could smell her, that hint of earthiness mixed with her new perfume. Her skin was warm against his fingertips, her cheek heating as he inclined his head slightly to deepen the kiss.
Her mouth opened slightly on a gasp.
He wanted to banish her sorrow, the pain Neville had caused her. He wanted to change the tenor of her thoughts, give her something to replace her dread.
He could give Minerva passion. That's the gift he could give her.
MacIain Series Print Bundle
Related Posts