Interview with Vivienne Lorret, Author of 'The Maddening Lord Montwood'.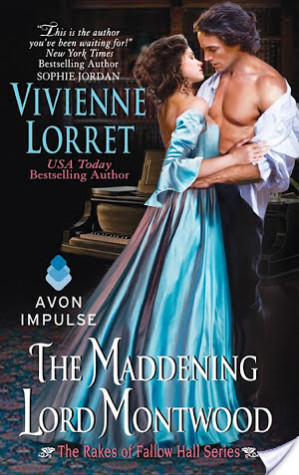 The Maddening Lord Montwood
by
Vivienne Lorret
Series:
The Rakes of Fallow Hall
Published by
HarperCollins
on July 14th 2015
Genres:
Fiction
,
Romance
,
Historical
,
Regency
,
General
Pages:
172
Buy on Amazon US
, 
Buy on Amazon UK
, 
Buy on Kobo
, 
Buy on itunes
, 
Buy on B&N
The Rakes of Fallow Hall wagered that they would never succumb to love—yet in Vivienne Lorret's newest novel, the final rogue meets his match.
Frances Thorne can handle anything—except losing her position, her home, and her father to debtor's prison all in one day. So when a generous offer of assistance falls into her lap, she's grateful for a second chance, even if it seems too good to be true. The last thing she needs is for the charming, infuriating—maddening—Lord Lucan Montwood to stand in her way.
The end of the bachelors' wager is near, and Lucan Montwood can taste victory—just so long as he can stay away from the one woman who sees through his façade. Yet when he learns that Frances has been caught in an insidious trap, Lucan can't deny that he will do anything to help. Convincing her to trust him is the hard part, resisting her is next to impossible, but falling in love with her? That may be far too simple.
Interview With Vivienne Lorret
I: Hey Vivienne, thank you for being here!
V: Hi! Thank you for having me here today!
I:Do you remember the first romance book you read? Which one was it and what were your reactions after reading it?
V: The first romance that I read, cover to cover, was Nightwalker, a Silhouette Desire by Stephanie James (aka Jayne Ann Krentz). This book is still one of my favorites!
I: If you hadn't been writing historical romance which other romantic or otherwise genre would you have written?
V: I love history, so writing historical romance seemed like a natural fit. I enjoy contemporary romance as well. I often have modern-day ideas for books swimming around in my noggin, waiting for the chance to escape.
I: Speaking of writing, what book are you currently working on? Can you tell us a bit about it.
V: I'm currently writing a Christmas novella for the Avon anthology, All I Want for Christmas is a Duke, coming out in December, 2015. The story is about a logic-minded duke who develops a formula for marriage—sort of a match.com for the Regency era. He's very sure of himself… until he meets Ivy. Then the real romance begins. Throw in a small striptease, an escape from the clutches of Death, a few modern contraptions, et voilà! a recipe for happily ever after.
I: love historical romance, there's something very fairy tale like quality about them, any recommendations or current favourites?
V: I recommend anything by Eloisa James, Tessa Dare, Lorraine Heath, Sophie Barnes, Sophie Jordan, Sarah Maclean, and Ellie Macdonald, just to name a few. There are dozens more amazing authors of historical romance, and each of them have stories and characters that will transport readers back in time. No muss, no fuss. No waiting in line, or screening from time-travel airport security. It's just the hero and you—ahem—and the heroine, too, of course.
I: Which do you prefer?
-Cupcakes or cookies
V: Cookies
-Cocktails or wine
V: Cocktails (or mocktails)
-Tea or coffee
V: Tea, most definitely
-Morning or evening
V: Evening
I: What was the most challenging or fun scene to write in 'The Maddening Lord Montwood?'
V: For "most fun," it's a three-way tie: I really enjoyed writing the first kiss scene, the piano scene, and the epilogue.
I: Lastly, what two words would you use to describe Frances and Lucan from 'The Maddening Lord Montwood?'
V: Scorching chemistry. 
Rafflecopter Giveaway (Digital download bundle of The Rakes of Fallow Hall, books 1 & 2)
a Rafflecopter giveaway

Related Posts