Guest Post with Vivienne Lorret Author of 'The Devilish Mr. Danvers' + Giveaway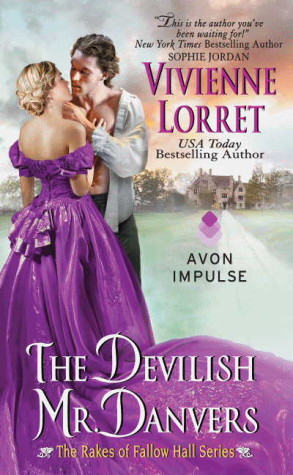 The Devilish Mr. Danvers
by
Vivienne Lorret
Published by
Avon
on April 21st 2015
Genres:
Historical
,
Romance
For the first time in her life, Hedley Sinclair holds the keys to her own future. She's inherited the crumbling Greyson Park, but the disrepair does nothing to dissuade her. No one will ever lock her up again or attempt to take away what's hers. No one except Rafe Danvers—the charming, fiendish man from Fallow Hall. He's determined to claim Greyson Park, but if Hedley isn't careful, he'll claim her heart as well.
Rafe has every intention of ridding Greyson Park of the conniving Sinclairs, once and for all. The last thing he expects is to find the beguiling Hedley Sinclair—the younger sister of his former fiancée—standing in his way. With drastic measures called for, he plans to marry her off in order to regain control of the estate. The only trouble is, he can't seem to stop seducing her. Even worse, he can't help falling in love with her.
Buy Links: Amazon US | Amazon UK | B & N | iTunes | Kobo | Publisher
Q&A 
What are you working on now? What is your next project?
Vivienne: Right now, I'm working on edits for book 3 of The Rakes of Fallow Hall, THE MADDENING LORD MONTWOOD. In addition, I'm putting together a proposal for a new series, researching locations, and compiling historical data. For me, this is the fun part. I love research. I love discovering the characters. I love… well, just about everything about writing. I feel incredibly blessed that I've been given this opportunity.
Rumor has it that my next project will be a Christmas novella for an upcoming anthology. I'll post more details about this to my Facebook page and my blog in the near future. I'm so excited about this new story! During an editing break, I finally came up with the names of these new characters, along with compiling brief sketches and scene ideas. For now, I need to submit those to my amazing editor and see what she thinks. 
Thank you for having me here today! 
 Rafflecopter Giveaway (a Digital bundle including: Winning Miss Wakefield, Daring Miss Danvers, and Finding Miss MacFarland)
a Rafflecopter giveaway
Author Info
USA Today bestselling author VIVIENNE LORRET loves romance novels, her pink laptop, her husband, and her two sons (not necessarily in that order … but there are days). Transforming copious amounts of tea into words, she is proud to be an Avon Impulse author of works including: "Tempting Mr. Weatherstone", The Wallflower Wedding Series, and the Rakes of Fallow Hall series.
Author Links: Website | Facebook | Twitter |Goodreads
Related Posts