Review: Silver Bastard by Joanna Wylde + Giveaway.
I received this book for free in exchange for an honest review. This does not affect my opinion of the book or the content of my review.
Silver Bastard
by
Joanna Wylde
Published by
Penguin
on April 7th 2015
Genres:
Contemporary
,
Fiction
,
General
,
Romance
Pages:
448
Format:
eARC
Source:
Netgalley

First in the new Silver Valley series from the New York Times bestselling author of the Reapers Motorcycle Club Novels Fourteen months.
For fourteen months, Puck Redhouse sat in a cell and kept his mouth shut, protecting the Silver Bastards MC from their enemies. Then he was free and it was time for his reward—full membership in the club, along with a party to celebrate. That's when he saw Becca Jones for the first time and set everything in motion. Before the night ended he'd violated his parole and stolen her away from everything she knew.
Five years. It was five years ago that Puck destroyed Becca and saved her all in one night. She's been terrified of him ever since, but she's even more terrified of the monsters he still protects her from... But Becca refuses to let fear control her. She's living her life and moving forward, until she gets a phone call from the past she can't ignore. She has to go back, and there's only one man she can trust to go with her—the ex-con biker who rescued her once before.
Puck will help her again, but this time it'll be on his terms. No more lies, no more tears, and no more holding back what he really wants...
PRE-Order: Amazon US | Amazon UK | Barnes & Noble | iTunes
Review
I tried to keep this as spoiler free as I could but I failed so it has some spoilers, you have been warned. 
The book introduces us to the club Silver Bastards. It's start of a spin-off from Joanna Wylde's Reaper's MC series. 
Puck Redhouse is the youngest member of Silver Bastards. Five years ago, he came out of prison after serving his fourteen months time. Never imaging that night he would meet someone that would change his life forever (yes, I'm being sappy cause why not, it's romance after all).  
Becca Jones childhood though not bad took a turn for the worse when her mother remarried. Becca hates the motorcycle club and all they represent. Saying her home life was difficult is an understatement. Her mother and her step-father's drug use and their behaviour towards each other and to her gave her a very twisted view of the world, left with some emotional scars and vulnerable. Which all of course changes when Puck rescues her and takes her with him Idaho. Now five years later, she's in college about to complete her degree, has friends and lovely foster parents who gave her a home and took her under their wing.
However one blip of darkness in her new life is her mother, who seriously was demented in my opinion or very desperate I suppose. For years Becca has being trying to get her mother away from her stepfather but no avail. Becca loves her mother, though she understands that she needs help, it just doesn't stop her from caring for her mother. 
I really liked Puck, he was like a rock in all the craziness that was happening at times. He's who he says he is and is completely without remorse for the way he is, a badass biker dude. 
Puck and Becca's relationship is very complicated, Puck slept with Becca the night he gets out of prison and wakes up to find that Becca and the situation is not what it seems. He gets Becca out of that situation. Now five years later, Puck is still into Becca. He just hasn't told her yet and Becca is clueless about it. She's attracted to him but feel ashamed of it since she blames him for being partly responsible what happened when the night they slept together and yet she sees Puck as her protecter as well since he saved her life after all. 
Puck and Becca had great chemistry. They were good together, Puck wanted Becca like he had never wanted a woman before, he waited five years and so when Puck decides that Becca is his, there was no stopping him. Becca doesn't quite know what to do with Puck, he was the only man that she was actually attracted to but her history with men and her childhood made her yearn for a guy that has nothing to with motorcycles/clubs and have a stable relationship. Too bad her body doesn't want 'normal' guys and her heart wants the one she shouldn't want. Which is why she resists Puck and says some unkind/very shitty stuff to him. 
Some members from the Reapers MC also make appearances in the book which was fun and made me want Painter's story. 
Quibbles: View Spoiler »I had two issues; Puck being with Carlie when he was into Becca, I could understand not being celibate for five years when the girl you like is younger than you but when she wasn't anymore and he was with Carlie who his friend liked, while he didn't feel anything for Carlie well… I didn't like that and secondly Becca, she was a not a bad heroine but after 80% she annoyed the hell out me, her behaviour made me feel really frustrated with her hence the four stars. « Hide Spoiler
And I'm going to stop yammering on, I think the review is long enough as it is. 
Overall, I enjoyed reading the book and looking forward to see what the series brings. Happy Reading!
GIVEAWAY- Signed Paperback of Silver Bastard (3 copies)
a Rafflecopter giveaway
Author Info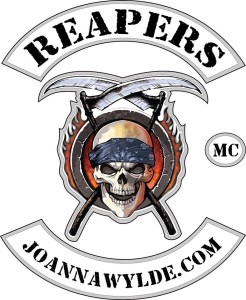 Joanna Wylde is a New York Times bestselling author and creator of the Reapers Motorcycle Club series. She currently lives in Idaho.
Stalk Her: Website | Facebook | Twitter | Goodreads

Related Posts