Book Tour: Her Highland Fling by Jennifer McQuiston Review + Giveaway!
I received this book for free in exchange for an honest review. This does not affect my opinion of the book or the content of my review.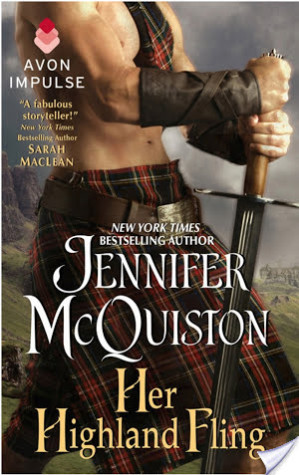 Her Highland Fling
by
Jennifer McQuiston
Series:
Second Sons #2.5
Published by
Harper Collins
on January 27th 2015
Genres:
Fiction
,
Historical
,
Regency
,
Romance
,
Scottish
Pages:
200
Format:
eARC
Source:
Edelweiss
Let the Games Begin …
William MacKenzie has always been protective of his Scottish village. When Moraig's economy falters, he has the perfect solution to lure wealthy Londoners to this tiny hamlet: resurrect the ancient Highland Games! But for this to work, William knows he needs a reporter to showcase the town in just the right light.
A female journalist might be a tolerated oddity in Brighton, but newly minted reporter Penelope Tolbertson is discovering that finding respect in London is a far more difficult prospect. After receiving an invitation to cover Moraig's Highland Games, Penelope is determined to prove to her London editors just how valuable she can be.
Penelope instantly captures William's heart, but she is none too impressed with the gruff, broody Highlander; however, as she begins to understand his plans, Penelope discovers she may want more from him than just a story. She's only got a few days … but maybe a few days are all they need.
Buy Links: Amazon US | Amazon UK | Barnes | iTunes | Kobo
 Review
William MacKenzie is the heir to the Kilmartie earldom and as such is protective and proud of his village 'Moraig'. He comes up with a plan to help his village and it's economy by allowing a journalist to cover the Highland games and show him the beauty of Moraig. Unfortunately for William, the reporter is a woman, a rather fetching one at that, who turns his Cambridge educated brain into mush, making him look like an 'idiot' 
Penelope Tolbertson is a new at her job journalist, she's visiting the village 'Moraig' for an of article about the Highland games and the town. Penelope has a stutter, she considers herself a spinster but she's also an independent, slightly odd and intelligent woman. 
This is a novella and is quite short so the complete focus of the story is on the couple. Both have some first misguided impressions of each other but they soon get to know more about each other and can't help but fall in love with each other. I really liked William, he was so adorable, I don't know but there's something very enchanting about a smitten and slightly baffled guy that I can't help but like *dreamy sigh*. For a historical novel, the book sure had a very modern feeling to it. 
Quibbles: I felt like I knew a lot more about William than about Pen which isn't how I prefer my protagonists, I want to know both of them equally well. It should have been a bit longer and the ending felt slightly rushed to me.
Overall, it's a sweet and entertaining story about two unique individuals filled with some humor and soft romance. Happy Reading!
Rafflecopter Giveaway (Print copy of WHAT HAPPENS IN SCOTLAND + $25 eGift Card to choice Book Seller)
a Rafflecopter giveaway 
Author Info
A veterinarian and infectious disease researcher by training, Jennifer McQuiston has always preferred reading romance to scientific textbooks. She resides in Atlanta, Georgia with her husband, their two girls, and an odd assortment of pets, including the pony she promised her children if mommy ever got a book deal. Jennifer can be reached via her website at www.jenmcquiston.com  or followed on Twitter @jenmcqwrites
Author Links:  Website | Facebook | Twitter | Goodreads
Related Posts