Book Tour: Once Loved Cecy Robson Review + Giveaway
I received this book for free in exchange for an honest review. This does not affect my opinion of the book or the content of my review.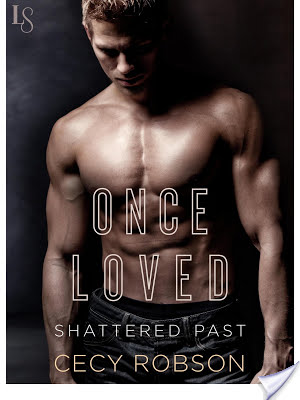 Once Loved
by
Cecy Robson
Series:
Shattered Past #2
Published by
Random House Publishing Group
on January 20th 2015
Genres:
Contemporary
,
Contemporary Women
,
Fiction
,
New Adult
,
Romance
Pages:
252
Source:
Netgalley

He's the campus golden boy. She's picking up the pieces of her broken past. But in Cecy Robson's scorching novel of second chances—perfect for readers of Monica Murphy and J. Lynn—their differences only make their connection more explosive.
Every memory Lety Tres Santos has from her childhood comes with a scar—some emotional, some physical. Her father is an abusive drug addict, and her mother enables his destructive behavior. College offers Lety a fresh start . . . until her father finds a way to ruin that, too. Now, after losing her scholarship to kick off junior year, Lety must somehow stay in school, pay tuition, and turn a deaf ear to the whispers that follow her. And she intends to do it all without Brody Quaid's help.
Brody is a lacrosse star, a 4.0 student—and as a freshman, he fell hard for the beautiful and spirited Lety. But their relationship crashed and burned because he couldn't break through the walls she's put up around her heart. With Lety hurting more than ever, Brody strives to win her back and make her believe in real love and true partnership. That will mean opening up secrets locked away in his own past—and trusting someone more than he's ever dared.
Lety knows how painful it can be to depend on the wrong man. She also knows how much Brody wants to do this the right way. But it takes more than sizzling desire to move on and build a future together.
Review
Lety Tres Santoshad a difficult childhood, a victim of physical and emotional abuse by her father and a mother who refused to get any help. Which is why she grew up to be independent, a bit cynical and insecure about her worth as a human being and as a woman deserving of love.   
Brody Quaid is an engineering student and the lacrosse team's co-captain. He is the golden boy in the campus, smart, handsome and extremely rich. But he not unlike Lety, also has family problems and a difficult relationship with his family. 
Lety Tres and Brody Quaid met in freshman year, quickly become friends and by the time the next semester rolled around they were a couple and inseparable but Lety broke up with Brody because she thought he deserved better. Now an year later Brody has finally convinced Lety to give them another shot when her abusive father returns turning her life upside down once again.  
I liked them together. They were good people, who had a difficult time yet instead of acting out they were trying to make something of themselves. They both supported each other and their romance was sweet and even though they went through some pretty big stuff they came out the other end strong and happy.
Quibbles: I wanted to know more about them lety and Brody than about their families or friends etc, I wanted some attention to them as people (what they liked or disliked etc) and a couple which I felt we didn't get as much, it was about Lety's family then Bordy's and then again in that circle. Other minor issues include; at times I felt like it had some extra drama or angst that wasn't precisely needed and the ending felt slightly rushed View Spoiler »since I didn't understand how Brody convinced Lety to go with him to london when she was adamant about not leaving, she was still a bit insecure about their relationship near the end. « Hide Spoiler
The book had some light hearted moments, emotional moments, some sweet and tender parts that made this book entertaining and worthwhile reading. The book is the second in the series but can be read as a standalone, I hadn't read the first one but that didn't affect my enjoyment or the understanding of this book.
Overall, it was pretty good. I quite enjoyed it which is a pleasant surprise since NA genre for me seems to be a hit or a miss, this was a hit! I liked the way that the story flowed and for once I didn't that it was only written from one protagonist (Lety's) POV and gave insights to only her thoughts and feelings. Happy Reading!
Rafflecopter Giveaway ($25.00 eGift Card to Choice Book Seller & Loveswept Mug with Romance at Random Nail Polish)
a Rafflecopter giveaway
Author Info
CECY ROBSON is the New Adult and Contemporary author of the Shattered Past series, and the award winning author of the Weird Girls Urban Fantasy Romance series. A self-proclaimed professional napper, Cecy counts among her talents a jaw-dropping knowledge of useless trivia, the ability to make her hair big, and a knack for breaking into song, despite her family's vehement protests. A full-time writer, registered nurse, wife, and mother living in the South, Cecy enjoys spending time with her family and silencing the yappy characters in her head by telling their stories.
Author Links: Facebook | Twitter | Website | TSU | Google+
Related Posts