Review and Giveaway: The Perks of Loving A Scoundrel by Jennifer McQuiston
I received this book for free in exchange for an honest review. This does not affect my opinion of the book or the content of my review.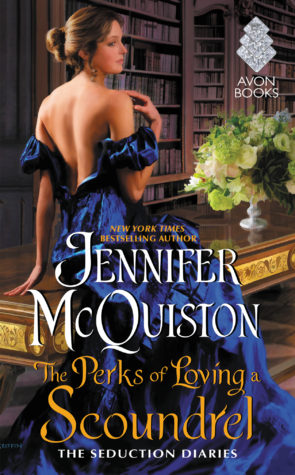 The Perks of Loving a Scoundrel
by
Jennifer McQuiston
Series:
Seduction Diaries #3
Published by
HarperCollins
on September 27th 2016
Genres:
Fiction
,
Romance
,
Historical
,
Regency
,
Scottish
,
General
Pages:
400
Format:
eARC
Source:
the publisher
Buy on Amazon US
, 
Buy on Amazon UK
, 
Buy on Kobo
, 
Buy on itunes
, 
Buy on Amazon

New York Times bestselling author Jennifer McQuiston continues her enchanting Seduction Diaries series as a bookish spinster and an unrepentant rogue unite to unmask a traitor.
Every girl dreams of a hero . . .
No one loves books more than Miss Mary Channing. Perhaps that's why she's reached the ripe old age of six-and-twenty without ever being kissed. Her future may be as bland as milk toast, but Mary is content to simply dream about the heroes and adventures she reads about in her books. That way she won't end up with a villain instead.
But sometimes only a scoundrel will do.
When she unexpectedly finds herself in the arms of Geoffrey Westmore, London's most notorious scoundrel, it feels a bit like a plot from one of her favorite novels. Suddenly, Mary understands why even the smartest heroines can fall prey to a handsome face. And Westmore is more handsome than most. But far worse than the damage to her reputation, the moment's indiscretion uncovers an assassination plot that reaches to the highest levels of society and threatens the course of the entire country.
When a tight-laced miss and a scoundrel of epic proportions put their minds together, nothing can stand in their way. But unless they put their hearts together as well, a happy ending is anything but assured.
Review
Miss Mary Channing is visiting her pregnant sister in London, little does she know that coming to London would lead to adventures that she has only read about. 
Geoffrey 'West' Westmore years ago, had quite a few dreams of being an architect but that was before the navy. Even though he had managed to save some lives, the lives of those who he couldn't save continue to haunt him.  Now more of a rake than anything, he is wasting away his life drinking and partying with his best friend.
I think this book had a surprise of having the most unusual way for a heroine and the hero to meet. 
Also while West was a complete Rake and freely admitted it I loved that the man was smitten with his 'Mouse' Mary. She made him laugh, intrigued him and ultimately made him want to return to the man he used to be before crumbia. 
I loved Mary as well, she was bookish, kind and naive but in such a way that you couldn't help but like her. She was intelligent and very versed in all manner of things alas she preferred the company of her books. She also loved romance or tragedies where the heroine falls in the love with the villain. Her commentary on that whole villain/hero/heroine thing was cute and I loved the glimpses we got of her diary I wish we could have gotten a bit more though with her diary back when she was younger. 
I loved how determined Mary was with a reluctant West who didn't want Mary to get involved to find the suspect. I loved their romance, it was unique and adorable at times. 
Overall it was funny, lovely and entertaining story with a dash of suspense!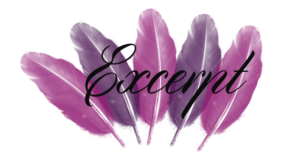 From the Diary of Miss Mary Channing
May 24, 1858
Eleanor wrote today. I should have been glad to hear from her, given that she is my twin sister and I love her dearly, but it would be untruthful to say the contents of her letter pleased me. Her new husband, Lord Ashington, has been called away on business and she's asked me to come to London to keep her company during the last two months of her confinement.
Can you imagine? Me, in London?
My family says I must get my nose out of my books and begin to live in the world around me. It is true I've never been further afield than a day trip from home, and that I have never slept a night outside my own bed. But why would I ever want to leave, when I have my books to keep me company? And a trip to London is not without its perils. I could very well end up like one of the characters in my beloved stories, snubbed by the popular crowd. Whispered about behind lace fans. Or worse . . . led astray by a handsome villain and then abandoned to my fate.
Yet, how could I not go? Eleanor is my sister, and she needs me. So I shall put on a brave face. Pack a trunk. Smile, if I must. But I can't help but wonder . . . which worries me more?
The many things that could happen in London?
Or the thought of seeing Eleanor, with her handsome new husband, and her shining, lovely life, and everything I am afraid of wanting?
Rafflecopter Giveaway
Related Posts