The Loving Daylights by Lynsay Sands: Review + Giveaway
I received this book for free in exchange for an honest review. This does not affect my opinion of the book or the content of my review.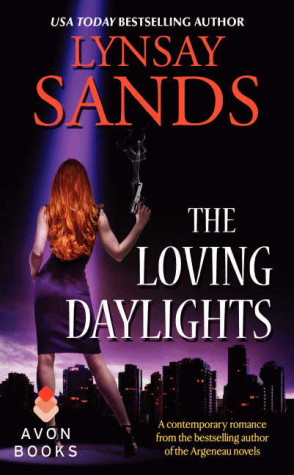 The Loving Daylights
on Rerelease: 30th Dec 2014
Pages:
384 pages
Format:
eARC
Buy on Amazon US
Shy Jane Spyrus loves gadgets. She can build anything B.L.I.S.S. needs in the international organization's fight against crime-although its agents aren't exactly lining up at her door. Some of them think her inventions are a little too . . . well, innovative. Like her shrink-wrap prophylactic constraints, or her spray-on truth serum.
Of course, you can't use wacky inventions to fix all your problems; Jane knows that better than anyone. Her neighbor has been kidnapped, driving that point home. She will have to team up with another human being-and Abel Andretti arrives just in time. He will help Jane find her neighbor, stop a villain, and most of all he will show Jane to love the daylights out of something without batteries.
Review:
Jane's whole family has been in the spy business and she is no different. Jane Spyrus is a developer for B.L.I.SS, she makes all the spy gadgets that the agents can use.  Her inventions are mostly for women agents.
The blurb describes her as shy, I don't think she was at all shy, she was insecure about herself which I think came across as reservedness. She's very quirky, highly intelligent if a slightly crazy developer and a strong independent woman.
Abel Andretti is an accountant. He came home to Canada for a job interview from UK so he could be closer to his family.
I thought he was sweet, protective, caring and understood and appreciated Jane for the woman she was.  He was more like a beta hero than alpha one but it suited the book.
Jane and Abel along with Jane's Gran and former field agent Maggie go to save Edie Andretti, Abel's sister who has been kidnapped by her boss because she was getting suspicious of his behavior.
I liked Jane and Abel together. They didn't have a explosive chemistry but more of sweeter and softer connection which again suited the book. They both have many things in common such as their weird food choices and I liked that both understood each other so well even though they hadn't known each other very long.
With these kind of books, you have keep your mind open a bit since a lot of it is unrealistic like most romantic comedies but if that's your thing I think you will definitely enjoy this one.
Quibbles: I did not understand Jane's attraction Dirk it made no sense. I would liked if some parts of the book hadn't been so easy; like fighting with the bad guys and the super spy stuff that Jane did quite efficiently especially since she no field training at all.  I also thought they moved really fast with the marriage, they only met a week ago.
 Overall, it was a cute, quirky and funny story that makes for a good light read. Happy Reading!
Excerpt:
Trying to pretend her face had not just gone as red as a tomato, Jane lowered her would-be microphone, turned off the radio with feigned calm and faced the one person in D & C that she absolutely loathed. "Not at all, I was just t-testing my latest invention."
It was possibly the stupidest thing Jane had said in her life, and one Dick did not have the grace to let pass. "Truly Jane, I've always known you were socially backward, but if you don't even know the proper way to 'test' that thing, you are more hopeless than I thought."
She hadn't considered it possible, but Jane actually flushed a deeper crimson at those sarcastic words. Mouth tightening, she put the BMML into her briefcase along with one she'd adjusted earlier. "Is there something you wanted, Dick?"
"Just to remind you that the D & C meeting is in-" He checked his wrist watch. "Five minutes. We wouldn't want you to be late. Again."
Jane's teeth ground together in irritation, but she merely closed her briefcase, picked it up and crossed the room, walking with all the dignity she could muster. "I was just heading that way."
"Sure you were. After you finished testing your invention, right?" He taunted as she grabbed her jacket off the hook by the door and stepped into the hall. Following her out of the room, Dick pulled the door closed behind them. "By the way, Jane. I hate to burst another bubble, but your little prototype there was invented by someone else years ago. It even has a name. I believe they call it a vibrator."
"Ha ha." Jane picked up a little speed in an effort to outstrip the little jerk and avoid any more of his crap. "Thank you for that news break."
"Anytime," he assured her and though she couldn't see his face and refused to turn and look, Jane could tell that he was enjoying this immensely. Dick seemed to enjoy nothing better than humiliating Jane. "Always happy to be of help."
Muttering some unpleasant descriptive words under her breath, Jane continued along the hall to the conference room. She was most relieved to find the room almost full. It meant Dick would shut up. Temporarily at least.
"Jane!" Lizzy was seated halfway up the left side of the table. Jane moved in her direction at once. Other than Dick, Lizzy was the only member of the D & C department who was near her age. All the rest of the members were older and had been recruited when BLISS was first put into operation. A job in D&C at BLISS was a lifetime job. Anyone who took a job there had it explained quite plainly before they signed on. You did not join D & C at BLISS, then quit taking all their secrets away with you in your head. Jane didn't know what would happen if anyone tried such a thing, but suspected it wouldn't be good. As far as she knew, no one had been foolish enough to try or really wanted to. It was a great place to work, with unlimited funds and almost unlimited freedom.
Giveaway:
Rafflecopter Giveaway (Three Print Copies of THE LOVING DAYLIGHTS)
Author Info
LYNSAY SANDS is the nationally bestselling author of the Argeneau/Rogue Hunter vampire series, as well as numerous historicals and anthologies. She's been writing stories since grade school and considers herself incredibly lucky to be able to make a career out of it. Her hope is that readers can get away from their everyday stress through her stories, and if there's occasional uncontrollable fits of laughter, that's just a big bonus. Please visit her on the web at www.lynsaysands.net.
Author Links: Website | Facebook | Twitter | Goodreads
Related Posts