Review: Highlander Takes a Bride by Lynsay Sands + Giveaway
I received this book for free in exchange for an honest review. This does not affect my opinion of the book or the content of my review.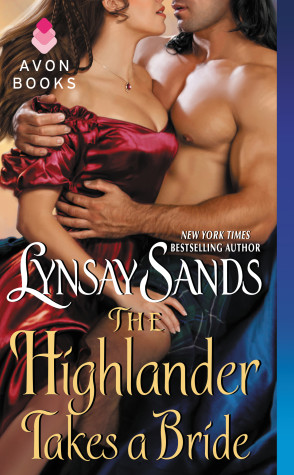 The Highlander Takes a Bride (Highlander, #3)
by
Lynsay Sands
Published by
Avon Books
on July 28th 2015
Genres:
Historical
,
Romantic Comedy
,
Suspense
Pages:
384
Format:
eARC
Source:
Edelweiss
Buy on Amazon US
, 
Buy on Amazon UK
, 
Buy on Kobo
, 
Buy on itunes
, 
Buy on B&N
A bold, seductive laird meets his passionate match in a scintillating Highland romance from New York Times bestselling author Lynsay Sands...Sword fighting, swearing, and riding astride come naturally to Saidh Buchanan. Simpering and holding her tongue—definitely not. Raised alongside seven boisterous brothers, Saidh has little interest in saddling herself with a husband... until she glimpses the new Laird MacDonnell bathing naked in the loch. Though she's far from a proper lady, the brawny Highlander makes Saidh feel every inch a woman.
She has an angel's looks, a warrior's temper, and seeks out his kisses with wanton eagerness. Little wonder that Greer is intrigued by his comely guest. When reckless desire overtakes them, he's more than willing to make an honest woman of her. But Saidh is the target of a hidden enemy, and Greer faces the battle of his life to safeguard the woman he wants above all others.
Review
The new Lynsay Sands historical book comes with a funny, romantic comedy along with a murder mystery, Who doesn't love that?
Saidh Buchanan the only sister to seven brothers, isn't your everyday female character. Though she is a lady be birth, she is not a lady in any other aspect of her life. She like her brothers is a warrior, along with being stubborn, outspoken and headstrong. She doesn't really understand whiny women (like her cousin).
Laird Greer MacDonnell is fascinated and intrigued by Saidh, at first glance he thinks Saidh is probably a sweet and shy lady or like her cousin (who's always crying) and is pleasantly shocked when he finds out who the real Saidh is.
Greer and Saidh's relationship is very passionate, with some pretty funny and sweet moments thrown in. They are both quite alike in their personalities and understand where the other one is coming from.
Saidh goes to find the truth about the death (murder or is it) of the former Laird MacDonnell who was the husband of her cousin and finds herself as a target by an unknown enemy. I was right about the who the enemy was (Yay, I'm always happy with myself when I figure it out).
I really enjoyed the book, it was fun lighthearted read, with some tender moments and a mystery to keep a person intrigued. Happy Reading!
Rafflecopter Giveaway (Grand Prize is a Print Set of All Three Highlander Romances and Winners Choice Scottish Stole. Five (5) Runners Up will receive a Print Set of AN ENGLISH BRIDE IN SCOTLAND and TO MARRY A SCOTTISH LAIRD. (ALL US ONLY)
a Rafflecopter giveaway

Related Posts