ARC Review: Headliners by Lucy Parker
Headliners
by
Lucy Parker
Series:
London Celebrities #5
Published by
Carina Press
on 20th January 2020
Genres:
Contemporary Romance
Pages:
400
Format:
eARC
Source:
the publisher
Buy on Amazon US
, 
Buy on Amazon UK
Sparks fly when two feuding TV presenters are thrown together to host a live morning show in Lucy Parker's latest enemies-to-lovers contemporary romance.
He might be the sexiest man in London, according to his fan site (which he definitely writes himself), but he's also the most arrogant man she's ever met.
She might have the longest legs he's ever seen, but she also has the sharpest tongue.
For years, rival TV presenters Sabrina Carlton and Nick Davenport have traded barbs on their respective shows. The public can't get enough of their feud, but after Nick airs Sabrina's family scandals to all of Britain, the gloves are off. They can barely be in the same room together—but these longtime enemies are about to become the unlikeliest of cohosts.
With their reputations on the rocks, Sabrina and Nick have one last chance to save their careers. If they can resurrect a sinking morning show, they'll still have a future in television. But with ratings at an all-time low and a Christmas Eve deadline to win back the nation's favor, the clock is ticking—and someone on their staff doesn't want them to succeed.
Small mishaps on set start adding up, and Sabrina and Nick find themselves—quelle horreur—working together to hunt down the saboteur…and discovering they might have more in common than they thought. When a fiery encounter is caught on camera, the public is convinced that the reluctant cohosts are secretly lusting after one another.
The public might not be wrong.
Their chemistry has always been explosive, but with hate turning to love, the stakes are rising and everything is on the line. Neither is sure if they can trust these new feelings…or if they'll still have a job in the New Year.
This was sooo so good!! My first read of 2020 and its a win! I'd have read some of the other books in the series but when I saw the blurb, I wanted to read this bad. Cause we all know I adore a good enemies to lovers/hate to love trope book.
In Lucy Parker's headliners, two rival TV presenters with their own shows are forced to work together to save the channels sinking morning show or they can kiss their careers goodbye. Sabrina Carlton and Nick Davenport have had rocky relationship, with what started out as a mild pretend snark has turned into full out war and hatred. Now they have to very reluctantly work together to save their jobs, which they have both worked very hard for.
Theres are a lot of shenanigans happening in this book, I just had so much fun reading it. Not only because Sabrina and Nick have such a wonderful chemistry but because the whole of their corner of the world is filled with drama, angst and craziness (the whole shebang). The drama and angst aren't over the top, they balance really well with the romance and the relationship developing between Nick and Sabrina. I don't know ,it had been a while since I felt this so engrossed in a book, I read it one sitting. This could totally be made into a movie and I'd watch it.
Sabrina and Nick are opposites of each other and that's pretty obvious from the get go, but they come together and learn from each other. I loved how their relationship developed, with the anger to sparks to understanding, passionate and sweet love (still full of starkness and teasing though)! I also really liked Sabrina and Nick's relationship with their siblings. There is a little focus on their families and it made the characters more fleshed out. There's also some cutes scenes of Nick (and Sabrina) with his niece. There is also quite a bit banter in the book (an enemies to lovers book without banter would just not do really) which I also enjoyed immensely.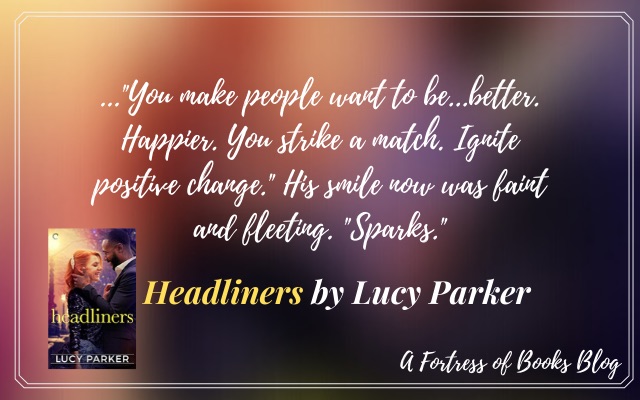 We also get cameos of the other couples in the series, which was also lovely!!
There was a lot of funny stuff in the book, with Sabrina and Nick having do stuff they'd rather not, things going absolutely wrong. The falling in love and them growing closer to each other while the career aspirations they have might go down the drain, if they don't achieve the success demanded of them while dealing with the sabotager added a bit of an extra oomph to the story.
I don't want to give away lots, just because I went in there pretty blind and really enjoyed it. Overall, (I'm just saying the same things again but!!) this was really lovely, the ridiculous things are balanced with the more mature stuff and the romance with the humour and drama. It worked really well, also the festive seasons in the book made it all the more I don't know sweeter and perfect for a cozy winter night read. It felt me feeling very happy, warm and satisfied. I want more books from the author!!!