Audiobook Review: The beginning of Everything by Kristen Ashley
I received this book for free in exchange for an honest review. This does not affect my opinion of the book or the content of my review.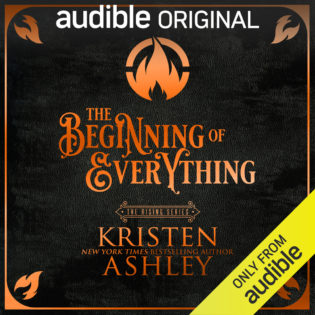 The Beginning of Everything
by
Kristen Ashley
,
Liz Thompson
,
Dina Pearlman
,
Stella Bloom
,
Joniece Abbott Pratt
,
Esther Wane
,
Gemma Dawson
,
Robin Miles
,
Clara Francesca
,
Lance Greenfield
,
Jakobi Diem
,
Ralph Lister
,
John Hartley
,
Rupert Channing
,
Sarah Coomes
Series:
The Rising #1
Published by
Audible Studios
Length:
15 hrs 14 mins
on 26th November 2019
Genres:
Fantasy
,
Paranormal
,
Romance
Format:
Audiobook
Source:
the publisher
Buy on Amazon US
, 
Buy on Amazon UK
From the unparalleled imagination of New York Times best-selling author Kristen Ashley comes an enchanting new audio-first fantasy romance series that will sweep you away!
Once upon a time, in a parallel universe, there existed the continent of Triton. The land was filled with beauty, but it was also splintered by war. Out of the chaos grew a conspiracy to reawaken the Beast, a fearsome creature who wrought only tragedy and devastation. The only way to stop him was to fulfill an ancient prophecy: Triton's four strongest warriors must wed its four most powerful witches, binding all nations together and finally bringing peace to the land.
This is the story of their unions: the quiet maiden Silence and the savage king Mars. The cold warrior Cassius and the fiery witch Elena. The steadfast soldier True and the banished beauty Farah. And the pirate king Aramus and the mysterious queen Ha-Lah. Their unions will not be easy, but each couple must succeed, for the fate of their world is at stake....
Narration gets 5 stars!!
but….the rest well, I struggled quite a lot…I'd give the actual story of the beginning of everything 2.5, because of the little plot and its progression through book 1.
First of all, I had hoped that this would follow a similar pattern of the fantasyland books by Kristen Ashley where one couple is the focus of each book but it didn't and I tired to get over that. This just means I'll have to listen to three other books to get their endings. Anyways, the beginning of everything is about the continent of Triton, where the priest/monk like sector is determined to reawaken the beast that will bring about destruction. The only way to stop is the prophecy for four couple to come together to defeat, they don't know how and what they need to do this to stop or fight the beast. The four couples have a mixture of king/princes/princess and some related to royal blood from different lands.  Some who are enemies and have been at war not long ago.
Quibbles: I would have liked some trigger warning, especially considering how the book starts off. Seriously this book needs quite a few trigger or otherwise warnings. While I am in no way a prude, I do grow ever so tired of reading all the redundant and not needed sex in books. There was so much time spent on the violence and sexual activities of people that were NOT the main couples of the series, instead of secondary or random characters involved in sexual abuse/activities that were in no way contributing to the plot. I have no idea what exactly the point of those were, like I understand once or twice to perhaps show that this stuff happened in the land or society but multiple times and orgies etc is just not something I wanna listen to. Also unlike in books, obviously I didn't know how long it would go on and couldn't just skip to where it ended. I did end up skipping some later  by constantly using +30 sec because again I grew tired of it. Then I didn't really enjoy the fact that it seemed that queer person was the one who was the villain, I haven't read recent books by Kristen Ashley so I don't know if she's written about them but it just left a bitter taste. Which then of course the guy gets treated badly and I'm supposed to what ?? care for his pain knowing what an awful person he is,  just because someone shows him a bit of care later on which even then he still planning to continue on with the plan and I'm supposed to care for the guy ?? understand his pain ?? because I don't. Also like the whole controlling people (not the heroines but still) through sex and manipulating them is just not something I want any heroes to suggest.
Then lets talk about the fact that as this book is about a continent and its future, we are literally taken all around it but it just happens so fast. We are introduced to the main characters and the secondary ones, the guards/the friends, the bad guys, the random pawns etc and its just a lot to keep in mind since the information is not mentioned again and I can't look it up. The stories of the couples are supposed to run in parallel which I get but I would have preferred a more streamlined fashion because I was eager at times to have next part of one couple story but it was ages before they actually got their part/scene together. Also one of the couple is already married and we pretty much don't know much about them….There's just a lot of telling in the book like oh this happened etc which might have been slightly better if the story focused on one couple and we could have flashbacks in accordance with their lives etc. It was just a lot to keep in mind while listening. It's the intro obviously to the new world and people but its a lot of descriptions and people to keep straight in your mind.
I loved the heroines though, they are all strong and independent. They all have some burden to handle and deal with too dominant, too alpha males. Though True is different in the sense, I did like him.
SPOILER me and silence both forgetting the whole firenz and how their marriage is near the end…and being stunned ? like I actually forgot about it and then when Mars talks about it, I was like wait what ? I don't know why I had hoped that he wouldn't do this because if he does, sigh I really liked Mars and Silence together so it would be very unfortunate if it does happen in the next books because Silence is clearly not about this at all (and neither am I).
I mentioned this in an earlier audiobook review, but when a narrator is narrating they narrate the whole thing even when the other characters speak which means the way they talk 'actually' is different to how they speak in other peoples chapters and its just confusing. This wouldn't be too much of an issue if the series didn't have these many characters.
Also not only do we have the beast/main villain and the main bad guys trying to reawaken him. We also have other multiple sub plots of each country and couples. Which is all well and good but none of it gets even a bit resolved in this first part of the book. There's just questions and more questions. We only get to see the budding romance and softening between the couples because so much time is taken in the world building and random sex scenes.
For all this, I did enjoy the world building. I just wished it had been done in a more easily digestible way. The characters, their lives and background and how different the couples are is also interesting. Just wish we had gotten a lot of it in this and we actually knew the prophecy, the other characters keep talking about it but I still don't know much about it, like what it says, why these people etc etc also on that note, it would have been really nice if one of the couple were just ordinary people (magic or not) and not in any way related to nobility or royalty.
We also got a cameo from our old pals from fantasyland so I'm looking forward to seeing them again. I will listen to the next book but I just hope that they random sex scenes and violence is controlled a bit more and the story focuses more on the main characters and the actual rising.
Related Posts