Q and A with Author R.C. Ryan and a giveaway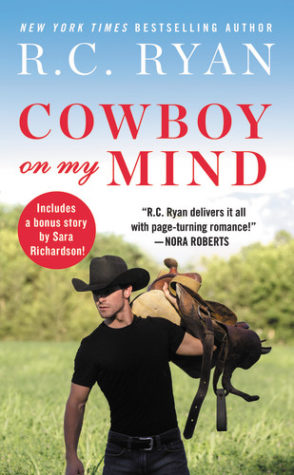 Cowboy on My Mind
by
R.C. Ryan
on June 26th 2018
Buy on Amazon US
, 
Buy on Amazon UK
, 
Buy on itunes
, 
Buy on B&N
A heartwarming western romance about a cowboy who gets a second chance with the first love he couldn't forget in the rugged beauty of the Montana mountains. . .
Don't miss this special 2-in-1 edition that includes a bonus western romance novella by Sara Richardson!Once a bad boy...Ben Monroe was the ultimate bad boy-and everyone in Haller Creek knew it. But now as a sheriff's deputy, Ben spends his time breaking up bar fights rather than starting them, and staying away from trouble...until Becca Henderson comes back into town. She's just as beautiful as Ben remembers-and just as far out of his reach.Coming home is exactly what Becca Henderson needed. A place of her own, a successful new business, and a chance to reconnect with the sexy cowboy she had a crush on in school. Ben has always blazed his own path and never let anyone stand in his way. It excites-and scares-her. But when an unexpected threat surfaces, Becca will see just how far Ben will go to protect the woman he loves-and fight for their chance at forever.
Summer Q&A with R.C. Ryan
All-time favorite beach read?
R.C.: Bridget Jones's Diary. Pure fun.
Sun bather or a shade dweller?
R.C.: Shade. I garden in the mornings, before the sun gets too high. In the heat of the day I write, often under an umbrella on the patio.
What is your favorite food to snack on while you write?
R.C.: Saltine crackers and cheddar cheese. Yumm.
What is the craziest thing in your browser history that you've researched for a book?
R.C.: How many things can go wrong while delivering a calf.
What's one personality trait you share with the heroine of your latest book?
R.C.: Like Becca, I'm a sucker for a cowboy.
—
Cowboy on My Mind by R.C. Ryan will be available on June 26, 2018.
Buy link:
#ForeverSummerReading Sweepstakes