Review: Ruckus by LJ Shen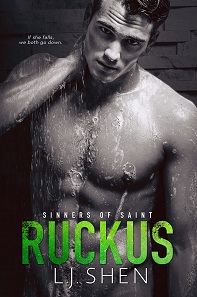 Ruckus (Sinners of Saint, #2)
by
L.J. Shen
Series:
Sinners of Saint#2
on May 23rd 2017
Genres:
Contemporary Romance
,
Abuse
,
Adult
,
Erotica
,
Humorous
Format:
eARC
Source:
Promotion Company
Buy on Amazon US
, 
Buy on Amazon UK

Rosie
They say that life is a beautiful lie and death a painful truth. They're right.
No one has ever made me feel more alive than the guy who serves as a constant reminder that my clock is ticking.
He is my forbidden, shiny apple.
The striking fallacy to my blunt, raw, truth.
He is also my sister's ex-boyfriend.
One thing you should know before you judge me;
I saw him first. I craved him first. I loved him first.
Eleven years later, he waltzed into my life, demanding a second chance.
Dean Cole wants to be my bronze horseman. My white knight has finally arrived. Hopefully, he isn't too late.
Dean
They say the brightest stars burn out the fastest. They're right.
She sets my mind on fire.
All smart mouth, snarky attitude and a huge heart.
In a world where everything is dull, she shines like fucking Sirius.
Eleven years ago, fate tore us apart.
This time, I dare it to try.
Getting to her is a battlefield, but man, that's why they call me Ruckus.
Rosie LeBlanc is about to find out how hard I can fight.
And conquering her will be the sweetest victory.
I think we've all read a series that stays close to our minds as we go through our daily lives. LJ Shen's Sinners of Saint are those types of books for me. And Ruckus proved that a million times over.
Ruckus is perfect. It is a combination of sweet, gritty, painful and perfect. L.J. Shen totally has outdone herself with Dean's and Rosie's story. There are times where you smile in this book and times when you cry and it all makes for an intense ride. When an author creates a combination of these, you know she has some talent. And talent this woman has.
"You never slow me down. You give me time to appreciate my surroundings."
So, Ruckus tells the story about Dean 'Ruckus' Cole and Rosie LeBlanc. These two were destined for each other around the time Dean was 17. With one look, Dean had known he would have to have her. As cliché as that sounds, he was a manwhore at 17, so really it wasn't super romantic. But, fate had different plans for them. Enter in Emilia LeBlanc. The older sister of Rosie. She needs a savior from our all time favorite bad boy Vicious and Dean is a glutton for punishment. So, from the good of his own heart (not any other regions :P) he takes Emilia under his wing at the instruction of her younger sister, Rosie. And so a separation of a lifetime falls between Dean and Rosie. And it is so damn sad to see. If there is one thing I wish LJ Shen changed from the beginning , it would be the time that the couples were separated. Both LeBlanc sisters don't find the support they need for a very long time.
"I was crazy about a girl who went to sleep every day not knowing if she was going to wake up the next."
So, ten years later we find that Dean is still the manwhore of the century and our beautiful Rosie has been dumped and moneyless. Well only because she is a stubborn woman really. Both are in New York and Dean reliases its time to get their show on the road. It's time for their story and their crazy ride. And a crazy ride it is.
""I love you," she whispered. "I love you so much that I hated you for a while. And now that I know you are damaged, I love you even more. Perfect things are not relatable. Unbreakable is fascinating, but not lovable. You're breakable Dean Cole. I'm going to do my best to keep you whole.""
Most of the story is set around the time of Millie's wedding so Dean is asked to take care of Rosie's attendance. The thing is that Dean is trying to get rid of some demons from his past and Rosie is trying to run away from her present. Together they come to heal and find parts of each other they were missing. It's hard to explain without detail, but their story is hard. And raw. But it is beautiful. Both Dean and Rosie jump over huge obstacles. And we are there all the way as we watch them drag themselves from the bottom.  Let's not forget the banter between them two. It's fire!!
""So I'm just going to tell you right here and now, you're welcome to my d*ck anytime you want, any hour of the day. I see us as a long-term thing, so it's important to me to keep you happy."
"Duly noted, Mr Delusional."
"Glad we got that all sorted, Miss Soon-to-be-in-My-Bed.""
I loved everything about this story. There is not one thing about Ruckus that was wrong for me. It had me turning the pages lightning fast. I cannot wait for Trent's story. 2018 please hurry up, you slow poke. The Ruckus epilogue was so tantalizing!!
5 sweet and perfect stars!!
Related Posts