Review: Scandalous by LJ Shen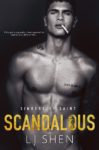 Scandalous (Sinners of Saint, #3)
by
L.J. Shen
Genres:
Adult
,
Coming of Age
,
Contemporary Romance
,
Family Life
,
Humorous
,
Romance
Format:
eARC
Source:
Promotion Company
Buy on Amazon US
, 
Buy on Amazon UK
They call him The Mute for a reason.
Hard, cold and calculated, he rarely speaks.
When he does, it's with disdain.
When he does, his words aren't meant for me.
When he does, my stomach flips and my world tilts on its axis.
He is thirty-three.
I am eighteen.
He's a single dad and my father's business partner.
I'm just a kid to him and his enemy's daughter.
He's emotionally unavailable.
And I am…feeling. Feeling things I shouldn't feel for him.
Trent Rexroth is going to break my heart. The writing isn't just on the wall, it's inked on my soul.
And yet, I can't stay away.
A scandal is the last thing my family needs. But a scandal is what we're going to give them.
And oh, what beautiful chaos it will be.
Ride the rexroth wave.
What a thrill. Trent delivers exactly what he said he would. A rough ride. Scandalous is mother f-ing hot and an overall good read. I am sooo so so glad Trent got his HEA. Trent and Edie had me from the beginning. Their story is rough but it is all theirs.
"But imperfection is where we thrive. In the dark alleyways of society where we first met."
This book had me feeling many emotions. I can't say I am much of an Edie fan… which sucks, but she's not really a character I was blown away by. She is an impressive heroine however. She is extremely loyal and caring. She has always put her needs last for the people she has loved. And the people she loves have been wronged in so many ways, she is fighting a losing battle, head strong and with heart. For someone so young, she has so much responsibility and you see that from the start of the book. I totally respect her for that.
"At the end of the day, life was not a game of chess. Life was f*cking Jenga. You tried winging through it, hoping it wouldn't fall down in spectacular fashion and bury you."
Trent Rexroth has been dealt a bad hand from the beginning. However, he has turned his life upside down and made it his b*tch. I loved him. Hard. The Mute is totally swoon worthy. My heart will always be Vicious's but Trent is very close second. He is demanding, brutal yet full of love inside. The love takes a while for us to see, but this hell of a man comes around and he will sweep you off your feet. He is a father who lives to hear his daughter speak, one mute following another. But he doesn't want her to live the harsh life he has had. That part of him will pull on your heart strings.
"I loved my daughter hopelessly, desperately, urgently. Which only made my inability to help her all the more soul-crushing. The idea that she'd given up on people, or maybe even worse – on her life, before it even started infuriated me."
When Trent and Edie come together it is hot. They are totally in sync in some ways and then not in others, that is the thrill. They love hard and live hard. Their story is one of strife and war in he business world full of greed and money. Yet they come out of it above the tide. (All puns intendened)
The character to steal your heart: Luna. Sweet seahorse loving Luna Rexroth. I really loved Luna. Oh my god she has my heart completely. That little girl is so perfectly imperfect, I just want to hold her.
Despite all the good things, this didn't get me feeling as good as Vicious or Ruckus, but hell I believe whole-heartedly it is a good read.
4.5 Stars
Related Posts