Review and Giveaway: Finding our Forever by Brenda Novak
I received this book for free in exchange for an honest review. This does not affect my opinion of the book or the content of my review.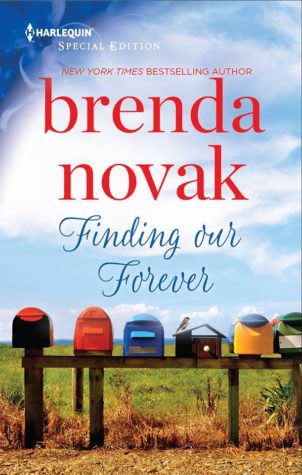 Finding Our Forever
by
Brenda Novak
Series:
Silver Springs #1
Published by
Harlequin
on 20 March 2017
Genres:
Contemporary
Pages:
224
Format:
eARC
Source:
the publisher
Buy on Amazon US
, 
Buy on Amazon UK

New York Times bestselling author Brenda Novak welcomes readers to the town of Silver Springs, where surprises wait around every corner!
The search for her birth mother brought Cora Kelly to the New Horizons Boys' Ranch. Getting a job there was easy enough, but confiding in the ranch's owner that she's really her daughter? That task is daunting. Especially with Elijah Turner watching her every move.
Elijah can't deny his deep attraction to Cora. But there's something about the ranch's newest employee that has him questioning her motives. If she's there to hurt his family, there'll be hell to pay. Yet, if the feelings the lovely teacher awakes in his guarded heart are any indication, Cora's appearance might be just what they were all waiting for.
Cora Kelly is a art teacher, she was adopted by the Kellys as a new born and while she loves her family she always wanted to know more about her birth parents especially her mother which leads to accepting her a job in a school run by her birth mother Aiyanna, in New Horizons Boys Ranch. Cora being unsure of what kind of reception she would get from her mother decides to get to know her mother but keeps her identity as a secret.
Elijah Turner was adopted by Aiyanna along with several other boys and  is the manger of the ranch. His upbringing before he got adopted was heartbreaking  and has left wounds of his heart that haven't healed.
Cora and Elijah are attracted to each other but because they are both dealing with things, the connection they feel with each other takes some time to grow but when it does it oh la la… even though they both say that their relationship will be temporary they are kidding no one with 'its just sex'. I really liked them together, theirs was sweet, cute romance and I was really happy for Cora and Elijah who finally got their happy ending!
I also liked how Elijah responded to Cora after he found out the truth. Cora and Elijah were both affected deeply by their parents so it nice seeing them deal with those issues together as well.
The question of Aiyanna gave up Cora was answered and dealt with in a fairly satisfactory way which made this book even better for me.
A small town romance with a great couple and it had a lovely ending and I'm really looking forward to reading the rest of the series!
Related Posts