Review: Z by Larissa Ione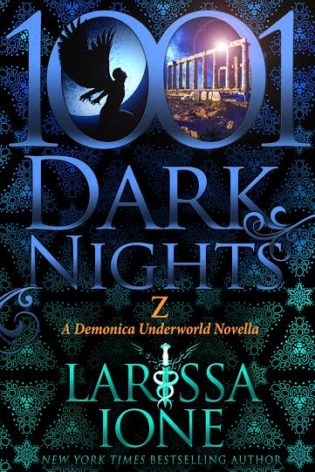 Z
by
Larissa Ione
Series:
Demonica #11.8
Published by
Evil Eye Concepts
,
Incorporated
on April 26th 2016
Genres:
Action & Adventure
,
Paranormal
,
Romance
Pages:
154
Format:
eARC
Source:
Publishing company
Buy on Amazon US
, 
Buy on Amazon UK
Zhubaal, fallen angel assistant to the Grim Reaper, has spent decades searching for the angel he loved and lost nearly a century ago. Not even her death can keep him from trying to find her, not when he knows she's been given a second chance at life in a new body. But as time passes, he's losing hope, and he wonders how much longer he can hold to the oath he swore to her so long ago…
As an emim, the wingless offspring of two fallen angels, Vex has always felt like a second-class citizen. But if she manages to secure a deal with the Grim Reaper — by any means necessary — she will have earned her place in the world. The only obstacle in the way of her plan is a sexy hardass called Z, who seems determined to thwart her at every turn. Soon it becomes clear that they have a powerful connection rooted in the past…but can any vow stand the test of time?
Review 
This is the story of Zhubaal also known as Z and the reincarnated return of his soul mate but who is completely different now called Vex. Zhubaal is a fallen angel that we met couple of books ago, he is the right hand of the grim reaper and lives in sheoul. While Vex who was in her other life an angel and is now a emim.
It was fun reading about the demonica world again and seeing sheoul which looks nothing like it used to when we first saw it. 
I have always slight issues with book dealing with reincarnation of previous lovers or Zhubaal's case his soulmate. But I completely felt for Zhubaal, I mean the guy not only became a fallen angel for the woman he loved but also has waited over a century for her. He has a lot guilt of not being able to save Laura then Vex comes along and he senses his soulmate in her. Which makes him feel really conflicted about his feelings which in turn confuses Vex and makes her feel bad because she feels jealous of a dead woman. I thought Vex was very strong but at the same time she really refused to knowledge some truths about her and Zhubaal's relationship and they both ended up hurting each other. 
I did enjoy the book but not as much as I had it's predecessors but overall it was a solid read with a few laughs, very passionate times, some action/gory things and that in order to move you have to face your past. 
Related Posts