Book Tour: Revenant by Larissa Ione Review + GIVEAWAYS
I received this book for free in exchange for an honest review. This does not affect my opinion of the book or the content of my review.
Revenant
by
Larissa Ione
Published by
Grand Central Publishing
,
Little, Brown Book Group
on December 16th 2014
Genres:
Fantasy
,
Fiction
,
General
,
Paranormal
,
Romance
Pages:
416
Source:
Grand Central Publishing

HELL HATH NO FURY . . .
For five thousand years, Revenant believed he was alone in the world, a fallen angel beyond any redemption. Now he finds he has a twin brother who had all the light and love Revenant was denied. Caught in a tug of war between Heaven and Hell, he must weigh his thirst for revenge against his desire for a mysterious female named Blaspheme-a female whose very origins could deliver him into salvation . . . or destruction.
LIKE AN ANGEL SCORNED
Blaspheme has a deadly secret: she's the forbidden offspring of an angel and a fallen angel. Hunted by both heavenly and satanic forces, she has survived only by laying low and trusting no one. When Revenant claims he can save them both, how can she possibly believe him? But the powerful angel is persistence incarnate and for Blaspheme, there's no place she can hide in Heaven or Hell where he won't find her . . .
Buy Links:
Amazon 
| B&N | IndieBound | iBooks| GooglePlay | Kobo | BAM
Review:
Warning: The review contains some spoilers and a lot of raving!
I loved this *sigh* just writing this review makes me want to go reread it again!
Revenant is a shadow angel, the most powerful being apart from the Satan himself in Sheoul (hell). He also happens to be one of the most cocky, arrogant hero I've read but I couldn't help but love him. His dialogues made me laugh. He is also very vulnerable and hurt about; how he not only has a twin brother but he had thousands of memories wept because of the said brother. He covers up these with his I-don't-give-a-fuck attitude and other times rage. In the last book he gets his memories back which leads him to feeling betrayed, in a sense very lost of who he is now that he knows that he wasn't evil as he though he was. But he is still very much a badass.
She said "how did you do that?" 

He shrugged "I'm powerful as shit"
Blaspheme is a false angel or so she pretends to be. She's the forbidden offspring of a angel and fallen angel, a vyrm. Her kind is hunted and now they are coming after her since her disguise is failing. She doesn't need a complication in form of a six foot fallen angel who just doesn't take the hint to leave her alone. She's a doctor at Underground General Hospital. Blas is very sassy but at the same time she's also caring, compassionate and doesn't want people to get hurt because of her.
"Gethel, your diet sucks. Stop eating infants and eat more leafy greens" 
I really enjoyed Rev and Blaspheme's banter, some of them had me laughing out loud. Revenant from the moment he saw Blas wanted her (they met the first time in Reaver
), while she was trying really hard to get noticed especially not a fallen angel who could kill her if he found out her secrets. Rev was honsetly baffled why Blas didn't want him, he's really that arrogant. Blas made Revenant feel loved which he really needed after the mockery his childhood was, living in sheoul. They were both tough and determined characters with very strong personalities and I think they made a great couple.
"You're good" she whispered against his mouth.

"I know" he whispered back.

Suddenly, pain tore into his arms as her nails scored his skin. "But you're not that good".
Everyone in the book has their own agenda, the world is filled with politics and have truths.  The book had alot of action and fights. It had some suspense and excitement especially near the end where I was like:
But that just made everything more interesting. The lines of what's right and wrong were kind of blurred too in the book. But there were also a few scenes that were very touching and emotional such as Rev's childhood and Rev and Blas scenes near the end. That epilogue was quite lovely as well.
Quibbles: I needed it to be a just a bit longer especially since near the end so much of the action took away the focus from the couple. Also Reaver, I wanted to smack as one point because he couldn't see how hurt Rev was. I love Reaver really I do but dude open your eyes and look already!
Overall, I loved it. This was another great installment to the series, a joy to read I think was grinning almost the entire time I read this like a loon and I can't wait for Hades's
 book which comes out in May 2015. Happy Reading!
P.s Well there you have it my review or as I called it before, a raving. Check out the giveaways at the end of the post. I have two because the publishers were kind enough to offer another copy.
Excerpt:
Since the moment Revenant bumped into Blaspheme at the hospital a few weeks ago, he'd been obsessed, and now, as her long legs ate up the asphalt as she walked toward him, he imagined them wrapped around his waist as he pounded into her. The closer she came, the harder his body got.
"Blaspheme." He stepped out from between two black ambulances, blocking her path.
She jumped, a startled gasp escaping full crimson lips made to propel a male to ecstasy. "Revenant." Her gaze darted to the hospital doors, and he got the impression she was plotting her escape route. How cute that she thought she could get away from him. "What are you doing lurking in the parking lot?"
Lurking? Well, some might call it that, he supposed. "I was on my way to see you."
She smiled sweetly. "Well, you've seen me. Buh-bye." Pivoting, her blond ponytail bouncing, she headed in the opposite direction.
"Come home with me."
"Wow." She turned and crossed her arms over her chest, which only drew his attention to her rack. Niiice. "You get right to the point."
He shrugged. "Saves time."
"Were you planning to wine and dine me at least?  You know, before the sex."
"No. Just sex." Lots and lots of sex.
He could already imagine her husky voice deepening in the throes of passion.
"Oh," she said, her voice dripping with sarcasm. "You're charming, aren't you?"
Not once in his five thousand years had anyone ever called him charming. But even uttered with sarcasm, it was the nicest thing anyone had ever said to him.
"Don't do that," he growled.
"Do what?" She stared at him like he was a loon.
"Never mind." Dying to touch her, he held out his hand. "You'll love my play room."
She wheeled away like he was offering her the plague instead of his hand. "Go to hell, asshole. I don't date fallen angels."
"Good news, then, because it's not a date." And he wasn't a fallen angel.
"Right. Well, I don't fuck fallen angels either." She made a shooing motion with her hand. "Go away."
She was rejecting him? No one rejected him. No one.
She started to take off again, and he blinked, confused. This wasn't right. He had his sights set on her, and she was supposed to surrender. This was something new. Something…titillating.
He moved in slowly, matching her step for step as she backed up.
"What are you doing?" She swallowed as she bumped up against a massive support beam.
"I'm going to show you why you need to come home with me." He planted both palms on the beam on either side of her head and leaned in until his lips brushed the tender skin of her ear. "You won't regret it."
"I already told you. I don't fuck fallen angels."
"So you said," he murmured. "Do you kiss them?"
"Ah…no, I—"
He didn't give her the chance to finish her sentence. Strawberry gloss coated his lips as he kissed her, and he swore he'd never liked fruit as much as he did right now.
Her hands came up to grip his biceps, tugging him closer as she deepened the kiss. "You're good," she whispered against his mouth.
"I know," he whispered back.
Grand Prize: Win copies of Eternal Rider, Immortal Rider, Lethal Rider, Rogue Rider, Reaver and Revenant by Larissa Ione
Giveaway a copy of Reverent by Lasrissa Ione. Open US and Canada only.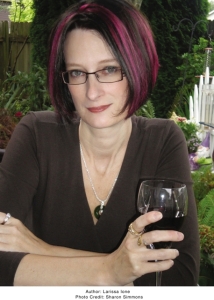 About the author: A former meteorologist and EMT, Air Force veteran Larissa Ione now gets her daily dose of excitement from vampires, werewolves, demons, and the Four Horsemen of the Apocalypse. She lives in wintery Wisconsin with her U.S. Coast Guard husband, her teenage son, a rescue cat, and her hellhound, a King Shepherd named Hexe.
Social Media Links: Website | Facebook | Twitter | Goodreads
Related Posts