Interview with Lori Wilde + Giveaway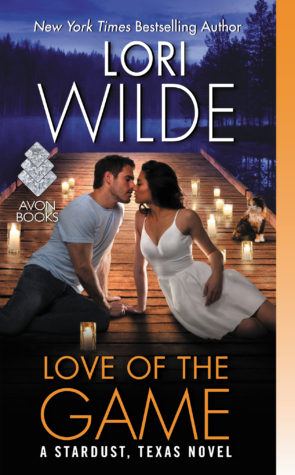 Love of the Game
by
Lori Wilde
Series:
Stardust Texas #3
Published by
Avon
on April 26th 2016
Pages:
384
Buy on Amazon US
, 
Buy on Amazon UK
, 
Buy on Kobo
, 
Buy on B&N
A sexy sports superstar discovers his body isn't the only thing that needs healing in this newest Stardust, Texas novel from New York Times bestselling author Lori Wilde…
With major league good looks and talent, Dallas Gunslingers relief pitcher Axel Richmond was living the good life. Even if the roar of the crowd could never distract him from the loss of his young son. But now with an injured shoulder and his career on the line, Axel is stuck recuperating at a ranch in Stardust, Texas . . . striking out only with his gorgeous physical therapist.
Kasha Carlyle has one week to get Axel back in action or she can kiss her much-needed job with the Gunslingers goodbye. And any chance to seek custody of the orphaned half-sister she never knew existed. She quickly learns that Axel's guarded heart also needs healing . . . requiring all kinds of sneaky plays and sexy moves in extra innings.
Interview with Lori Wilde Author of 'Love of the Game'
Q. Lori, thanks for taking the time to chat with us today!
Your new release, LOVE OF THE GAME is the third in the Stardust, Texas Series, which features some very handsome baseball playing heroes.  What kind of research goes into writing a new series, especially a series with professional sports involved?  
A. Hi, thank you for having me. Whenever I start a new book, I do some preliminary research on the setting, the background, and the characters' occupation. Then I dive into writing. If something comes up during the writing that I don't know the answer to, I'll stop and do some quick research. Then once I finish the first draft and jump into revisions, I'll look for plot hole and missing pieces of research at that point too. Research can involve Internet searches, talking to people in the professions I'm researching, watching TV programs, going to the library, attending an event, or even hands on learning.
Q. You are probably most well known for your Twilight Texas Series, along with the Jubilee Texas Series (my favorite) and the more recent, Cupid Texas Series.  Do you have one series or set of characters that was your favorite to write?  Even a couple?  Or one title that took the most out of you emotionally to write?  
A. The most taxing title for me to write was CHRISTMAS AT TWILIGHT, which features characters struggling with mental illness. Several members of my family have struggled with mental disorders. This book took an emotional as I had to put myself back into heart-wrenching situations I'd experienced. But, it was also very cathartic.
Q. What many readers might not know about you is that you taught a romance course online, which was not only so informative but very personal when it came to feedback and critique.  (I took the class and LOVED IT).  If you have ONE piece of advice for aspiring romance writers, what would that be?
A. Thanks for the compliment. I love to teach writing. I'm actually teaching a class like that again in October through Writers University. https://writeruniv.wordpress.com 
My one piece of advice is to get the book done. Just write it. Then write another one and another one. That's what it takes. Consistent production.
 Q. I read that you are newly certified as a yoga instructor.  What have you found to be the biggest benefit by doing yoga?  Do you think that it has helped with your creativity when it comes to writing?  
A. The benefits of yoga have been nothing short of life altering. Yoga has given me my health, sanity and creativity back. I'd lost myself in work and forgotten who I was. Yoga brought me back to me. I'm calmer, healthier, more balanced. It helps me lead a better life.
Q. What are you working on next?  Another Stardust Romance or are you venturing into a new series? Visiting an older series?
A. I'm going back to Cupid, Texas to write about four brothers from a ranching dynasty and the four Native American sisters they fall in love with.
Rafflecopter Giveaway ($25.00 e-Gift Card to Choice Book Seller and a Print Copy of LOVE OF THE GAME)
a Rafflecopter giveaway
Related Posts