Excerpt: Ride Hard by Laura Kaye + giveaway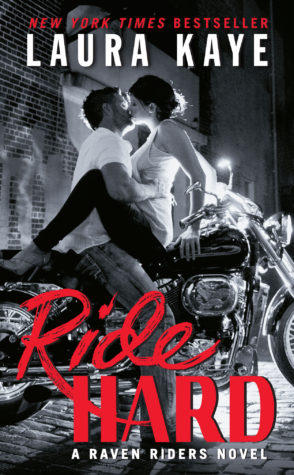 Ride Hard
by
Laura Kaye
Series:
Raven Riders #1
on April 26, 2016
Pages:
384
Buy on Amazon US
, 
Buy on Amazon UK
, 
Buy on Kobo
, 
Buy on itunes
, 
Buy on B&N
Brotherhood. Club. Family.
They live and ride by their own rules.
These are the Raven Riders…
Raven Riders Motorcycle Club President Dare Kenyon rides hard and values loyalty above all else. He'll do anything to protect the brotherhood of bikers—the only family he's got—as well as those who can't defend themselves. So when mistrustful Haven Randall lands on the club's doorstep scared that she's being hunted, Dare takes her in, swears to keep her safe, and pushes to learn the secrets overshadowing her pretty smile.
Haven fled from years of abuse at the hands of her criminal father and is suspicious of any man's promises, including those of the darkly sexy and overwhelmingly intense Ravens' leader. But as the powerful attraction between them flares to life, Dare pushes her boundaries and tempts her to want things she never thought she could.
The past never dies without a fight, but Dare Kenyon's never backed down before…
Laura Kaye has something hot and fun and new to share with you today – a scene from her upcoming book, Ride Hard, the first in her Raven Riders Motorcycle Club series about a new kind of MC with a protective mission. You might've first met the Ravens in the Hard Ink world, but this series stands on its own and is even sexier, edgier, and grittier! So read on for a taste and grab your copy of the first book in this sexy new series!

One minute Dare was standing on the beach, trying to keep himself from giving in to Haven's innocent playfulness. The next he was wet from forehead to knees from Haven splashing him.
She actually splashed him.
His reaction was pure instinct. He took off like a shot, bolting toward her like a wild animal after its prey. Haven's beautiful face went from uncertain to startled to amused, and on a scream and a laugh she turned and ran, her feet kicking up water as she cut through the shallows at the secluded lake's edge.
"I'm sorry, I'm sorry," she yelled between laughs.
Dare just ran faster, not even caring as his boots hit the water. She didn't have a chance in hell of outrunning him, and he wasn't giving up the chase until he had her in his arms—and made her pay.
A burst of laughter exploded out of her as she veered back and forth, pleading words spilling haltingly from her lips. And then Dare clasped his arms around her upper body, hauled her in against him, and took them both down to the sand right at the water's edge. He turned his body so that he took the brunt of the fall, bringing Haven down on top of him. The chase and the challenge and the closeness had him rock hard in an instant. Not surprising, since he'd been sporting a semi since she'd straddled his bike, spread her legs around him, and taken him into her arms.
"You splashed me," he said, eyebrow arched, hand fisted around the long braid in her hair.
Wearing a grin so open and carefree that it made his chest feel suddenly too small for his heart, Haven nodded. "Oops."
"You think that's funny?" he asking, growing harder as she shifted her weight, making her belly grind against his hard-on.
A small gasp of recognition, and she bit down on her lip as the cast of her eyes went from playful to aroused. "A little," she said in a breathy voice. She licked her lips. Dare couldn't help but track the movement, and want to suck the trail of moisture she left there off the plump, pink skin.
What the fuck was he doing?
Haven's hands gripped his shoulders, and she subtly shifted her weight again, pulling herself up his body—just a little, but enough that her lower belly now pressed and thrust against his cock. And Jesus if the need blazing out of those bright blue eyes wasn't crystal clear.
For a split second, Dare thought of Haven's list of things she'd never experienced, her lie of omission, the expression she'd worn on her face when he'd made her come before. And what he wanted to do ran roughshod over what he should do.
Startling a high-pitched gasp from her, Dare flipped their positions so that she lay in the soft sand and his body lay partially over hers. With his forehead against hers, he nailed her with a stare. "You sure you want to provoke me?"
Get a FREE bonus story from Laura's Hearts in Darkness world for buying RIDE HARD before April 30!
Giveaway
Related Posts