Review: Games of the Heart by Kristen Ashley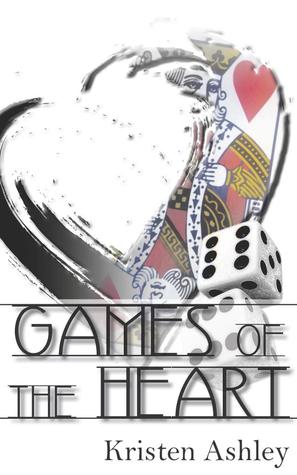 Games of the Heart
by
Kristen Ashley
Series:
,
Published by
Kristen Ashley
on March 15th 2012
Genres:
Contemporary
,
Romance
Pages:
600
Format:
Kindle
Buy on Amazon US
, 
Buy on Amazon UK
From the balcony of his house, Mike Haines can see the quiet, commonplace beauty of the Holliday farm. But what he remembers is the little sister of his high school girlfriend, Dusty who grew up there. As a teen, Dusty had gone off the rails but when she was a kid, she was sweet, she was funny and she had a special bond with Mike. But after high school, she took off and Mike never saw her again.
Then tragedy strikes Dusty's family, she comes back into town and Mike thinks she hasn't changed back to the sweet, funny girl he knew but instead continued to be selfish and thoughtless, leaving her family alone to deal with their mourning. So he seeks her out and confronts her in an effort to understand what went wrong and to force her to sort herself out.
He finds out quickly he's wrong about Dusty Holliday. Very wrong. And right after Mike discovers that, the bond they had years before snaps back into place in ways he would never suspect.
But Mike Haines had a bad marriage then he played games of the heart for a good woman. And lost. In order to protect himself and his kids, he's cautious, he's careful to read the signs and he's not interested in finding a woman he has to fix.
Then he learns what happened to Dusty and he thinks she needs to be fixed. He swings, he misses and in this new game of hearts, for Dusty, Mike just got strike three.
Review
This along with The Will are possibly my fav contemporary romance by KA.
Maybe it's because they felt different then the rest of the books by KA. It still has drama, angst, guy being a prick to the girl at the start etc but I think it's because Dusty was a good protagonist, she was a blunt person not hiding what she thought and Mike after he stopped being judgmental and a wuss on taking a chance with Dusty, he was ok too.
The only problem I had with this book was Warning: Rambling and SPOILERS ahead:
"And he did not need a woman who was drawn to that finding out he was not that and getting quit of him when she felt the need to find that again so she could live out the bullshit Denny Lowe planted in her head that that was all she was good for." ~ Mike Haines
and this

"He did not want a woman who had to be fixed." ~Mike Haines
Really Mike's whole monologue around 18% pissed me off.
God this sentence made me so angry! Why do people or men think that they women have to fixed if they go through something bad while Dusty had in her childhood…like they are broken and the man (hero) has to do the fixing or the woman even needs fixing because if you read about Dusty she doesn't need any fixing least of all from a judgemental douche. <—- I actually wrote this note on my kindle copy along with some other things anyways it really annoyed me and I took a break at this point before continuing because I was getting angrier by the second reading it. I loved how Dusty responded to his thinking that she needed 'help' because seriously dude what is wrong with you?? All that shit about the bond you shared blah blah from Mike and rather than maybe talk it through with Dusty, he decides it(she) just not worth the trouble if needs support or help, which she didn't thank god!

Other than that I really enjoyed it…I also enjoyed the secondary romance between Mike's daughter Reesee and Dusty's nephew Fin. And the epilogue was pretty great as usual with KA.
Sorry for the swearing in this review but as you can see I had a lot of feelings.
Related Posts