Happily Ever Ninja by Penny Reid: Release Day + Giveaway
Happily Ever Ninja
by
Penny Reid
Series:
Knitting in the City #5
on January 21st 2016
Genres:
Contemporary
,
Romantic Comedy
Buy on Amazon US
, 
Buy on Amazon UK
, 
Buy on Kobo
, 
Buy on itunes
There are three things you need to know about Fiona Archer… I would tell you what they are, but then I'd have to kill you.
But I can tell you that Fiona's husband—the always irrepressible and often cantankerous Greg Archer—is desperately in love with his wife. He aches for her when they are apart, and is insatiable when they are together. Yet as the years pass, Greg has begun to suspect that Fiona is a ninja. A ninja mom. A ninja wife. A ninja friend. After fourteen years of marriage, Greg is trying not to panic. Because Fiona's talent for blending in is starting to resemble fading away.
However, when unexpected events mean Fiona must take center stage to keep her family safe, her response stuns everyone—Greg most of all. It seems like Greg's wish has come true.
Except… not.
When all is said and done, can Greg handle this new version of his wife? Will his irrepressible cantankerousness push her away? Or can the couple find a way forward without either being forced to step back into the shadows?
This is a full length, 100k word novel, and is the 5th book in the Knitting in the City Series. All books in the series can be read as a standalone except book #1.5
Happy Release Day to Happily Ever Ninja! Now available everywhere.
'Ninja at First Sight' ~ prequel to 'Happily Ever Ninja' 
It's about when Fiona and Greg first met.
(currently FREE everywhere)
Amazon US | Amazon UK |Nook | Kobo | iTunes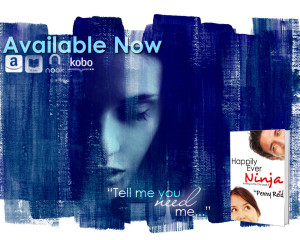 Giveaway
Related Posts