Short review: Angels Fall by Nora Roberts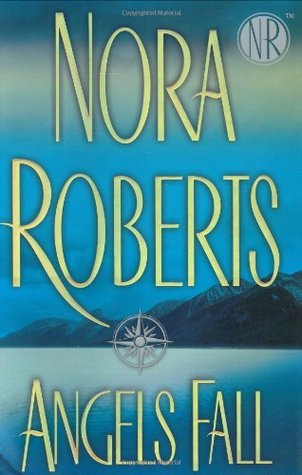 Angels Fall
by
Nora Roberts
Published by
Putnam
on July 11th 2006
Genres:
Contemporary
,
Romance
,
Suspense
,
Thrillers
Pages:
391
Buy on Amazon US
, 
Buy on Amazon UK

#1 New York Times-bestselling author Nora Roberts explores the wilds of the Grand Tetons-and the mysteries of love, murder, and madness-in her engrossing and passionate new novel.
Reece Gilmore has come a long way to see the stunning view below her. As the sole survivor of a brutal crime back East, she has been on the run, desperately fighting the nightmares and panic attacks that haunt her. Reece settles in Angel's Fist, Wyoming-temporarily, at least-and takes a job at a local diner. And now she's hiked this mountain all by herself. It was glorious, she thought, as she peered through her binoculars at the Snake River churning below.
Then Reece saw the man and woman on the opposite bank. Arguing. Fighting. And suddenly, the man was on top of the woman, his hands around her throat . . .
Enjoying a moment of solitude a bit farther down the trail is a gruff loner named Brody. But by the time Reece reaches him and brings him to the scene, the pair has vanished. When authorities comb the area where she saw the attack, they find nothing. No signs of struggle. No freshly turned earth. Not even a tire track.
And no one in Angel's Fist seems to believe her. After all, she's a newcomer in town, with a reputation for being jumpy and jittery-maybe even a little fragile. Maybe it's time to run again, to move on . . .
Reece Gilmore knows there's a killer in Angel's Fist, even if Brody, despite his seeming impatience and desire to keep her at arm's length, is the only one willing to believe her. When a series of menacing events makes it clear that someone wants her out of the way, Reece must put her trust in Brody-and herself-to find out if there is a killer in Angel's Fist before it's too late.
Short Review
Rating 2.5- 3 stars.
Hmm the whole small town which should have come across as quaint and wholesome didn't…instead it came off across as a small town with a very idyllic view but extremely unempathetic people. I really don't understand why anyone would prefer to live there but Reece and Brody did clearly.
The only person I liked was Reece. She was a strong lead who had been through so much and was still trying to get back and be as normal as she could.
Her love interest Brody was a mystery writer and was big on the whole tough love and didnt do sympathy or caring really. I thought he was getting better at being the guy for Reece but unfortunately the whole debacle of not making her feel welcome in his cabin later on in their relationship made me feel annoyed and made him seem not very hero material (which he wasn't at the start but was working towards it atleast).
The book dragged on in some places other than that I didn't really see the need for a secondary romance but it was also there. The who dun it part was ok but how the reveal was shown was predictable.
My favourite book still remains The Witness which also had a small town but very likeable characters and an amazing heroine (also a very loving hero).