Review: A sorceress of his own by Dianne Duvall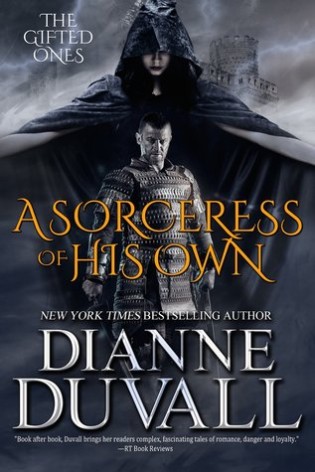 A Sorceress of His Own (The Gifted Ones, #1)
by
Dianne Duvall
Series:
The Gifted Ones #1
Published by
Self Published
on January 1st 1970
Genres:
Fantasy
,
Historical
,
Paranormal
,
Romance
Buy on Amazon US
, 
Buy on Amazon UK
, 
Buy on Kobo
, 
Buy on itunes
, 
Buy on B&N

From the New York Times bestselling author of the acclaimed Immortal Guardians series comes an enchanting new series full of romance, danger, and loyalty: The Gifted Ones

Since the day Lord Dillon earned his spurs, rumors of his savagery on the battlefield have preceded him into every room, stilling tongues and sparking fear. Weary of battle, he wishes only to find a woman he can wed who will approach him not with fear, but with the tenderness that has been absent from his life for so long. Yet only the wisewoman seems invariably at ease in his presence. Perhaps because she garners the same fear in others that he does himself.

For seven years, Alyssa has been by Lord Dillon's side, counseling him from the shadows, healing him with her hands, and staving off the worst of his loneliness while his fearsome reputation keeps others at bay. Blessed--or cursed--with gifts that label her a sorceress, she is forced to conceal her youth and the love she harbors for him beneath umbral robes that lead Dillon and his people to believe she is the same aged wisewoman who served his father.

All is revealed, however, and passions flare when an enemy threatens Dillon's life and Alyssa sacrifices everything to save him. When Dillon discovers that the wisewoman is far from elderly, he is instantly entranced. And, as he and Alyssa work together to defeat an enemy bent on destroying them both, Dillon will risk anything--even the wrath of his king--to be with her.
This book is the start of the prequel series of the Gifted ones, if you like me are a fan Dianne Duvall's Immortal guardians then I'm sure you would like to know more about the beginnings of the gifted ones or just more about them.
The book obviously has a lot of romance in it but theres also equal focus on Alyssa who is the gifted one of the romantic pair and Lord Dillion's world of politics and war. The book starts of slow but then it keeps a steady pace.
Alyssa and her family are gifted ones, it has been passed onto from her mother who got it from grandmother. Her grandmother used to be the advisor to Lord Dillions father. Now Alyssa is to be the advisor to Lord Dillion but still pretending to be her grandmother. Alyssa has been in love with Dillion ever since she was a child. She knows that taking on the role of the advisor would mean end to even the chance them ever being together but she does it anyway. Which just showed how strong her will was even from a young age. 
I really enjoyed Alyssa, she is such a strong woman and manages to hide her identity and the fact she is not her grandmother , instead is 16 year old girl in the prologue who decides to follow the steps of her grandmother and does what is needed to be done. She is independent, loving and caring at the same time so wise for a woman her age. Obviously I also liked the fact thought Alyssa was in love with Dillion she didn't make stupid decisions which is always important but at times I did think because of her healer side she would too often be careless about her own health which made me feel a tad bit angry with her. 
Dillion, Earl of Westcott was also an extremely good lead. Despite the rumours about him, he wasn't a ruthless leader or violent, he was just. He also loved his brother, the only family he had felt. He was also lonely, he wanted to be with someone who didn't want him because of his status or his wealth. 
Alyssa and Dillion become friends in the seven years after Alyssa took the role of his advisor and throughout the book their friendship is clear, they understand each other. The were bonded to each other, more importantly they made each other happy. Their relationship falls under friends to lovers trope and I think it was done pretty well. They both protective of each other, had passion after Alyssa's revelation and love.
There are some twists, turns along with some battle wounds along the way to Dillion and Alyssa's HEA. All of which made the story more interesting and showed the character's and the couples development.
We also see Seth and some of immortal guardians as mortals in the series which was fun to read about. I'm looking forward to the next book in the series which will be releasing next year. If you have not already, do check out the first book in the immortal guardians series Darkness Dawns ;It's about a antisocial vampire and a university music teacher that began it all. Happy Reading!
Related Posts