Book Tour and Giveaway: Holding Holly by Julie Brannagh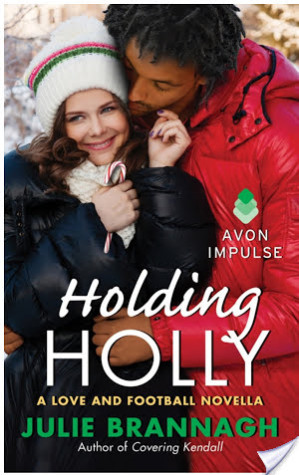 Holding Holly
by
Julie Brannagh
Published by
Harper Collins
on December 2nd 2014
Genres:
Contemporary
,
Fiction
,
General
,
Romance
,
Sports
Pages:
100
Buy on Amazon US
, 
Buy on Amazon UK
Julie Brannagh's delightful Love and Football series returns in time for Christmas ...
Holly Reynolds has a secret. Make that two. The first involves upholding her grandmother's hobby of answering Dear Santa letters from dozens of local schoolchildren. The second ... well, he just came strolling in the door.For the last two years, Holly has not been able to stop thinking about gorgeous Seattle Shark Derrick Collins. His on-field exploits induce nightmares in quarterbacks across the NFL, but she knows he has a heart of gold.
Derrick has never known a woman he wanted to bring home to meet his family, mostly because he keeps picking the wrong ones—until he runs into sweet, shy Holly Reynolds. Different from anyone he's ever known, Derrick realizes she might just be everything he needs.When he discovers her holiday letter writing, he is determined to play Santa too. And as the pair team up to bring joy to one little boy very much in need, they discover the most precious Christmas gift of all: love.
Excerpt:
He presented Holly with the second bouquet, and she beamed. He'd bring her flowers every day if he could see that radiant smile. If he didn't know any better, he'd say he'd been kicked in the ass by love or some pretty intense infatuation. She was just so cute standing there, and he couldn't stop staring at her. He noted she was also wearing a pair of snow boots; at least those guys at the tire shop hadn't steered him wrong on that one. If he moved his ass, he'd get to spend a couple of hours chatting with her.
"You brought my grandma flowers? Oh, that is so sweet. Grandma, let me put these into water before I go." She reached out for her grandma's bouquet and turned to vanish into what he imagined was the kitchen. He fidgeted. Most of the women he'd dated lived with roommates who either ignored his arrival for a date or tried to get a date with him themselves. Holly's grandma's scrutiny left him a little freaked out.
Rafflecopter Giveaway (Digital Set of LOVE & FOOTBALL Series Bks 1-4)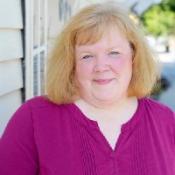 Author Info
Julie Brannagh has been writing since she was old enough to hold a pencil. She lives in a small town near Seattle, where she once served as a city council member and owned a yarn shop. She shares her home with a wonderful husband, two uncivilized Maine Coons and a rambunctious chocolate Lab.
When she's not writing, she's reading, or armchair-quarterbacking her favorite NFL team from the comfort of the family room couch. Julie is a Golden Heart finalist and the author of contemporary sports romances.
Author Links: Website | Facebook | Twitter | Goodreads