Book Tour and Giveaway: Loving You is Easy by Wendy S. Marcus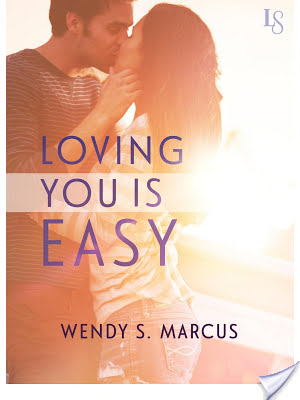 Loving You Is Easy
by
Wendy S. Marcus
Published by
Random House Publishing Group
on December 9th 2014
Genres:
Contemporary
,
Contemporary Women
,
Fiction
,
Romance
,
Suspense
Pages:
276
Buy on Amazon US
, 
Buy on Amazon UK
She's a survivor of the front lines of politics. He's a wounded soldier returning home from the battlefield. Can they place their trust in the power of love?
Nobody plays the role of perfect politician's daughter better than quiet, respectable math teacher Brooke Ellstein. But she won't be caught swimming with the sharks again, not after the son of a wealthy donor sinks his teeth into her and gets away with it. Still, political connections have their perks, such as heading up the governor's "Support Our Troops" pen-pal initiative—and getting first dibs on the smoking-hot sergeant whose picture shakes her right down to her goody-two-shoes.
When corresponding with sweet, classy Brooke, Shane Develen instinctively hides his commando tattoos and blue-collar roots—and he can tell that she's hiding something, too. But Shane knows he's gained her trust when Brooke gives him a blisteringly sexy photo. Then he's injured in an ambush and a fellow soldier posts the snapshot online. Overnight, Brooke's reputation turns to ashes. Even though he's totally wrong for her, Shane shows up on Brooke's doorstep, determined to set things right—and discovers that right or wrong has nothing on the chemistry they share.
Excerpt:
Prologue
November 4, 2011
Dear Sergeant Develen,
My name is Brooke Ellstein. I'm a seventh- and eighth-grade math teacher responsible for coordinating NYS Governor Howard's Support Our Troops Initiative that matches active-duty members of the military, serving overseas, with school classrooms across New York State. (In case you're wondering how my involvement came about, my father is currently the New York State comptroller, and he works closely with the governor.)
Thank you for agreeing to participate, and congratulations on making the list of prospective pen pals. All the servicemen and -women were personally vetted by their commanding officers and determined to be exemplary soldiers of high moral character.
Unfortunately, it now falls to me to inform you we've wound up with several soldiers, such as yourself, who are not now nor have ever been residents of/or stationed in New York State, yet were included on our list in error. For that I apologize.
To make amends, I'm contacting all of the soldiers with out-of-state bios to offer an alternative. You see, my friends and I are happy to serve as pen pals in place of the students. If you're interested, I paired you up with me. I've enclosed a picture of myself so you know who you'd be exchanging letters with. (It doesn't seem fair for me to have your picture and you not to have mine.)
If it matters, I'm twenty-five years old, single, and I enjoy running, hiking, and bike riding.
If you'd like to be my pen pal, and I really hope you do, please write me back at the PO box provided on the envelope. I look forward to hearing from you. But no pressure—I understand if you'd rather not. Again, I apologize for any inconvenience or disappointment the mix-up has caused.
Sincerely,
Brooke Ellstein
November 18, 2011
Dear Brooke,
Sure. I'm all for having a pretty pen pal from back home. As long as you know—and I can't think of a nice way to put this so I'm just going to write it—I am not in the market for a girlfriend, long distance or when I come home. I realize saying that in my first letter makes me sound like a jerk. I mean, who do I think I am? But I'm being honest and putting it out there so you know where I stand from the start. I'm here to do a job and I need to focus on that job completely.
On the off chance you haven't balled up my letter and tossed it into the trash, and I hope you didn't, I'll tell you a little bit about myself. (Not sure what's in the bio you have.)
I'm twenty-six years old. I've been in the army for eight years—went in right after high school. I grew up in New Jersey; my family still lives there. When I'm not deployed overseas, I'm stationed at Fort Bragg in North Carolina. I'm currently a little over one month into a twelve-month deployment to Afghanistan. This is my fourth time over here.
I enjoy running and hiking, too. (Although not with a full ruck.) I can't remember the last time I was on a bicycle.
If I haven't completely offended you and you still want to be my pen pal, do me a favor and include your e-mail address in your next letter. Internet is spotty, but some days it's easier to type out an e-mail than sit and write.
Looking forward to your next letter if you choose to send one,
Shane.
Rafflecopter Giveaway ($25.00 eGift Card to Choice Book Seller and Loveswept Mug & Tote)
Author Info
Wendy S. Marcus is an award-winning author of contemporary romance. A nurse by trade, Wendy holds a Master of Science in Health Care Administration, a degree that does her absolutely no good as she now spends her days, nights, and weekends mucking around in her characters' lives creating conflict, emotion, and, of course, a happily ever after. Wendy lives in the beautiful Hudson Valley region of New York. When she's not writing, she enjoys spending time with her family, which includes her dog Buddy, and blogging/e-mailing/tweeting/facebooking with her online friends.