Short Review: Monster in the Closet by Karen Rose
I received this book for free in exchange for an honest review. This does not affect my opinion of the book or the content of my review.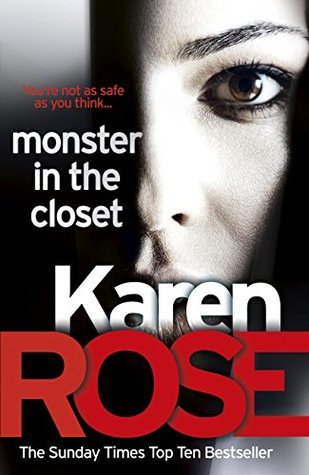 Monster in the Closet
by
Karen Rose
Buy on Amazon US
, 
Buy on Amazon UK
, 
Buy on Kobo
, 
Buy on itunes

The Sunday Times bestselling author of Every Dark Corner returns with an exclusive novel celebrating ten years of Karen Rose's thrillers in the UK. MONSTER IN THE CLOSET reunites readers with characters from Karen Rose's bestselling Baltimore series.
A mother is dead, and now her killer hunts the child that witnessed the brutal crime...
Private Investigator Clay Maynard locates missing children for clients, but has nearly given up hope of finding his own daughter, cruelly stolen from him by his ex-wife twenty-three years ago.
Equine therapist Taylor Dawson has chosen to intern at Daphne Montgomery-Carter's stables so that she can observe the program's security director - her father, Clay Maynard. Trying to reconcile the wonderful man she's getting to know with the monster her mother always described, Taylor never expects to become the target of a real monster, the man who murdered the mother of the little girls she works with at the stable. Neither does she expect to fall for Ford Elkhart, Daphne's handsome son, who is dealing with his own demons. As family and friends gather for a wedding, Taylor starts to imagine a permanent life in Baltimore.
But not if the real monster gets to her first...
Monster in the closet is a different from the other books in the series, not only the protagonist a lot younger than those in the previous books, they are also not actually in law and enforcement sector.
I really enjoyed it, it was different it focused a bit more on the human aspect, the relationships between the group of people we have gotten to know over the course of the series and we get a happy ending and questions answered for a character, Clay that has been part of the series for a long time. The book does have quite a lot of subplots and since I feel like this book was primarily written for the fans of the series because of whom it was about, Taylor Dawson and her father Clay Maynard.
Taylor Dawson now a adult, decides to find her father to get to know more about him after finding out the truth from her dying mother. This takes her to Baltimore, working in the Daphne's program centre, where she hopes of learning more about the man who she only remembers glimpses of. Ford Elkhart is Daphne's son and he is suspicious of her behaviour. They are attracted to each other but don't know where it would lead, since not only is Taylor hiding who she is but also because she doesn't intend to stay in Baltimore.
The subplot focuses on the murder of the mother of two girls, one of girls is being helped by Taylor at the centre and is starting to open up to her which brings her in sights of the murderer.
Overall, it was a enjoyable read and not as full on mystery/thriller as Karen Rose's other books but that is because as I said earlier a gift for the fans of the series who had been waiting to find out about the truth of Clay's daughter.
Related Posts