Blog Tour: Mister Wrong by Nicole Williams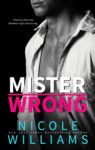 Mister Wrong
by
Nicole Williams
on February 25th 2017
Genres:
Contemporary
,
Contemporary Romance
,
New Adult
,
Romance
Format:
eARC
Source:
Promotion Company
Buy on Amazon US
, 
Buy on Amazon UK
, 
Buy on Kobo
, 
Buy on itunes
, 
Buy on B&N

Cora Matthews grew up with the Adams' boys, twin brothers and best friends who wouldn't let anything come between them—except for her. One of them became her best friend; the other, her fiancé.
She always knew she'd wind up marrying one of them, and Jacob Adams is the epitome of Mister Right. At least until he fails to show up for their wedding.
As Jacob's best man, and identical twin, Matt makes a split-second decision that will affect the three of their lives forever—he steps in to take his brother's place. In front of the altar, exchanging vows with the woman he's secretly been in love with for years.
But Cora finds out about the groom swap. The morning after the wedding. As if realizing she just slept with her fiancé's brother isn't disturbing enough, she's forced to confront the feelings for Matt Adams she thought she'd buried years ago.
Through the course of her real honeymoon with her fake husband, she uncovers truths both Adams brothers were hoping to keep hidden, for opposite reasons. One to protect himself, the other to protect her.
She married the wrong brother, but what if he's been the right one all along?
"You're not the kind of woman who needs to make anything easy for a man. You're the kind of woman who should make a man work for it. Make him work to earn your anything." ~ Matt, Mister Wrong by Nicole Williams
WARNING: This books crosses lines.
It's messy, wild but a good read none-the-less. The blurb lures you in, makes you feel like you are about to go an adventure. And that is damn well what you get. Nicole Williams delivers an adventure which is messy, wild and sort of twisted. There is something in the pages of Mister Wrong that makes you want to keep turning them. You want to get to the next chapter and before you know it you've reached the end. It's almost magnetic 😛
So the story is about Cora Matthews who is about to marry Jacob Adams, one of the identical twin Adam brothers.  However, he doesn't show up. And from there is becomes a sort of nightmare. Let me introduce to you Matt Jacobs, the other brother. Same face, similar body type but a whole different person. And he is in love with Cora. Has been since she moved in as the daughter of the help into their house at a young age. As the sweet and protective man Matt is, he steps in as the groom and no one can tell. Not even Cora. This party is beyond normal.
We are talking realms of crazy town.  
"I needed all my mental faculties firing on all engines when and if I found her. I wasn't expecting her to understand why I'd done it, but I need her to know exactly why I had". ~ Matt, Mister Wrong by Nicole Williams
Most of the story is set in the Caribbean which is the honeymoon destination. So Matt and Cora do what any couple is to do on their honeymoon…. You guessed it you dirty son of a gun J Now here is where I was internally freaking out for them. So Cora consents to sex with Jacob, but not with Matt. However it is Matt she is doing the dirty with.I just… am confused on the ethics side of this. Is this wrong?I mean of course it's wrong, but it seems almost unforgivable. Hence why I tell you this book is messy.
After some boinking, the truth comes out. Its hard for it not to. No pun intended. And  as the reader you start to see that Cora does have feelings for the other brother.  I'm not going to spoil it any further, but this story is all about discovering true feelings and how to act upon them. In the messiest situation, I must say, but it happens eventually.
Let's talk characters:
I personally didn't like Cora. I think she really led both brothers on for such a long time. She should have just been truthful to herself from the get go ten years ago to avoid this. She wanted the best of both worlds and she hurt people deeply. There are lots of times where you will be like;
"Woman just say what you feel. Good dammit!!."
However, I don't think either brother see Cora the same way as I do. On one hand we have Jacob Adams. He is a selfish bastard. And he has no idea what he had until it was gone. There is a large reason to hate him, but in the end you do feel for him with what he goes through. It is a tough situation and you can't see him as the bad guy for very long.
Then we have Matt. And he is the sweetest. He sees the sweet side of Cora. She has done many things for him growing up as he has for her. However, it's only in his head we see just how much he loves her. He went 10 years without the girl. Sacrificing his own happiness for hers. Or so it seems. He was honestly too selfless.  A lot of messy situations could have been avoided if he had spilled his guts earlier. Yet, he is still a dream.
"I didn't leave until I watched the woman I loved head up to her room with my twin brother.
 The damn story of my life.
Me waiting and watching while she left with him. Me loving her every second of every day while she gave her love to him. Me willing to give anything I had for her when she didn't want anything from me."~ Matt, Mister Wrong by Nicole Williams
To sum this mess-fest up. It's a good read filled with drama after drama. Very enjoyable and something very different.
It gets a solid 4 Stars!!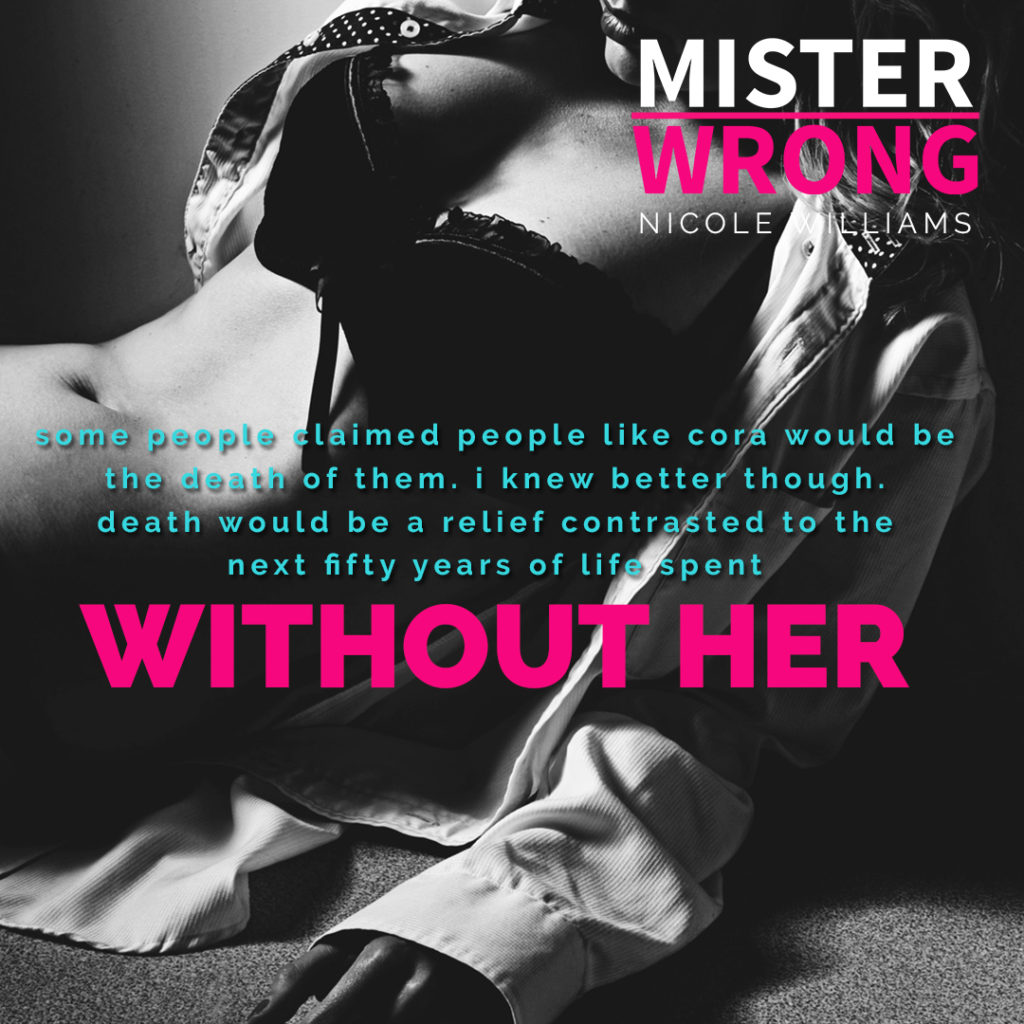 Related Posts