Guest Post with Author Jessica Lemmon + Giveaway
The Billionaire Bachelor
by
Jessica Lemmon
Series:
Billionaire Bad Boys #1
Published by
Forever
on June 28th 2016
Genres:
Contemporary
,
Romance
Pages:
384
Buy on Amazon US
, 
Buy on Amazon UK
, 
Buy on Kobo
, 
Buy on itunes
, 
Buy on B&N
Indecent Proposal
Manwhore. That's what the board of directors-and the tabloids-thinks of billionaire bachelor Reese Crane. Ordinarily he couldn't care less, but his playboy past is preventing the board from naming him CEO of Crane Hotels. Nothing-and no one-will keep him from his life's legacy. They want a settled man to lead the company? Then that's exactly what he'll give them.
Merina Van Heusen will do anything to get her parents' funky boutique hotel back-even marry cold-as-ice-but-sexy-as-hell Reese Crane. It's a simple business contract-six months of marriage, absolute secrecy, and the Van Heusen is all hers again. But when sparks fly between them, their passion quickly moves from the boardroom to the bedroom. And soon Merina is living her worst nightmare: falling in love with her husband . . .
TOP 5 THINGS THAT MAKE THE MAN: REESE CRANE
By Jessica Lemmon
Curious about what makes Reese Crane, billionaire bachelor, the man? Lucky for us, I was able to get my latest (stubborn) hero to open up about 5 things that make him, well, him.
#5 ~ Beard trimmer. Reese is never without a sexy amount of stubble on his jaw and chin (see book cover) and this bit of dishevelment throws our heroine, Merina right off course. Reese maintains his look, never clean-faced, and never too beardy. Can you say control?
#4 ~ Scotch. Reese prefers it on the rocks, and as he tells Merina on their date one evening, "It's always what I expect."
#3 ~ Yacht. In case of temporary nuptials, climb aboard and hide out! But not for long. Sunrise on the deck isn't optional for Reese—he and Merina need reporters to see them together after the wedding.
#2 ~ Sharp wit. I'm not sure whose banter is more infectious, Merina's or Reese's. But I promise you this: when they're together, they are on fire!
#1 ~ The tie. Merina becomes obsessed with loosening Reese's ever-present tie, much to the reader's delight. As she puts it, she likes to see him come undone.
As do I, Mer. As do I. 😉
Teaser from The Billionaire Bachelor by Jessica Lemmon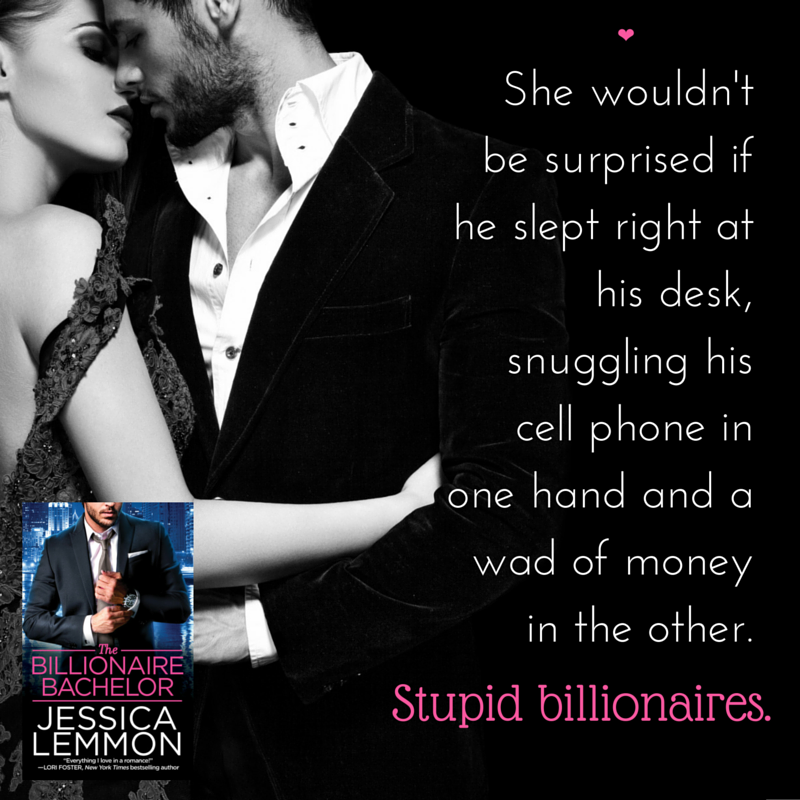 Giveaway
a Rafflecopter giveaway


Related Posts