Shirley Jump Shares reasons to love beach romance + Giveaway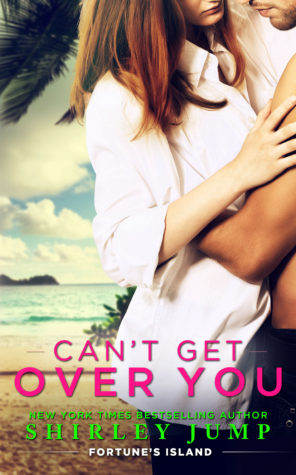 Can't Get Over You (Fortune's Island, #2)
by
Shirley Jump
Series:
Fortune's Island #2
Published by
TKA Distribution
on June 23, 2016
Pages:
171 pages
Buy on Amazon US
, 
Buy on Amazon UK
, 
Buy on Kobo
, 
Buy on itunes
, 
Buy on B&N
Travel back to the loveswept world of Fortune's Island with New York Times and USA Today bestselling author Shirley Jump.
His voice pierced the darkest corners of her heart.
Waitress Jillian Matheson needs a life makeover. The first thing on her "Get it Together" to-do list is breaking up with her fiancé, Zach Gifford, a struggling rocker who refuses to grow up. With Zach on the sidelines, Jillian pursues the dream career she's secretly craved for decades and finds romance in the arms of a hot, mysterious visitor on Fortune's Island. There's just one kink in her plans. Zach's band has a regular gig at The Love Shack where she works. And, she can't deny the effect of his velvet-cloaked voice, a voice that can still reach places she no longer allows his hands to touch.
She's the only song he ever wanted to sing.
Zach thought he had everything figured out—a music career on the edge of a breakthrough and a gorgeous fiancé—until Jillian left her engagement ring on his amp one night and walked out of his life. He is sure that he can get her to remember their shared passion and realize that they belong together, until a new man enters the picture and begins to sway Jillian's heart.
Is it ever too late for true love?
Just as Zach begins to break down Jillian's walls of resistance, a dark secret from his past comes to light and threatens to ruin their second chance at love. With shattered trust pushing them farther away from each other than ever before, can these two wounded hearts find their way back to each other before the last song?
Six Reasons to Love Beach Romances
By Shirley Jump
Ever since I saw that super hot kiss scene in From Here to Eternity, I have loved beach romances. It helped that I grew up in Massachusetts, a half hour from the beach. I even purposely picked a college on the water just so I could be near the ocean every day. I now live in Florida, only 6 miles from the Gulf Coast, which makes my beach-loving self super happy. So when I went to write a new series, I wanted to set the books on an island, where beach living is easy and fun.
Fortune's Island is modeled after Martha's Vineyard, a place I have visited several times and totally loved. The island in Can't Get Over You is a little less fancy than Martha's Vineyard, and most of the action is centered around The Love Shack, a fun little bar right on the sand. If you haven't read a beach romance yet, I thought I'd share six reasons to love them (and maybe you'll start with Can't Get Over You? 🙂
It's a Mini-Vacation: When I lived in Massachusetts and later Indiana, reading a beach romance let me feel, for a little while, like I was somewhere warm and sunny and with margaritas. It was a break from the cold and drear of winter, and a nice taste of summer.

There's no sand in your shoes: Living near the beach (and going there a few times a week) means I am continually cleaning sand out of everything—my clothes, my car, my shoes. I kinda like the idea of visiting the beach without the later cleanup!

No SPF required: Here in Florida, we apply sunscreen just to get the mail, LOL. Reading a beach romance means you can stay inside, away from the UV rays, and still get your sunny-side fix.

Beach romances are like summer romances on sterioids: Summer romances are those quick loves, hot for June-August, then over as soon as Labor Day arrives. With a beach romance, the love story can last all year. There's also something about the beach that just amps up the hot factor.

Speaking of hot: Beach romances feature plenty of shirtless heroes. Enough said.

Beach romances mean beach weddings: Almost every single time I go to the beach, I see a beach wedding. Every time, they make me go awwww. They're truly my favorite kind of wedding, because they're romantic and relaxed (and for those of you who love beach weddings, there's one in Can't Get Over You).
Tell me, do you like beach romances? Are you a beach or mountains person? What's your favorite beach romance?
Can't Get Over You Teaser

Giveaway
a Rafflecopter giveaway