Exclusive Excerpt: America's First Daughter by Stephanie Dray & Laura Kamoie + Giveaway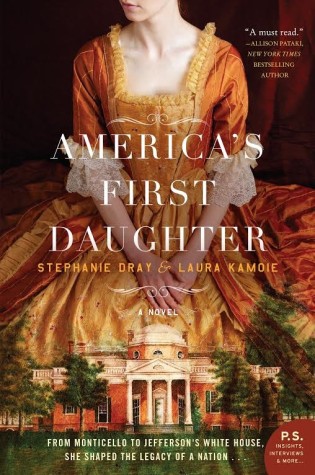 America's First Daughter
by
Stephanie Dray
,
Laura Kamoie
Published by
William Morrow Paperbacks
on March 1st 2016
Genres:
Historical
Pages:
624
Buy on Amazon US
, 
Buy on Amazon UK
, 
Buy on Kobo
, 
Buy on itunes
, 
Buy on B&N
In a compelling, richly researched novel that draws from thousands of letters and original sources, bestselling authors Stephanie Dray and Laura Kamoie tell the fascinating, untold story of Thomas Jefferson's eldest daughter, Martha "Patsy" Jefferson Randolph—a woman who kept the secrets of our most enigmatic founding father and shaped an American legacy.
From her earliest days, Patsy Jefferson knows that though her father loves his family dearly, his devotion to his country runs deeper still. As Thomas Jefferson's oldest daughter, she becomes his helpmate, protector, and constant companion in the wake of her mother's death, traveling with him when he becomes American minister to France.
It is in Paris, at the glittering court and among the first tumultuous days of revolution, that fifteen-year-old Patsy learns about her father's troubling liaison with Sally Hemings, a slave girl her own age. Meanwhile, Patsy has fallen in love—with her father's protégé William Short, a staunch abolitionist and ambitious diplomat. Torn between love, principles, and the bonds of family, Patsy questions whether she can choose a life as William's wife and still be a devoted daughter.
Her choice will follow her in the years to come, to Virginia farmland, Monticello, and even the White House. And as scandal, tragedy, and poverty threaten her family, Patsy must decide how much she will sacrifice to protect her father's reputation, in the process defining not just his political legacy, but that of the nation he founded.
We are absolutely thrilled to bring you the Blog Tour for Stephanie Dray and Laura Kamoie's AMERICA'S FIRST DAUGHTER, a historical fiction novel is published by William Morrow, an imprint of HarperCollins, and releasing March 1, 2016! AMERICA'S FIRST DAUGHTER is a compelling, richly researched novel by bestselling authors Stephanie Dray and Laura Kamoie. Drawing from thousands of letters and original sources, the authors reveal the fascinating, untold story of Martha "Patsy" Jefferson Randolph, Thomas Jefferson's eldest daughter.  Patsy was one of the most influential women in American history: not only the progeny of a founding father – and the woman who held his secrets close to her heart – but a key player in the shaping of our nation's legacy.  And her story is one seldom told, until now.  Make sure you grab your copy today!

Have to Marry Well
Papa's debts were such that he had to sell our mother's favorite plantation—Elk Hill. He'd been forced to sell land. Land, which meant everything to a Virginia planter. Everything to him. And I understood that in his perilous financial situation, the only asset I had to contribute was myself.
I'd have to marry, and I'd have to marry well.
Given that my heart was already shattered to pieces, love need be of no consideration in my decision to marry. Sally's words from that day in the foyer at the Hotel de Langeac played back to me. Women have to give hard thought to the men we'll wind up with. . . . Her words held a relevance now that I couldn't have known then, and it made me all the more regretful for the way
I'd treated her.
So, yes, let my choice of husband be a wealthy man, but also a kind one. A country neighbor and friend. Someone with whom my family shared a history.
If I was to marry, why not Tom Randolph?
I could never hope for a man to see me the way William had, but Tom wanted me. And that would have to be enough. I saw no reason to delay.
William and I had parted in September. It was now January of a new year, and he'd still not written to my father or me. William had waited two years before declaring that he'd wait no more. I doubted the young Mr. Randolph would wait that long. And if we didn't marry soon, my father wouldn't be there for the wedding, because William's predictions had proved to be true—President Washington had, indeed, named my father secretary of state. And Papa's friends, like Mr. Madison, convinced him that it was an honor he couldn't refuse.
None of us would return to France. Instead, my father would ride off to the new capital to serve in the president's cabinet before springtime and would send me and Polly to live at Eppington, where we'd learn housewifery from Aunt Elizabeth.
Or . . . I could marry now and be my own mistress. So, I accepted Tom's proposal, and the wedding was planned a few weeks hence.
Tom never smiled at my answer. Instead, standing beneath the pillars of my father's neglected house, he took my hands and crushed them to his chest so I might feel the throbbing pulse beneath my fingers to prove his happiness. "My heart is yours, Patsy. It's racing for you. Galloping with eagerness to make you mine."
I might've hesitated, in that moment, if my own heartbeat hadn't answered in kind. "I'd like to know your plans for our future," I said.
Tom nodded, his gaze serious. "My father is settling on me a plantation near Tuckahoe called Varina, with forty Negroes. Your father is settling on you his best plantation in Bedford and
twenty-five Negroes, little and big."
Slaves. My father was giving me slaves.
They wouldn't be mine, of course, not truly. Everything would belong to my husband the moment we wed. Tom would be the slaveholder—not me. And I knew it was considered only right and proper for every genrty bride to be given not only a settlement like this, but also a maid. Usually the girl that had attended her during her youth and courtship. By all the traditions of our country, this was no more than Papa ought to have given me, plus Sally Hemings besides. But there was no question that he'd keep her for himself, just as he'd promised.
And I didn't know how I should feel about any of it.
The idealism of France was an ocean away. I'd chosen Virginia and a way of life that William had said was stained with evil. I couldn't pretend I didn't know what I was returning to. But faced now with it, I found myself more troubled than I ever thought I might be.
Tom must've seen the shadow of my conflicted emotions in my expression, but he mistook its cause. "Colonel Randolph intends for us to live at Varina, near Tuckahoe. But you've a right to know that isn't my intention. I hope to buy my father's holding at Edgehill and settle closer to Monticello. I'd like a small farm that I can manage myself while pursuing an honorable life of public service. I've no ambition to gobble up lands that can't be farmed without an army of slaves. Such a life would weigh on my conscience more heavily than I could bear. Unlike my new brother-in-law, I don't make wedding toasts to embarrass my hosts about the evils of the institution, but I cannot abide slavery, Miss Jefferson." He frowned, the ferocity in those dark eyes softening until he seemed shamed. "I should've told you this before now. Though I'm violently smitten with you, I should never agree to start a life on a lie. So I consider it entirely pardonable if this revelation changes your mind about marrying me."
For the first time, I kissed Tom Randolph with something more in my heart than carnal desire. I brought my lips to his with an exquisite tenderness and replied, "With all my heart, Tom, you've only made me more certain in my decision."
Giveaway