Review: The Trouble With Love by Lauren Layne
I received this book for free in exchange for an honest review. This does not affect my opinion of the book or the content of my review.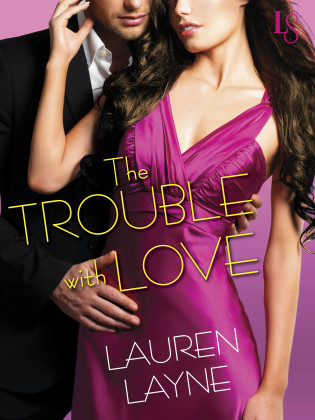 The Trouble with Love
by
Lauren Layne
Series:
Sex
,
love and Stiletto #4
Published by
Random House Publishing Group
Narrator:
Sex love and Stiletto
on March 3rd 2015
Genres:
Coming of Age
,
Contemporary
,
Contemporary Women
,
Fiction
,
Romance
,
Romantic Comedy
Pages:
237
Source:
Netgalley
Buy on Amazon US
, 
Buy on Amazon UK
, 
Buy on Kobo
, 
Buy on itunes
, 
Buy on B&N
As Lauren Layne's salacious Sex, Love & Stiletto series returns, a jaded columnist discovers a steamy way to get over an old flame: falling for him all over again.  

As Stiletto magazine's authority on all things breakup-and-heartache, Emma Sinclair writes from personal experience. Five years ago, Emma was Charlotte, North Carolina's darling debutante and a blushing bride-to-be. Now she's the ice queen of the Manhattan dating scene. Emma left her sultry Southern drawl behind, but not even her closest friends know that with it she left her heart. Now Emma's latest article forces her to face her demons—namely, the devilishly sexy guy who ditched her at the altar.

After giving up everything for a pro-soccer career, Alex Cassidy watches his dreams crumble as a knee injury sidelines him for good. Now he's hanging up his cleats and giving journalism a shot. It's just a coincidence that he happens to pick a job in the same field, and the same city, as his former fiancée . . . right? But when Emma moves in next door, it's no accident. It's research. And Alex can't help wondering what might have been. Unlike the innocent girl he remembers, this Emma is chic, sophisticated, and assertive—and she wants absolutely nothing to do with him. The trouble is, Alex has never wanted her more.
Review
I was rereading this the other day and I realised that I never reviewed this, better late than never I guess. 
Emma Sinclair is a writer for the magazine Stiletto and Alex Cassidy is the editor in chief of the men's equivalent of the magazine Stiletto, Oxford. Emma and Cassidy used to be engaged which ended in a ring getting thrown on the groom-to-be's head, some storming off, drinking and crying. However, now years after their breakup, they are both completely civil to each other, polite and indifferent to each other to a point of rudeness some would say.
Emma and Alex had fantastic chemistry, I loved how both of even all they went through, they truly did love one another and how Lauren chose to show their feelings that were hiding behind their masks and how truly indifferent they were to each others presence. Which as you can guess was a big, Not at all. The book shows all the development and the profession of their current relationship as well the flashbacks to the end when it was went horribly wrong. Which was great to see!
I will say this, I wanted the ending to be a bit more paced and I desperately wanted an epilogue, just to see more of Emma and Cassidy and the rest of the gang together once more.
The book has a great combination of; some laughter, some sweetness, a lot of emotions, a wonderful love story and a happily ever after for two characters you can't help but fall in love with.
Related Posts