One month of Elle Kennedy – After Hours Series + GIVEAWAY!!
One Month of Elle Kennedy!!
In honor of Elle Kennedy's latest book release in the sexy After Hours Series,Entangled publishing has put together a month long tour to celebrate. Enter to win a grand prize near the end of the post.
BOOK 1

One Night of Sin
Sometimes it's good to be bad…
When it comes to sex, good girl Skyler Thompson always plays it safe, choosing stable and sedate over wild and thrilling. She doesn't do one-night-stands, but one look at sinfully sexy Gage Holt and she's willing to reconsider. He makes her want to be bad for once in her life, and she's prepared to take what she wants.
Danger follows former MMA fighter Gage Holt like a shadow. Despite his successes as part owner of Sin, an exclusive nightclub in Boston, Gage can't risk getting involved with a woman, especially one as sweet as Skyler. Still, he can't resist a taste—and it's so damn good he has to see her again.
As addicted as he is to her, Gage knows there's no future for him and Skyler—not with his past lurking in the dark corners of an MMA cage. But Skyler's tougher than she looks, and she's ready to fight for her man.
 Buy Links: Barnes & Noble | Amazon US | Amazon UK |Goodreads | Entangled 
BOOK 2

One Night of Scandal
The wrong man never felt so right…
Ex-fighter Reed Miller has been secretly lusting over his best friend's girl for months, but he refuses to jeopardize a friendship over a woman—especially one who doesn't like him all that much. Now that Darcy's on the market again, it's even more imperative to stick to his strict hands-off policy. But the sizzling attraction between them is too powerful to ignore, and once he's had a taste of her…all bets are off.
Darcy Grant is tired of walking the straight and narrow path. She's on the hunt for passion, and there's no denying Reed is just the man to give it to her. Although she has no interest in dating a bad boy, and certainly not her ex's best friend, it's impossible not to melt beneath Reed's skillful touch. Now it's just a matter of setting a few ground rules—and hoping her rule-breaking, sweet-talking bad boy agrees to follow them. But if she lets Reed into her bed, does she stand a chance of keeping him out of her heart?
Buy Links: Barnes & Noble | Amazon US | Amazon UK | Goodreads | Entangled
 BOOK 3
One Night of Trouble
No More Mr. Nice Guy…
The moment AJ Walsh sees the sexy, tattooed pixie walk up to his bar, it's lust at first sight. He's always been labeled the "nice" guy―opening doors, buying flowers, and never, ever having one-night stands. But with this wicked little angel with red lips and unfathomably dark eyes? Oh, yeah. Tonight, "nice" has nothing to do with it…
Brett Conlon is trying to convince her family that she's put away her reckless wild girl side for good. Nothing―and no one―could be better for her reputation than golden boy AJ Walsh. So they make a deal: if he plays The Good Boyfriend for her family, he can be a very, very bad boy with her. Now their one naughty night is about to turn into a whole lot of trouble…
Buy Links: Barnes & Noble | Amazon US | Amazon UK | Goodreads | Entangled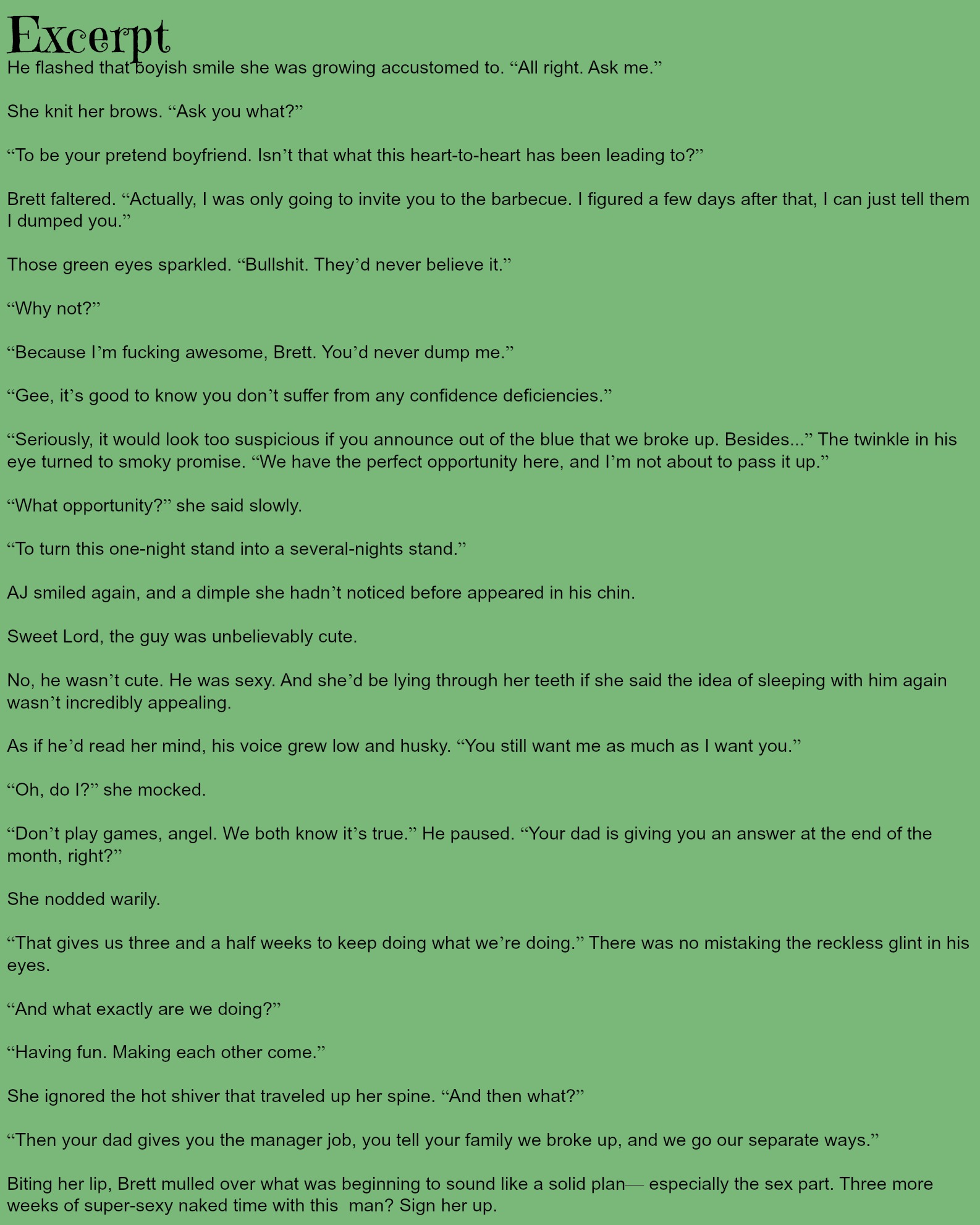 GIVEAWAY
Author Info
Elle Kennedy
A USA Today bestselling author, Elle Kennedy grew up in the suburbs of Toronto, Ontario, and holds a BA in English from York University. From an early age, she knew she wanted to be a writer and actively began pursuing that dream when she was a teenager. She loves strong heroines and sexy alpha heroes, and just enough heat and danger to keep.
Elle loves to hear from her readers. Visit her website www.ellekennedy.com or sign up for her newsletter to receive updates about upcoming books and exclusive excerpts. You can also find her on Facebook or follow her on Twitter (@ElleKennedy).