Book Tour and Giveaway: Broken Bonds by Karen Harper.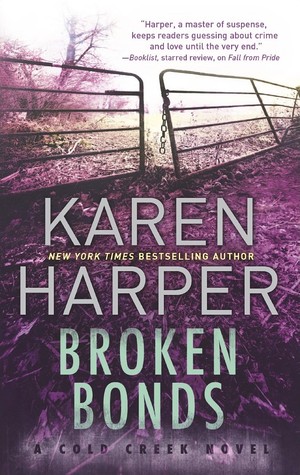 Broken Bonds
by
Karen Harper
Published by
MIRA
on January 1st 2015
Genres:
Contemporary
,
Fiction
,
Romance
,
Suspense
Pages:
400
Buy on Amazon US
Haunted by the past… 
Cold Creek is a place with a dark history, especially for the Lockwoods. Now adults, the three Lockwood sisters are still recovering from the events that led to the destruction of their family when they were children. Determined to move forward, Tess and Kate are making fresh starts, ready to put bad—even deadly—memories to rest and settle happily in the small but booming town. And they're hoping their older sister, Charlene, can do the same.
Char is back in town seeking comfort as she figures out her next move. A social worker used to difficult situations, she soon runs afoul of some locals who think she's sticking her nose where it doesn't belong. She's certain something sinister is being covered up, and when she witnesses Matt Rowan being run off the road, she knows she's right.
Working together, Matt and Char figure uncovering the truth will be dangerous, but living in Cold Creek won't be safe for any of them until its secrets are revealed.
Buy Now:  Amazon | Barnes & Noble | Indiebound.
Excerpt:
Matt grabbed her—almost tackled her—and rolled them off the low concrete single step into the wet leaves. He pulled her around the corner of the cabin, where they huddled, kneeling with her pressed between him and the outside wall.
"I—I can't believe that," she whispered. "We could have—could have been hit."
"And I'm the common denominator. Either someone's been following me, looking for another chance at me, or someone's staked out your place, knowing we're together."
They were whispering in each other's ears. "The headlights made us the perfect target," she said. "If we hadn't stepped apart…the arrow came head high, not chest level."
"Either way it could have killed one or both of us."
She was not only scared but furious. Someone had ruined her new place, ruined this beautiful night.
"Stay here," he said. "I'm going to get to the car, turn it around so the headlights shine into the trees where the arrow must have come from. It's sticking in the wood at an upward angle—like it was shot from the sky. Probably just arced up, then hit."
"Should we call Gabe?"
"Not unless we spot someone. My bet is we'll find no one out there. And it's late. Let's give him a break and call him in the morning. Tonight you can go down to stay in one of the guest rooms at the lodge where—"
"It's my first night here! I'm not running, even if some stupid hunter or even worse wants to scare me off."
"Char, just for the night!"
"I'm not going to leave. I'm going to get that arrow for evidence, tape up the hole and lock my doors."
"Then I'm staying, too."
"What?"
"I'll sleep on the couch, just in case."
"And if it's you the shooter's after? That could have been the second attempt on your life."
Karen Harper is giving away 10 sets of the Cold Creek Trilogy!
Author Info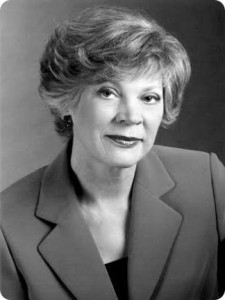 A New York Times and USA Today bestselling author, Karen Harper is a former college English instructor (The Ohio State University) and high school literature and writing teacher. A lifelong Ohioan, Karen and her husband Don divide their time between the midwest and the southeast, both locations she has used in her books. Besides her American settings, Karen loves the British Isles, where her Scottish and English roots run deep, and where she has set many of her historical Tudor-era mysteries and her historical novels about real and dynamic British women. Karen's books have been published in many foreign languages and she won the Mary Higgins Clark Award for 2005. Karen has given numerous talks to readers and writers across the county.
Her latest book is the romantic suspense, Broken Bonds, the third book in the Cold Creek Trilogy.
For More Information Visit: website | Facebook |Goodreads.
Other books in the trilogy include:
Shattered Secrets – Buy Now: Amazon |Barnes and Noble| IndieBound | Goodreads
Forbidden Ground – Buy Now: Amazon |Barnes and Noble| IndieBound | Goodreads