Review: Down to You by Jayne Frost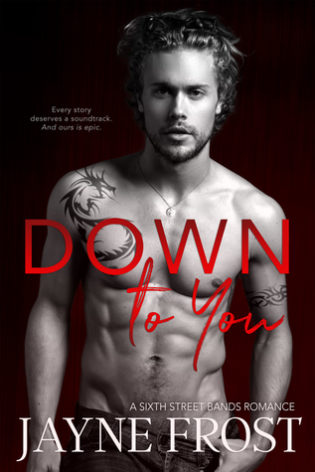 Down To You
by
Jayne Frost
Series:
Sixth Street Bands #5
Published by
Createspace Independent Publishing Platform
on 4th sep 2018
Genres:
Contemporary Romance
Pages:
425
Buy on Amazon US
, 
Buy on Amazon UK
She started from perfect.
A star who shone brighter than the rest.
But then fate took it all away.
Now she's broken. A beautiful song with a fractured beat.
But I'm still on the rise. Chasing a dream that she's already left behind.
If I'm lucky, I can find my redemption in the spotlight.
Destiny brought us together. Put her in my path.
It started with a road trip.
But somewhere along the line, it became a journey from here to there. Maybe she can help me.
Maybe we can help each other.
Maybe music is enough.
Maybe.
Every story deserves a soundtrack.
And ours is epic.
Down To You is a standalone, rockstar romance within the Sixth Street Bands Series. 18+ for adult situations.
I have been stalking people's 5 star/favourites shelves to find new authors recently and I came across this, it was recommended me on GR as well and since I was still in the mood for contemporary plus enemies to lovers is like catnip to me. I want it as soon as I sniff it.
Victoria Grayson once lived a very charmed life which changed after the death of her husband and one of her best friends.  The woman she is now is vastly different, just sort of being existing, mostly for her friends, work and family. Logan Cage on the other hand had an awful childhood, his mother's death and his father being an asshole and awful father and human. The only thing he really cares about is his sister and his music.
Logan and Tori, man I really adored them together. Their lives regardless of the riches they have is very bleak, lonely and filled with grief.
I really loved Tori and Logon together, they interactions at first are filled with barely concealed animosity that grows in friendship and love. They go on a journey together and take you along the ride of them finding their HEA. Which is filled ups and downs, angst and heartbreak. I adored them together and individually. They had great chemistry, you could see them falling deeper and deeper for each other. They both become open not just with each other but their friends as well. They help each other become more open and become better and stronger people.
I liked that Rhenn wasn't made to be a bad guy and Tori didn't compare her love to him with Logan. She loved Logan, he made her feel alive again and even when it breaks her heart…she continues to love him. Logan is of course insecure about Tori's feelings for him but ultimately he comes to realise she does love him for him. She's it for him.
Logan probably wouldn't appreciate it but he was just so cute at times with Tori, getting her cookies, teasing her, helping with her stretches and working with her with song writing. And Tori, really needed that, she needed someone to see her, not Belle the rockstar, part of the famous couple and not Tori, the manager of Twin Souls but Victoria. Who longed for a child, who was sweet, loved her family and was just so lost in her personal life but was strong in her career and had so much love to give.
I haven't read the other books in the series, I was completely fine with the story (probably would have loved the book even more had I read them) so this can be read as a standalone. I'm looking forward to reading Miles story next which is out now!
Slight quibble aside of me wanting more Logan and Tori together since they spend quite a bit at the end separately and wanting more conversations between them. It was a very good read. On a very surface level it reminded me Steal by Rachel Van Dyken and Faking it by K. Brombery. One because of the whole celebrity aspect, two because of the 'forced' closeness/tour and three because of the grief and pain that the couple had. Which are books I also really enjoyed so!