Fatal Threat (Fatal, #11)

by Marie Force
Series: Fatal #11
Published by Harlequin Books on July 25th 2017
Pages: 384
Buy on Amazon US, Buy on Amazon UK

It's just another day at the office for Washington Metro Police lieutenant Sam Holland when a body surfaces off the shores of the Anacostia River. But before Sam can sink her teeth into the new case, Secret Service agents seize her from the crime scene. A threat has been made against her family, but nobody will tell her anything—including the whereabouts of her husband, Vice President Nick Cappuano.
This isn't the first time the couple's lives have been at risk, but when a bombshell from Sam's past returns to haunt her, she can't help but wonder if there's a connection. With a ruthless killer out for vengeance, and Nick struggling to maintain his reputation after secrets from his own past are revealed, Sam struggles to tie the threat to a murder that can't possibly be a coincidence. And she has to get it done before her husband's career is irrevocably damaged…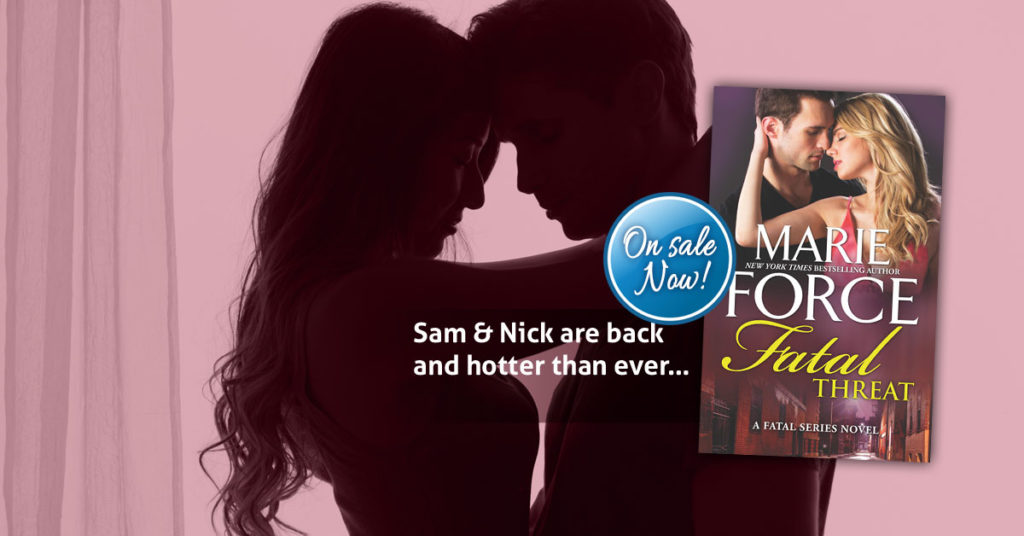 "Thank you, Brant," Sam said to the agent in charge of Nick's Secret Service detail.
"You're welcome." Brant paused before he added, "I know we've had this conversation before, Mrs. Cappuano, but I really recommend that you have a detail until we're certain we've contained this threat."
"I appreciate the recommendation, but I'll be providing my own security through my team here. I'll be accompanied by other armed officers everywhere I go. There's no need to be redundant."
"Redundant," Nick muttered with a grunt that would've been laughter if the subject matter hadn't been so grave. "Brant is suggesting added precaution, not redundancy."
"It's not necessary," Sam said, digging in. The last fucking thing she needed was to be escorted around by federal agents. She may as well hang up her badge if that was going to be her reality.
"On that we disagree, my love," Nick said. "But I'm not going to waste everyone's time fighting a losing battle. Brant, we appreciate your thoroughness and ask you to keep us posted on the situation."
"Will do, sir. I'll wait for you outside."
When they were alone, Sam looked up at Nick. "I know what you're going to say, and—"
Nick kissed her hard. "I'll see you at home later. Let me know if anything pops in the investigation."
"That's it? That's all you're going to say?"
"That's it."
"Hmm."
"What does that mean?"
"You surprise me."
He threw his head back and laughed. "Then my day is officially made. I've managed to surprise my shrewd, sexy wife."
"I thought you were going to do the whole alpha-dog lift-your-leg thing and demand I have a detail."
"Sorry to disappoint you on the leg lifting, babe, but we have a deal. Would I like you to have a detail? Abso-fucking-lutely. Do I understand why you won't allow it? Yeah, I get it. Doesn't mean I like it, but I get it." He kissed her forehead and then her lips. "Now, we've both got stuff to do, so let's get to it so we can get to the best part of the day."
"Which is?"
His lips were a heartbeat away from hers when he said, "The part where you crawl into bed with me and rub your naked self all over me."
Related Posts