Release: Ripple Effect by Keri Lake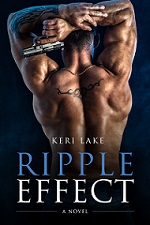 Ripple Effect: A Novel
by
Keri Lake
Buy on Amazon US
, 
Buy on Amazon UK
, 
Buy on Kobo
, 
Buy on itunes
Ripley
They call me RIP.
I'm a killer. A murderer. A psychopath.
In the eyes of the righteous, I'm a monster, born of sin and depravity.
I want to protect her, but I'm not a good man.
I want to love her, but I no longer feel.
She gets under my skin, though, and has awakened something inside of me.
Something I'd kill for.
I'm not her savior—not even close. In fact, I'm worse than the hell she's already suffered.
I'm her vengeance. Tit for tat, as they say.
And if she's not careful, I'll be her ruin.
Dylan
For months, I've watched him.
I've fantasized him as my savior, my lover. My ticket out of the hell I've lived in for the last six years.
I never dreamed he'd be my nightmare.
Had I known what he really is, I'd have never gotten in the car that night, but life is full of cause andeffect.
And sometimes the choice on offer isn't a choice at all.
It's the result of something already in motion, and we're merely left to survive the ripple effect.
Related Posts