Review: Call to Engage by Tawny Weber
I received this book for free in exchange for an honest review. This does not affect my opinion of the book or the content of my review.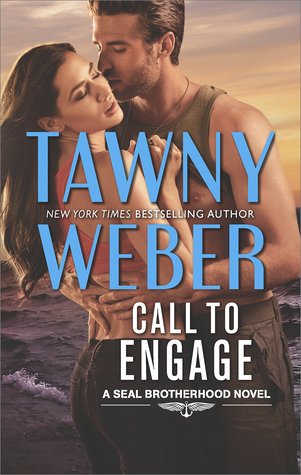 Call to Engage
by
Tawny Weber
Series:
Team Poseidon #2
Published by
Harlequin Books
on June 27th 2017
Genres:
Contemporary
,
Contemporary Romance
,
Romance
,
Romantic Suspense
Pages:
384
Format:
eARC
Source:
the publisher
Buy on Amazon US
, 
Buy on Amazon UK
, 
Buy on B&N
The Poseidon team are hard-bodied, fiercely competitive Navy SEALs. But when a sensitive mission goes disastrously wrong, three of the team's finest will have to trust their hearts and instincts to uncover the truth…
Lieutenant Elijah Prescott should be spending his precious leave somewhere with sun, surf and scantily clad women. Instead, he's heading home with two goals in mind. Figure out exactly how his last assignment went to hell and almost killed him—and reconnect with the woman who might offer salvation.
Ava Monroe has streamlined her life, eliminating every source of pain—including a marriage touched by tragedy. One glimpse of her ex and those good intentions turn to bad-girl desires. Her strategy: get over Elijah by getting under him again, sating herself until she can finally let go. But as betrayal within the rank of the SEALs turns deadly, there's no denying that her heart and her life are on the line. Elijah is the only man who can protect both…
What's it about: 
Lieutenant Elijah Prescott has had a few difficult months, not only was him and his SEAL team betrayed by one of their own, he was injured quite badly in the explosion by said betrayer. While the injury has healed and he physically capable of being a part of his team, his mental state is another thing. Nightmares and PTSD about the event is making it difficult for him to be what he is, a SEAL.
Ava Monroe is a instructor at the gym from yoga to kickboxing. Since her divorce Ava has changed quite a lot, she isn't the pampered princess she once was. She's harder, stronger and nothing will hurt her ever again. Ava went through a lot during her short marriage with Elijah and now she's closed off to even the idea of ever being in a relationship with anyone.
That of course all changes when Elijah returns to their home town and both are unprepared of what their presence does to the other and the feelings that reawaken.
What I liked: I enjoyed the suspense aspect of it and individually the protagonists were complex characters and I liked them.  The secondary cast was interesting. I really liked Elijah's cousin Mack, Elijah's friend and teammate Lansky. The premise of the story was interesting with the team under suspicion of being involved with the betrayer and the presence of a spy in the team.
Quibbles: This book had so much potential in so many aspects…As I said earlier the protagonists were likeable however the execution of their romance wasn't done quite well, since they were both didn't want to have a proper relationship (or when one did, the other didn't), just sex and were unwilling to have meaningful conversations about what had happened, why their marriage dissolved etc I just didn't connect to them as a couple as I wanted to. The plot of finding the spy was also unfinished and I went in thinking this was a standalone which it is but I think everyone would benefit if *we* had read the first book in the series to understand the deeper aspects of the team and the plot.
Overall, it's a decent second chance romance about a SEAL and his ex-wife who never really got over each other. I'm looking forward to reading the next one the series, hopefully it's Lansky's book and we finally get some answers.