Review: Blaze by Donna Grant
I received this book for free in exchange for an honest review. This does not affect my opinion of the book or the content of my review.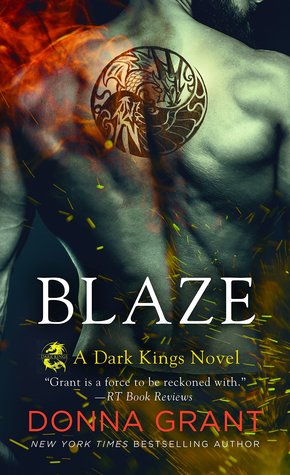 Blaze
by
Donna Grant
Published by
St. Martin's Paperbacks
on May 30th 2017
Pages:
336
Format:
eARC
Source:
the publisher
Buy on Amazon US
, 
Buy on Amazon UK

His strength, his masculinity brought out something primal within her. In his arms, she felt like the Amazon warrior she'd once pretended to be as a little girl.
Anson is a fierce Dragon King, a dragon shapeshifter born and bred to protect his own. But when a rogue tech company hacks into their world, he must join forces with the unlikeliest of allies: a human female. Her name is Devon Abrams. A rising star at the firm, she has no idea that her boss is in league with the sinister Fae and their secret war against humanity. If Anson gains her trust, he can defeat the enemy from within. But first he must fight his own attraction--to this exquisitely beautiful mortal...
Devon loves her job at the firm. But sometimes she wishes she could find a man--a real man--who isn't threatened by her success. When she first meets Anson, she's overwhelmed by his powerful masculine presence and disarmingly gorgeous smile. But when he reveals his true mission--and his ability to transform into a dragon--she's irresistibly drawn into an epic battle between humans and immortals, magic and technology, danger and desire. Anson vows to protect her from the Fae. But can he control the flames of passion that blaze within his heart, in Blaze, the next sexy Dragon romance in the Dark Kings series from New York Times bestselling author Donna Grant.
It was really nice going back to the Dark Kings world, I don't why but I kind of stopped reading them around book 4 I think, anyways reading this one made me really want to go back and read the ones I didn't and read the Druids series (Dark Sword/Dark Warrior) because I realised I had missed them. It also has made me really curious about the reapers series which I have not yet read.
Anson is the Dragon King of the brown dragons, with his current job to well babysit two women on a mission to bring down Kyvor, a tech company that might be working with the enemy of the dragon kings and is involved in some shady things happened in the past at Dreagan.
Devon Abrams is a human working at Kyvor, she completely happy with her life (yes she does miss having someone to love but she's happy with what she has) and she loves her job. Finding out that Kyvor is not at all what it seems and getting those rose coloured glasses ripped away, Devon decides to help Anson and his friends and bring down Kyvor.
I really liked Anson and Devon, who wouldn't? They were great characters and had strong personalities. Anson is of course an alpha hero, he's protective, loyal and possessive of Devon. Devon similarly when she found out what Kyvor were doing, she wanted to get to the bottom of it even if it meant putting herself in danger and I admired her determination. Devon and Anson are attracted to each other from the get go but how can a human and Dragon king be together especially with all those enemies trying to get to them.??
I liked how their relationship gets build up, they had great chemistry and they worked really well together! 
The danger is nigh in this book, with the enemies of Dragon Kings; Ulrick and Mikkel having their own struggle with each other and ofcourse fae who seems to be really involved everything. There are still loads of questions to be answered after this book but the end it seems is nearing. I would really like to know more about Rhi and her Dragon King (I JUST WANT TO KNOW WHO IT IS??!) and how dragon kings will defeat the fae and Mikkel and maybe Ulrick will get his own happy ending who knows??
While I think it would be okay to read it as a standalone, it would just be a great read if the reader is already familiar with the world, storyline and the characters because the cast of this series includes other series characters as well so it would just be better/more enyoyable if one's familiar with them.
Overall, I really enjoyed this one and since I need some answers I will definitely be checking out the next book! 
Related Posts