Review: From the Start by Cheryl Etchison
I received this book for free in exchange for an honest review. This does not affect my opinion of the book or the content of my review.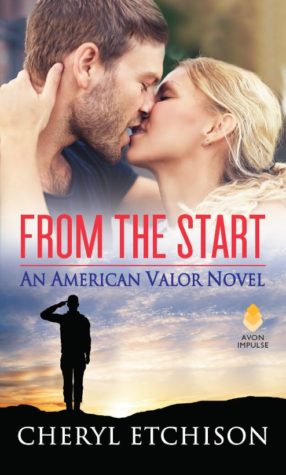 From the Start
by
Cheryl Etchison
Series:
American Valor #3
Published by
Avon Impulse
on May 23rd 2017
Genres:
Contemporary
,
Military
,
Romance
Pages:
384
Format:
eARC
Source:
the publisher
Buy on Amazon US
, 
Buy on Amazon UK
, 
Buy on Kobo
, 
Buy on itunes

The Rangers of the 1st/75th fight hard, train hard and play hard. They are physically strong and mentally tough, disciplined and courageous. But all their military training hasn't prepared them for falling in love.
For many women, Ranger Battalion Surgeon Michael MacGregor is the ideal man. He's far better than average looking, a generous tipper, not to mention an officer and a doctor. So when he encounters a woman resistant to his charms, he finds himself... intrigued.
Kacie Morgan has had her fill of arrogant military men since the last one left her with a shattered heart and one heck of a career rut. Now, with her prestigious fellowship starting in the fall, all she has to do is survive the summer--and her little sister's wedding.
When an ill-fitting bridesmaid dress has Kacie wanting to temporarily shake things up in her carefully planned life, she knows just the man to call. They agree to a no-strings, summer fling, although it isn't long before Michael wants Kacie for forever.
But to win her heart, he'll have to confront the nightmares from his past if they're to have any chance at a future.
Ranger Battalion Surgeon Michael MacGregor (boy that's a mouthful) first meets Kacie Morgan at her sister's bachelorette party. Kacie is reluctant to start anything with anyone especially with a guy who not only has her ex's name but also is in the military. Michael on the other hand can't get Kacie out of his head and a second chance meeting leads to them to eventually becoming friends with benefits.
Kacie is in a position in her life where she is ready to take charge of her life instead of wasting it on a guy, she's moving away for a fellowship for physical therapy at Duke and since Michael is in the military he isn't going to around much longer either. They both didn't count on one by one breaking the rules they had decided on and falling in love.
I really liked them both, individually and together. Michael was such a great guy, he really loved his brother and as shown in the book was willing to follow wherever to keep him safe but this did mess up with his life plans instead of being a doctor with family like he had planned, he was a bachelor and a military doctor.
Kacie was also lovely. She had to deal with jealousy over her younger sister's upcoming marriage to a man she was deeply in love with while Kacie who has spent the last seven years as a girlfriend to a fighter pilot has to start all over again. Now she's has her future planned, starting with doing something she really wants like the fellowship and it doesn't include anymore military guys alas we can't choose who we end up falling for.
I also liked their relationship, no matter that they wanted to just keep in physical, their caring for each other showed through and neither could the friendship that they had developed. The book has quite a good variety of banter, sweet and angsty moments between the couple to make it a good read. They were adorable together and I really wanted them to have their happily ever after.
Quibbles: Michael's brother Danny, View Spoiler »apparently Michael's mother made Danny promise the same thing she told Michael but it seems like where Michael was driving himself insane over worrying over his brother to the point that for the last decade he had planned his life/what/where he was going to be on where Danny was. On the other hand, Danny seems to have not really giving that promise much thought (and I've not his book so I don't know maybe he does care about his promise) and it was very jarring to have one brother just be so worried while the other has apparently known that why really Michael was in the military and yet still continues to act the way he did. I don't know it made me feel angry at Danny. « Hide Spoiler
Overall, while this was my first read from the author it definitely won't be the last. I quite enjoyed it and I will definitely be checking out more from the author!
Related Posts