Cover Reveal: I Do, Babe by Tillie Cole
I Do, Babe by tillie cole
RELEASES 23 APRIL 2017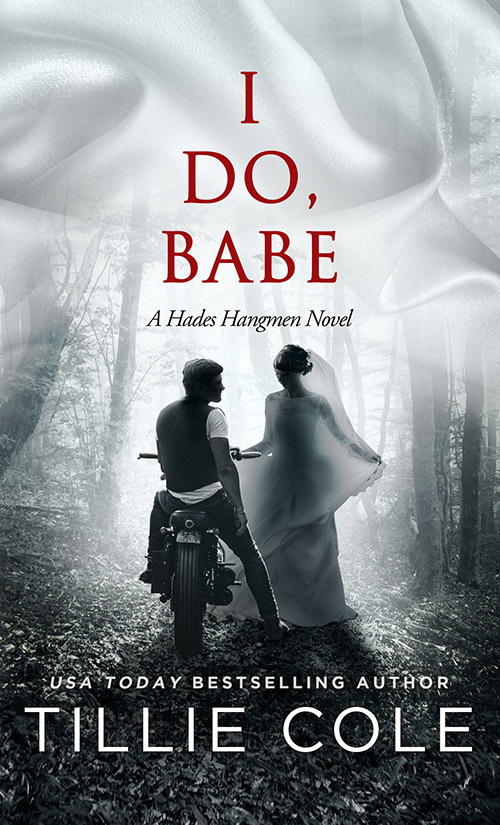 Synopsis
WHEN DARKNESS AND LIGHT COMBINE, DESTINED SOULS WILL IGNITE . . .

Connected since childhood.
Two souls: one dark and one pure.
Bracing to take the greatest step of all.

River 'Styx' Nash loves his woman. Ever since he met Mae at the fence of the cult that had kept her captive as a child, he has never loved anyone else. He loves her black hair, her pale skin and of course, her ice-blue 'wolf eyes'.

Since Mae came crashing back into his life, his only wish has been to marry her; finally to make her his wife. But now the wedding is booked, and only weeks from forever having Mae by his side, a lifelong problem is plaguing him.
He wants to marry her; he has never wanted anything more . . .
. . . if only he could speak the words and declare it to the world.

Salome 'Mae' Nash's life had been filled with heartache and pain . . . until, at age eight, she met a strange dark-haired boy from the outside world. Years later, and reunited with her great love, Mae is ready to solder her heart to his. Finally, Mae is getting ready to marry her man. But her fiancé has become withdrawn. Something is deeply troubling him.
But Mae has no idea what.
Or what to do to help.

Can Styx open up and conquer his deepest pain? Or will the infamous Hangmen Mute allow his fears to overcome his love for Mae and watch their much-anticipated wedding crumble to dust?


Related Posts