Review and Giveaway: How to Date a Douchebag: The Failing Hours by Sara Ney
I received this book for free in exchange for an honest review. This does not affect my opinion of the book or the content of my review.
How to Date a Douchebag: The Failing Hours
by
Sara Ney
,
C Marie
Series:
How to Date a Douchebag #2
on January 31st 2017
Genres:
Contemporary
,
New Adult
,
Romance
,
Sports
Pages:
322 pages
Format:
eARC
Source:
the Author
Buy on Amazon US
, 
Buy on Amazon UK
, 
Buy on Kobo
, 
Buy on itunes
, 
Buy on B&N
Zeke Daniels isn't just a douchebag; he's an asshole.
A total and complete jerk, Zeke keeps people at a distance. He has no interest in relationships--most assholes don't.
Dating? Being part of a couple? Nope. Not for him.
He's never given any thought to what he wants in a girlfriend, because he's never had any intention of having one. Shit, he barely has a relationship with his family, and they're related; his own friends don't even like him.
So why does he keep thinking about Violet DeLuca?
Sweet, quiet Violet--his opposite in every sense of the word.
The light to his dark, even her damn name sounds like rays of sunshine and happiness and shit.
And that pisses him off, too.
Rating~4.5- 4.75 stars
One of my newer favourite type of heroes are douchebags not just that but the very self aware ones and Zeke definitely falls into that category. I really enjoyed the first book in the series so it was no brainer that I wanted to try this since Zeke promised to be ever more douche-y than Oz.
I'm going to try and keep this short not give away stuff because I could talk for hours about this book.
"I'm a beautiful mess….you're just beautiful" ~Zeke.
Meet Ezekiel 'Zeke' Daniels resident asshole, rich kid with abandonment issues and no interest in relationships. Zeke really needs to work on his interpersonal skills along with not getting defensive over little things. Also meet the love of his life; Violet DeLuca, a sweet shy hard working orphan who has had a very tough life but is all light and goodness.
Now they may seem very different and for most part they are but because of their childhood they share commonalities.
Violet gets the 'privilege' to be Zeke's tutor she takes one look at him where he is being his asshole/grumpy self and decides that she doesn't this kind of thing in her life especially with her anxiety and stutter. But since she really needs the money she tires to toughen up and stand up to him.
Too goddamn trusting. Too goddamn sunny for gloom and doom. Too light for my dark. Too good for my bad. Too everything. ~Zeke's monologue about Violet.
I loved them together, Violet didn't take any of Zeke's bullshit and this had a gradual but big effect on Zeke. Her nature and just who she is along with her childhood makes Zeke face the uncomfortable facts about him and his behaviour. I liked the fact that Violet with her quite nature transformed Zeke into a better person, I mean he is still pretty much an asshole but is getting better at not deliberately hurting people and of course is completely putty in hands of Violet. He changed enough to be a better-ish person and not make his not exactly redemption but transformation I suppose believable. I loved their banter, Violet maybe shy but is no pushover, giving Zeke the best she got was amusing and made me enjoy their interactions more. I also liked how caring Zeke started becoming with Violet even they weren't exactly together. They were great together, with their sparking chemistry, banter and taking care of little children. 
"The best part of me is you, Violet" ~Zeke.
I loved those before the chapter started douchebag quotes; some were hilarious, some a bit more serious, some a bit dirty but nevertheless very enjoyable!
"You said too many real things and now I need to crawl back inside my protective fortress of disdain, being an asshole, and not giving a shit." 
The book has humour, just a right amount of feels who make you feel for both the protagonists, a wonderful couple and a great plot. Overall it's a fantastic read!  A must read for anyone who likes douche-y heroes or NA-romance with opposites attract tope. I hope Sara Ney writes more books in this series because it is seriously addictive.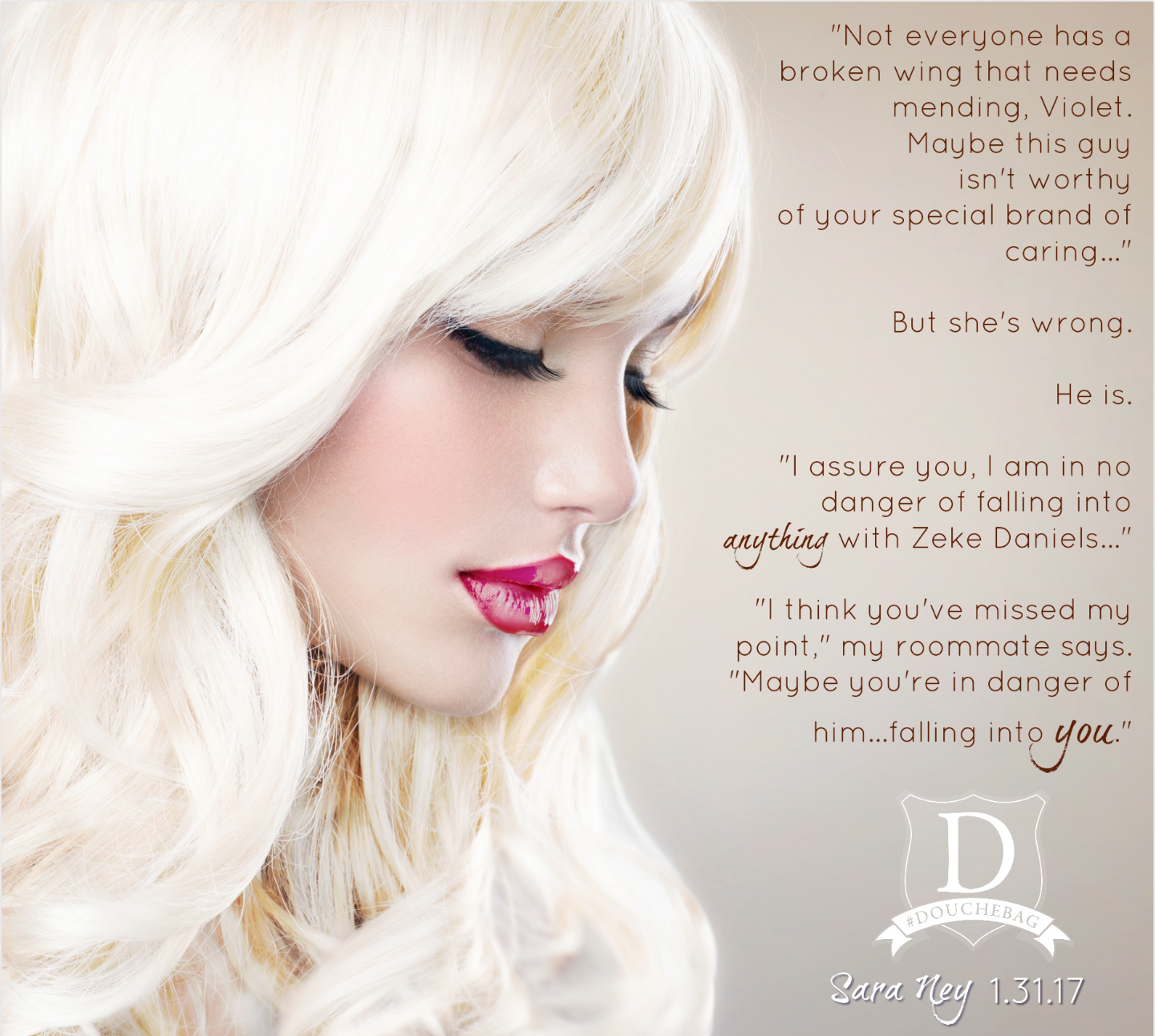 Giveaway
a Rafflecopter giveaway

Related Posts