Review: Egomaniac by Vi Keeland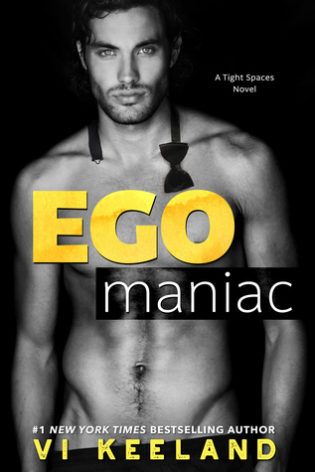 Egomaniac
by
Vi Keeland
Published by
EverAfter Romance
on January 16th 2017
Genres:
Contemporary Romance
,
New Adult
,
Erotica
,
Humorous
Format:
Kindle
Source:
Purchased
Buy on Amazon US
, 
Buy on Amazon UK
, 
Buy on Kobo
, 
Buy on itunes
, 
Buy on B&N
The night I met Drew Jagger, he'd just broken into my new Park Avenue office.
I dialed 9-1-1 before proceeding to attack him with my fancy new Krav Maga skills.
He quickly restrained me, then chuckled, finding my attempted assault amusing.
Of course, my intruder had to be arrogant.
Only, turned out, he wasn't an intruder at all.
Drew was the rightful occupant of my new office. He'd been on vacation while his posh space was renovated.
Which was how a scammer got away with leasing me office space that wasn't really available for rent.
I was swindled out of ten grand.
The next day, after hours at the police station, Drew took pity on me and made me an offer I couldn't refuse. In exchange for answering his phones while his secretary was out, he'd let me stay until I found a new place.
I probably should have acted grateful and kept my mouth shut when I overheard the advice he was spewing to his clients. But I couldn't help giving him a piece of my mind.
I never expected my body to react every time we argued. Especially when that was all we seemed to be able to do.
The two of us were complete opposites. Drew was a bitter, angry, gorgeous-as-all-hell, destroyer of relationships. And my job was to help people save their marriages.
The only thing the two of us had in common was the space we were sharing.
And an attraction that was getting harder to deny by the day.
HOLY HOTNESS!!
Word after word in this book is full of sass. Super, saucy, sass… Seriously, this book will make you smile. Egomaniac is both sweet and so addictive, there was no way I could stop reading this without finishing it.
The beginning of this book is very different. I mean Vi Keeland is a genius writing about unintentional squatting in New York. Her books bring twists after twist, always keeping her faithful readers interested. In the book we meet Drew Jagger, just coming back from vacation in Hawaii only to find Emerie Rose working in his office. Did he allow this? No. Did he know? No. Was the rent hella cheap? Yes. Emerie Rose was scammed. So damned badly, I wanted to find the douchebag who scammed her and pummel him myself.
"You said you moved in a week ago?"
"That's right"
"And you rented the space from whom, exactly?"
"John Cougar."
Both my brows shot up this time. "John Cougar? Did he drop the Mellencamp, by chance?"
"How should I know?"
That wasn't sounding good." And you paid this John Cougar?"
"Of course. That's how renting an office suite works. Two months' security, first and last months
I shut my eyes and shook my head. "Shit"
"What?"
"You just got conned…"
I mean, their meeting was hilarious. Off the charts weird, but hilarious none the less. Their banter and chemistry is instant, but who can blame Emerie, Drew is sexy personified. After reporting the scam, somewhere in Drew's slightly-cold heart, he finds himself warming to Emerie and her sweet. So, he lets her keep her psychology practice in his office and work as his secretary to pay him back.
They are the weirdest duo ever.
On one side of the office suite you have a marriage counsellor… and on the other, a divorce attorney. They are the match you would never see coming, but somehow they make it work. Really, really make it work. The office banter is sexy and so hilarious, it will keep you smiling the whole way through this book.
"When I stepped around to where he sat, he surprised me by yanking me down onto his lap. "Four hours of sleep next to you is better than eight in an empty bed."

"You better watch it, Jagger. You're losing your sour and turning sweet on me."
let's talk characters:
Our hero Drew, aka The Prolactinator, he is delicious. Witty, smart, cunning, sexy, big ( more ways than one… 😉 ) and perfect. So being a huge divorce attorney with big clients getting paid big bucks, he has a past of his own. It's made him cold and made him lose his faith in aspects of relationships. It's understandable with what he has gone through. Let me warn you Alexa is a bitch. A true, conniving, biatch. However, slowly getting to know Emerie, he falls in love without knowing and his protective, jealous side comes out. It's so sweet to watch. It makes you want your own Drew.
"And I suppose all of your women are fast asleep after you take care of them."
"Damn straight. I'm like a superhero. The Prolactinator."
"Being a parent is a choice, not a right… Anyone can become a father, but it takes a real dad to love and raise a child as his own."
And Emerie, her sassiness is off the charts. She is so sweet, beautiful, slightly naïve, but very genuine. Coming from Oklahoma on her own to pursue her crush, she tries to make it in NYC. Unfortunately for her, she has some…hurdles. But she is a survivor, and pushes through. I really loved her character and her strength. It's so easy to love someone like her.
"You almost killed me."
"Killed you? I think your brain was deprived of oxygen. I just saved your life, beautiful."
" You made me choke. Who brings up masturbating with an almost stranger while easting lunch?"
"An almost stranger? I've seen you in your underwear, bailed you out of prison, and given you a place to park your ass all day long. Pretty sure I'm you best friend in town at this point."
See!! Sweet. Perfect.
I'd love conversations like these in my daily life. So, when they get together, you are in for a treat. They are so hot and steamy with Drew being dirty talker, it will leave you a mess 😛
Not only in the bedroom do they work well but, also at work they are an oiled machine. It's easy, and simple at work… most of the time. You need to read this for yourself to see what I mean. They just work. Perfectly.
"You're insane"
"Because I think we should have sex? How does that make me insane?"
"We're pretty much opposites. You believe a relationship is the period of time people spend together before one screws the other over."
"So?"
"I believe in love and marriage and making things work."
"I'm not talking about those things. I'm talking about sex. I know it's been a while, but that's when a man and a woman– "
I cut him off "I know what sex is."
"Good. Me too. So have it with me"
"That's crazy."
But in the end, they are fire. Scorching , hot and so very intense. They are so captivating to read that your heart race and you heart warm as you go through their story.
Drew and Emerie are unique. They are special and together they create a beautiful love from an unexpected start. There is no doubt they will put a smile on your face, make you giggle, blush and swoon. They are the epitome of sweet love.
4.5 stars!!
Read for your pleasure 😉
Ps. The epilogue is so sweet you will do a happy dance in your head.
Related Posts