Review and Giveaway: Hero of Mine by Codi Gary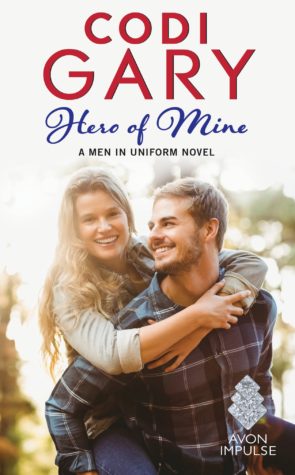 Hero of Mine
by
Codi Gary
Series:
Men in Uniform #2
Published by
Avon Impulse
on August 23rd 2016
Genres:
Contemporary
,
Military
,
Romance
,
Suspense
Pages:
352
Format:
eARC
Source:
the publisher
Buy on Amazon US
, 
Buy on Amazon UK
, 
Buy on itunes
, 
Buy on B&N
, 
Buy on Amazon
The men of Alpha Dog, a second chance program for at-risk teens, work hard and play hard. And when it comes to protecting the women they love . . . nothing stands in their way.
Danielle Hill used to live on the wild side, until a surprise pregnancy forced her to get her act together. Now her whole life revolves around her young son, and she will do anything to keep Noah's heart protected, even if it means avoiding the Marine who makes her want to be oh so bad . . .
Tyler Best loves his family, his friends, and his life, and he plans on living it to the fullest after nearly losing it. But Tyler didn't bank on running into a beautiful blond with blazing green eyes and temper to match his. Tyler always thought he wasn't ready to settle down, but Dani and Noah make him rethink his playboy ways . . .
Only just as these two start to build something, a shadow from Dani's past comes back to haunt them. But Tyler will do anything to keep her and Noah safe . . . anything.
Review
Dani Hill doesn't have time to get involved with anyone, as a single mom with 2 jobs she doesn't have much time to socialise let alone get involved with a man. Enter Sergeant Tyler Best, a dog trainer at Alpha Dog training facility. He doesn't do relationships at all that is until he sees a pint sized blonde take on a man for a dog. Doesn't hurt that she's beautiful. 
I enjoyed how they were during their actual relationship with their banter, laughter and some sweetness. 
The overall plot was good, however nearer to the end it was a lot of stuff just happening one after the other. 
Tyler was a great hero, once he decided that Dani and Noah made him happy and he gave his best. It was adorable seeing him with Noah and Dani. Everyone kept saying that Tyler was an ass but I didn't see it, he could be a jerk at times (and was a player before he met Dani) but he wasn't a bad guy or maybe Dani made him want to be better. 
Dani though I had problems connecting with her, while her   insecurities as a mother were understandable her other behaviour like was she very defensive towards anything said to her by anyone and she would get riled up really fast. She kind overreacted to somethings where she didn't have to and other times didn't react as much when the situation was serious. She did get better as the story went on but it was still at times frustrating. Her behaviour at times made me feel really conflicted towards her. Also I just didn't understand what the exact point of introducing that friend of Dani's and then never mentioning her again because all that conversation showed was she needed to socialise more and make an effort for her friend and her friend needed to do the same. 
Overall, it's a cute sweet story involving adorable dogs and a child and individuals who weren't looking for love but love found them. 
Giveaway
a Rafflecopter giveaway

Related Posts