Review: Midnight Secrets by Lisa Marie Rice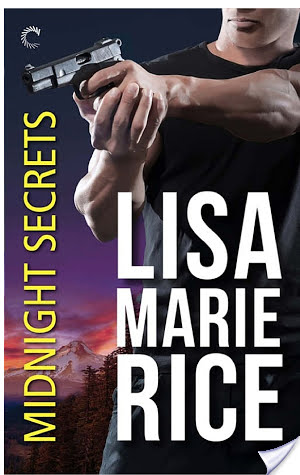 Midnight Secrets
by
Lisa Marie Rice
Published by
Carina Press
on June 8th 2015
Genres:
Fiction
,
Romance
,
Suspense
,
Contemporary
,
General
Pages:
188
Format:
eBook
Buy on Amazon US

Former navy SEAL Joe Harris nearly died—twice—on a medevac helo after being blown up by an IED. He's not moving too great these days, but if there was ever a woman designed to jump-start a man's hormones, it would be his new neighbor.

Meeting Isabel—loving Isabel—brought Joe back to life.

Isabel Delvaux came from one of America's foremost political dynasties, until the greatest terrorist attack since 9/11 killed her entire family. She barely survived the Washington Massacre, only to become prey for rabid reporters. Fleeing to Portland and changing her name was a way out, a way to start over. The only way.

She knows she's safe with Joe Harris. Not just because he's big and strong, not just because he's part of a security team that obliterates threats on the regular, but because he's been to the abyss and back.

But as they help each other heal—through talk, through touch, through spectacular sex—the past comes back to play. When Isabel's memory starts to return and a mysterious stranger sends Joe emails indicating Isabel is in imminent danger, he'll do anything to help her uncover the truth. Even if that truth is the most terrifying thing of all…
Joe Harris is a former navy SEAL, currently recovering from his last mission which resulted in him getting blown up by an IED and multiple surgeries to fix his leg. He is also now part of the ASI which has most of his BUD/S friends and is headed by John (hero of Midnight Man) which is in Portland. That is where Joe meets Isabel, a beautiful, damaged recluse.
Isabel lawton aka Isabel Delvaux (the only Delvaux who survived) is also recovering from a soul crushing event, the Massacre of her entire family, relatives and end of how her life used to be. Isabel ended in coma and has retrograde amnesia with events that put her coma i.e her father's announcement party of him running for US president. She moves to Portland, to get a new start and to grief in peace.Now, six months later, Isabel is quite damaged, a person who no longer knows what to do with her life. She's still trying to process everything and it doesn't help that she remembers nothing of the massacre.
I liked Joe and Isabel together, Joe was really great with her and Isabel was trying to be part of the living instead of living like she had died with the rest of her family. Joe was attracted to Isabel from the first moment he saw her and for Isabel, spending time with Joe was the only moment when she felt alive and did some ogling of her own. The romance was rushed but in most romantic suspense it rather is.
The book is good fun…But…there's always a but isn't there…
Before the events mentioned below; there were some little things that slightly bugged me but I got over them only one which is namely Isabel's complete turnover from her PTSD state to her semi 'normal' state after meeting Felicity, the girl was shaking and couldn't even walk properly the afternoon before but then she's suddenly friendly with new people, is ok with them being at her house etc.I was really liking Isabel but this sudden change was just like baam in the face….
I was really enjoying this book uptil the point where the View Spoiler »drawing of the man from Isabel's nightmare is done « Hide Spoiler, it just went down hill for me from there, Isabel's whole revenge thing and getting Blake (the bad guy) to make him confess was really a stupid moment. I was literally going listen to Joe, because he only seemed the voice of reason but no one was paying him any attention. I mean c'mon, Blake is intelligent, he isn't just going to confess without making sure that no one finds out and the secret dies with Isabel. And that's what happened, Blake did something which they hadn't prepared for and could have ended a lot differently if this wasn't a romance novel. I could understand Isabel wanting revenge but the change in her personality was too much for me.
Then when we find out who the ex-CIA agent is which wasn't a shock to be honest but I was still excited but then I thought how he let his own sister do this stupid plan while he did what exactly? Especially since he knew Blake, better than all the others in the book. He still let his sister go ahead with this plan and then shows up and makes it seem like the rest of ASI were to blame, when they were clearly out of their league and maybe (no maybe about it) he should have helped them and gave them better information since he was really the one who put these events in motion.
Lastly, the epilogue, usually epilogues smooth my edges with their swoon worthy or sometimes mushy romantic moments which didn't happen in this one sadly (I was looking forward to the mushiness) because of the way Isabel reacted to Joe's plan, it again sounding like a broken record now, seemed out of character and both Isabel and Joe deserved better.
I'm still looking forward to reading the next book in the series which comes out in September of this year because LMR books are a quick fix for my romantic suspense addiction and they are usually quite good to spend an afternoon on.