Early review: Wicked Ride by Rebecca Zanetti
I received this book for free in exchange for an honest review. This does not affect my opinion of the book or the content of my review.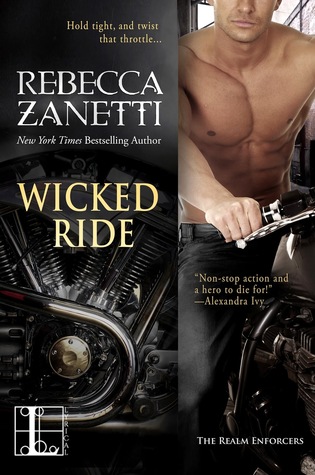 Wicked Ride
by
Rebecca Zanetti
Series:
Realm Enforcers #1
Published by
Kensington
on June 23rd 2015
Genres:
Fantasy
,
Fiction
,
Paranormal
,
Romance
,
Suspense
Pages:
336
Format:
eARC
Source:
Netgalley
Buy on Amazon US


If you love the Dark Protectors, these wicked hot Realm Enforcers are for you!

Alexandra Monzelle is a hard-fighting, heat-packing Seattle vice cop, and she's not much interested in being protected. Her short skirt and sex-kitten heels are tools to lure her suspects into talking about the deadly new drug hitting the streets. She can take care of herself and then some. Unfortunately, she can't seem to get that through to Kellach Dunne.

Kellach is a fresh import from Dublin, and he's landed at the heart of a vicious motorcycle club that deals in guns, narcotics, and mayhem. He's all male, all rough power—and all interference in her damn investigation. Maybe he's one of the good guys. Maybe not. Lex knows an affair with an immortal like him would risk everything. No matter how delicious he looks…
Review
This is a pretty strong start to a new series Realm Enforcers, a spin-off from Dark protectors  series. In short, it's kind of a mixture of motorcycle gangs with cops, magic and paranormal creatures thrown in. What's not to like about that?
After two decades of fighting, the paranormal world has reached peace with it's different races but a new threat is on the horizon.
Kellach Dunne, Kell to his family and friends is a coven 9 witch enforcer from Ireland. He has previously made appearances in the dark protectors series and is the cousin of one heroines in the series.  Kell and his brothers are undercover as part of a motorcycle gang to gain information about a drug (Apollo/planekite) and those who are involved . A drug which is deadly to witches and it's existence is causing a lot of problems for the witches.
Alexandra Monzelle, Lexi is a Seattle vice cop searching for information on the new drug that is making rounds on the streets of Seattle. Her father was a drug dealer who is now in prison and its one of the reason why Alexandra became a cop and is so against drugs. She is to a huge extent a product of her childhood because of her fathers behaviour as well as taking on the responsibility of taking care of her family.
I really enjoyed their relationship, a serious cop and not-at-all-serious witch and their banter. Kell could be quite intense but he was also playful and a charmer. While Alexandra is more or less always thinking about her job and to later extent her family which ofcourse changes when she gets involved with Kell, the man makes her feel off-balance, angry and at the same time breathless and excited.
But UH Oh, Kell knows that nothing can come out of their relationship no matter how much he finds Lexi irrestible and is falling for her , a human and a witch can't mate, right? I think that part of the plot was also handled pretty well and it was fun seeing the reactions of all involved.
We also meet Kell's brothers Adam, Daire and of course their cousin (more sister) Simone and Nick, her demon ex-lover also makes an appearnace with cameos from other characters such as Dage and others from Dark Protectors. Everytime, Ms Zanetti introduces a new character, I'm like I want them to have their own book because they all seem fascinating. I'm really looking forward to reading Daire's book (Wicked Edge), the reticent and non-conversationlist of the brothers.
The only thing I didn't like in the book was View Spoiler »Alexandra's trust issues with Kell, I understood where she was coming from because of her father issues and before she got to know Kell, it was understandable that how would she trust a person from a drug/weapon motorcycle gang especially since she's a cop but later on after she got to know him, it shouldn't have been an issue. At one point, she says that she trusts him but when the trust is put to test (a day or some time later), she doesn't trust him. It bugged me, especially the way she handled it and the way Kell just kind of let it go and forgave her. « Hide Spoiler Other than the that, the book was fun, exciting read with plenty of action, suspense and romance.
If you loved her dark protectors series than you'll love this one as well (or any of Ms. Zanetti's books), though personally I feel that can you start from this spin-off even if you havn't read the Dark protectors  series, since one part of the couple is human and so Kell has to explain all the witch and paranormal world to her but the other series is awesome and some of the characters makes appearances in this one so why wouldn't you want to read them. Can't wait for more books in the series and the world Rebecca Zanetti has created.
Rebecca Zanetti also does contests on her website and for june she's giving away a copy of wicked ride and Fated.
Related Posts