ARC Review: Make me take me by Amanda Usen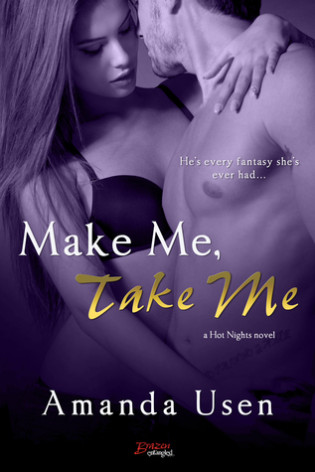 Make me, Take me
by
Amanda Usen
Published by
Entangled: Brazen
on December 15th 2014
Genres:
Contemporary
,
Romance
Pages:
257 pages
Format:
eARC
Source:
Publishing company
Buy on Amazon US
A sexy category romance from Entangled's Brazen imprint...
He's every fantasy she's ever had... Betsy Mouton knows that easy doesn't last forever. She's working her butt off to launch the Last Call Café so her family can leave the New Orleans bar business—and its heartaches—behind forever. That is, until the hottest one-night-stand of her life shows up next door, twice as uncompromising and two million times hotter, offering to buy the bar and send the Moutons to Easy Street.
Hotelier Quinton James has never forgotten the unbelievably hot night he and Betsy shared. Never forgotten how beautifully she submitted to him, or how he found the only peace he's ever known in her arms. Now that Betsy is the only thing standing in the way of his new hotel, she's the one in control. But there's more at stake than her cafe or laying their past to rest—Quin wants a future. With her. All he has to do is convince her...one sensual command at a time.
ARC generously provided by Entangled publishing in exchange for an honest review.
Betsy Mouton is a chef and she works with her family in the Last Call Cafe. She had a difficult childhood and finds it difficult to get close to people so she pushed them away instead. All she ever wanted was to make the life of her mother and sister easier by making the Bar into a Cafe so that she doesn't have see her mother and her sister get hit on and work every night.
Quinton James is a hotelier. He was adopted when his mother died in New Orleans, he doesn't remember much of his childhood before he got adopted and now he's back in New Orleans to get rid of the nightmares that follow him. He thinks that by building a hotel and courtyard will stop the nightmares and he can finally move on with his life. Quin feels that everyone leaves starting from his blood family to his adopted family and now Betsy.
Betsy and Quinton have a one night stand two years ago just before Betsy is leaving for culinary school. Now Betsy is back home and trying to change the bar into the cafe when she runs into Quinton again. Quinton never forgot Betsy and now that she's finally back into town, he wants her back in his bed.
Betsy and Quin's relationship is very physically based by the that I mean that from the moment they meet they feel an intense attraction to each other and sleep with each other a couple of hours later . Then when meet years later, the same thing happens. They have great chemistry. Both Quin and Betsy don't have time for love but they can't help but need and feel for each other. They both have issues to deal with that stop them being together.
This isn't exactly contemporary romance since there are elements in the book that clearly not normal, it has the kind of that fairy tale, magic feeling at some points.
I did like author's writing, her descriptions which were vivid and Quin and Betsy were good together when Betsy wasn't finding ways to convince herself that all they have is sex.
Quibbles: Betsy with her non-believing ways towards Quin irritated me, the guy was doing so much for her yet she didn't believe him, kept pushing him away and this lasted almost just short of where the story ended. The ending also felt a bit rushed and I would have liked Betsy to grovel a bit more, View Spoiler » I didn't quite understand her gesture of Quinton towards the end. How was it supposed to prove that she loved Quin exactly? It just showed that her mother and sister didn't want a cafe and so she shut it down.  « Hide SpoilerBetsy's family just felt rather ungrateful to what she was doing for them since Betsy spend her whole life caring for them, especially Kate I didn't understand her behavior of why was so mean to her sister, telling her lies and making her feel bad. It wasn't like Kate didn't know what Betsy planned to do about the Bar and if she had problems with it then she should have said so years ago.
Overall, this was a ok-to-goodish read.