Review: (ARC) Alex by Sawyer Bennett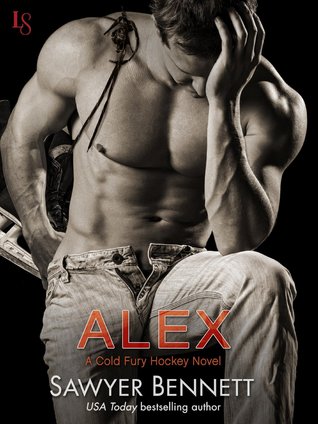 Book Blurb
Hockey star Alexander Crossman has a reputation as a cold-hearted player on and off the rink. Pushed into the sport by an alcoholic father, Alex isn't afraid to give fans the proverbial middle finger, relishing his role as the MVP they love to hate. Management, however, isn't so amused. Now Alex has a choice: fix his public image through community service or ride the bench. But Alex refuses to be molded into the Carolina Cold Fury poster boy . . . not even by a tempting redhead with killer curves.
As a social worker, Sutton Price is accustomed to difficult people—like Alex, who's been assigned to help her create a drug-abuse awareness program for at-risk youth as part of the team's effort to clean up his image. What she doesn't expect is the arrogant smirk from his perfect lips to stir her most heated fantasies. But Sutton isn't one to cross professional boundaries—and besides, Alex doesn't do relationships . . . or does he? The more she sees behind Alex's bad-boy façade, the more Sutton craves the man she uncovers.
Release Date: 28th Oct 2014
Rating ~ 3 stars.
Alex Crossman is an NHL player. He had an abusive childhood his mother died when he was young and his father was a hockey player who couldn't make it in major league and became a drunk and forced Alex to play hockey and beat him up when he made a single mistake hence Alex become an asshole who played a game he hated and was a prick to everyone around him. Hence the reason everyone calls him MVP (most valuable prick).
"I'm a player they love to hate and I could give a fuck."
Sutton Price is young woman who works at Drug crisis center. She's 22 years old and has a master's in sociology. Sutton father was an alcoholic and he was abusive so her mother left him and took Sutton with her. Her mother eventually married a really nice guy and they are very happy even with the tough financial situation.
Sutton and Alex meet when Alex is forced to do community service. They are both attracted to each other. They both start caring about each other and soon become involved.
The thing is while I liked the individual story line for characters with Alex abuse with his drunk father and Sutton's father. It just didn't live up to the potential that it showed at the start.
Quibbles: I could understand their attraction to each other, they are both opposites in personalities, attractive looking hence the lust at first sight but I didn't feel the love. There was just something missing. Secondly, I just never saw what was extremely Special about Sutton that changes Alex in a couple of days. Alex was supposed to be this asshole but we don't see that behavior apart from at the start of the book where he is the guy who doesn't care much about anything, he plays a game he hates because of his father who he despises and he's extremely anti-social/crude to everyone around him especially the women he sleeps with. This behavior just went away, he become the guy who loved playing hockey and become a guy who wanted to nice for Sutton but I didn't understand the progression. Furthermore, Alex needed to grovel more, he behaved appalling towards her near the end and then just comes back and she just takes him back. Sutton's behavior regarding her ex-boyfriend and the way how she behaved after Alex's behavior was weird to me. Lastly the resolution of Alex father was too easy, Alex suffered so much and at the end of the day the conflict was solved to easily.
The book showed not only how children who are abused can turn out so differently but that there is always help available for those going through tough times dealing with addiction. I do like Miss Bennett's writing style and I have liked her other books so I will continue to read her future books especially with the next book in this series which is about Garrett.
ARC generously provided by the publisher via Netgalley in exchange for an honest review.