Review: All the King's Men Duet by Kennedy Ryan
The Kingmaker
by
Kennedy Ryan
Series:
All the King's Men Duet #1
Published by
LLC
on 28th October 2019
Genres:
Contemporary Romance
Pages:
344
Format:
Kindle
Buy on Amazon US
, 
Buy on Amazon UK

Raised to rule, bred to lead and weaned on a diet of ruthless ambition. In a world of haves and have nots, my family has it all, and I want nothing to do with it.
My path takes me far from home and paints me as the black sheep. At odds with my father, I'm determined to build my own empire. I have rules, but Lennix Hunter is the exception to every one of them. From the moment we meet, something sparks between us. But my family stole from hers and my father is the man she hates most. I lied to have her, and would do anything to keep her. Though she tries to hate me, too, the inexorable pull between us will not be denied.
And neither will I.
4+ stars
I had been really looking forward to the All the King's Men Duet, because not only did it promise delicious angst due who the Hero and Heroine are too each other and how their family, their beliefs, their goals effects their current life but also because Kennedy Ryan. I have come to really adore her writing.
This is exceptionally well written (duh its Kennedy Ryan), her ability to make you feel the emotions her characters feel is extraordinary. I really liked the plot and I really liked Lennix and Maxim together. We get to see so much of their journey together and separate, from strangers that meet a pipeline protest to the lock up to carefree university leavers to adults with too many responsibilities.
The reason why this doesn't have 5 stars rating is because a) I just didn't understand where Lennix went, the girl who protested at the pipeline, sure she was now working with politicians etc but it didn't seem like she doing much for her people which is what I thought her goal had been, especially when her and best friend were talking about their client/s maybe I was being naive but I wanted more of her doing and for getting more rights for her people. b) A similar thing with Maxim though he had already said about making money since quite early on so it was surprising. c) Maxim waiting all this time to make a move, like I get it they both growing up to do, things to achieve but it just felt a very long time before he finally got to communicate with Lennix (not that Lennix made it easy) but still…
Overall, its a great first book in the duet!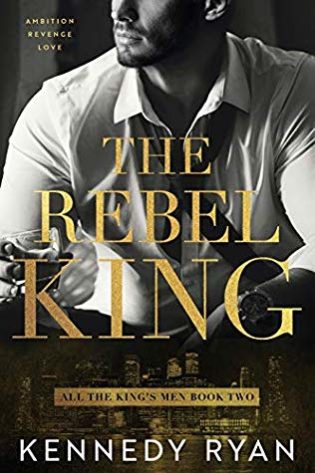 The Rebel King
by
Kennedy Ryan
Series:
All the King's Men Duet #2
on 18th November 2019
Pages:
348
Buy on Amazon US
, 
Buy on Amazon UK
Ambition. Revenge. Love.
Raised to resist. Bred to fight. Survival is in my blood and surrender is never an option.
Though surrender is what Maxim Cade demanded of my body and heart, I had other plans. We were fast-burning fascination and combustible chemistry, but the man I trusted with everything was a trickster. A thief who stole my love. If what we had was a lie, why did it feel so real? The man I swore to hate will have it all, and wants me at his side. But power is a game, and we're the pawns and players.
Facing insurmountable odds, will we win the world, or will we lose it all?
Rita Award-winning author Kennedy Ryan delivers the gripping conclusion to the All the King's Men Duet.
Le Sigh.
I wish I could enjoyed this a lot more, but you know how sometimes you're mind goes, the author wouldn't do this would she…it seemed predictable (twisted and unnecessary) which is not something I expect from Kennedy Ryan at all. But I saw that twist coming a mile off and how then things would play off.
What I had not expected was how Lennix would go around this situation (which really affected my feelings of her and them as a couple). I ended up really feeling for Maxim because the man does so much and then the woman he loves, a) can't be with him in public b) doesn't know if she wants to marry him or have children ??? like what did she think was going to happen ? They'd just continue on hiding their affair forever when Maxim was in disagreement of that to begin with ? I really didn't like the aspect of them hiding their relationship. Also she was the one talked him into doing this, yes he's possibly the best candidate for the job but still… I wish Lennix and Maxim had some honest communications with each other, like her wanting to hide things from him (cause he was right) and what she wanted for them as a couple and not voicing it out frustrated me. The ending left me really unsatisfied as well, an epilogue into the future or some years down the line would have helped soothed some of my dissatisfaction but we don't really get that….instead I'm just left with more questions about what happens, how do things play out for them ??
Kimba (Lennix's best friend) also annoyed me with the way she went about certain things, like yes its your business but its also your best friend, you know how much she's struggled? I will still read her story but I miffed at her for the moment while I generally enjoyed her character through the duet.
Side notes; Him taking the private plan for their date made me a bit shall we say baffled, because the man is an environmentalist, it is explained a bit in the book of why this time was okay but?? I get its fiction but it just took me out a bit. Lennix it seemed a part from the visiting natives in different countries and helping them out and being at that one event named after her mother wasn't doing much for the indigenous population ??? (unless I missed something) it didn't make sense to me.
The long distance aspect of the relationship is handled well but this just meant lack of them actually spending time each other and getting their relationship developed further. Maybe we'll see them in Kimba's book and some of their stuff will get sorted there…
Overall a decent read but I guess I had very high expectations from Kennedy Ryan (which I know she can deliver) so I ended up feeling disappointed and sad that I didn't enjoy this much as I'd hoped. Everyone else seems to love this so I'm just in the minority here…
Related Posts