Review: Hold My Breath by Ginger Scott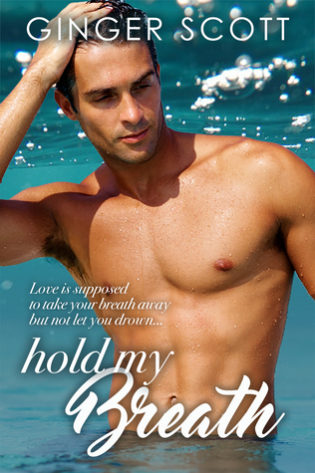 Hold My Breath
by
Ginger Scott
Published by
Amazon Digital Services
on 18th November 2016
Pages:
292
Format:
Kindle
Buy on Amazon US
, 
Buy on Amazon UK

Fractions of seconds can do lots of damage. One decision can ruin lives. A blink can be tragic. And loving a Hollister…can hurt like hell.
I would know.
They say the average person can hold their breath under water for two full minutes when pushed to the extremes. Will Hollister has been holding his for years. The oldest of two elite swimming brothers, Will was always a dominant force in the water. But in life, he preferred to let his younger brother Evan be the one to shine.
Evan got the girl, and Will…he got to bury all of the secrets. A brother's burden, the weight of it all nearly left him to drown.
The daughter of two Olympians, my path was set the day my fingertips first touched water. My future was as crystal clear as the lane I dominated in the pool—swim hard, win big, love a Hollister.
My life with Evan burned bright. He gave me arms to come home to, and a smile that fooled the world into believing everything was perfect. But it was Will who pushed me. Will…who really knew me.
And when all of the pieces fell, it was Will who started to pick them up.
In the end, the only thing that matters are those few precious seconds—and what we decide to do while we still have them in our grasp.
My first book by Ginger Scott!!!! Astrid's being telling me for years to read her books. However I'm just very selective about NA and especially NA's that are contemporary and from new authors is something that I rarely do.
I really enjoyed this book though, maybe its sort of the mood I'm. And somehow I ended up reading too many books with deaths of loved ones and grief and sadness .
I really liked Will and Maddy together. They were childhood friends along with Will's now dead younger brother Evan. Evan who was dating Maddy at the time of his death. Will and Maddy make each other
Will, poor man…he just trying too hard for everyone. For his family, for mistakes not his own. He's drowning under the weight of responsibilities and feelings of guilt and just wanting to not let anyone down. When Will comes back into Maddy's life, she isn't happy…she has mixed feelings for the man that survived when his family, when her Evan didn't. But Will was also her best friend and seeing him after years is difficult for her especially when its her last chance at the Olympics.
I was not a fan of Maddy's father, wanted to punch the man. I also didn't understand how Maddy's parents who were said to be extremely close with Will's parents and Will because of coaching at the camp/being friends with his daughter…didn't bother being there for him after his parents deaths….they just left him, okay if Maddy didn't want to see him doesn't mean that they couldn't have been there for Will.
Anyways moving on I loved Will. My heart really broke for him and Maddy, her love for Will made me love her. He's strong in general but vulnerable in some aspects and I loved Maddy being strong for him then. She was there for him in a way no one could be. They made each other feel alive and took on each others pain and burdens. They were really great together. They had to go through through a lot to get their HEA but it was very rewarding.